Travelers are experiencing a growing interest for Nikko and it's completely normal. This city in Tochigi Prefecture has a natural charm and is located in an area rich in culture and history surrounded by surprising natural landscapes. And since it is not that far from Tokyo, it is often a good day trip to keep in mind.
So, is Nikko worth it? Yes, Nikko is worth it for people looking for the traditional Japan and World Heritage Sites. Nikko is beautiful regardless of the weather because rainy or foggy days create an amazing atmosphere around the World Heritage Sites while sunny days illuminate the National Park and waterfalls.
Now let's take a closer look at all you can see in Nikko and the surrounding areas that will totally blow your mind.
What is Nikko known for?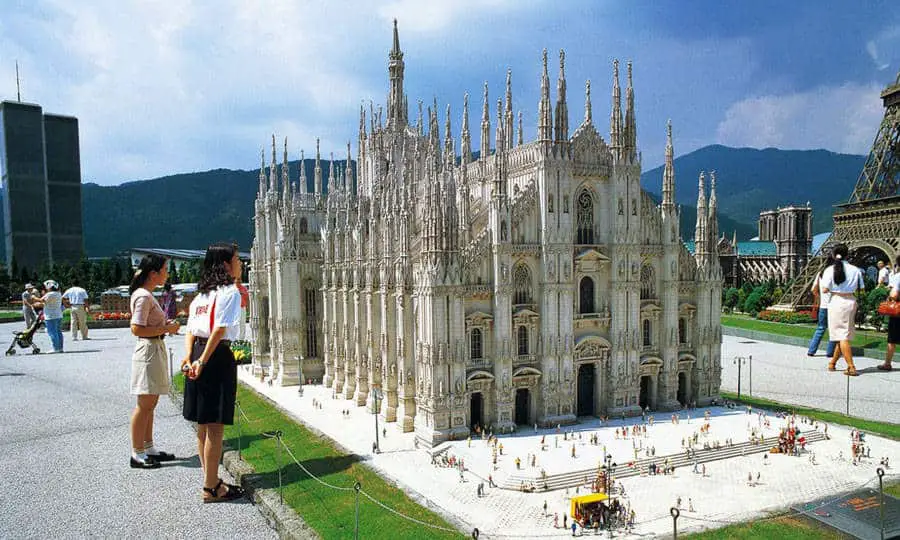 Nikko is a city known for its World Heritage sites, amazing landscapes and famous hot springs. It has 6 distinct areas, each one with its own beauty:
Central Nikko (the heart of Nikko full of history)
Okunikko (known for Nikko's National Park)
Kinugawa-Kawaji Onsen (known for its hot spring resorts)
Yunishigawa, Kawamata and Okukinu Onsen (famous for its restorative waters)
Imaichi (the gateway to the Nikko area)
Ashio (famous for its copper mine)
In each area, you can visit different things and Nikko is so big that you won't be able to see everything in one trip. That's why, when planning your itinerary to Nikko, you should concentrate in the best spots that fit your interests.
I'll give some of the best here, but they are mainly in Central Nikko and Okunikko. If you have the chance to rent a car and explore Nikko for at least two days, make sure you check Nikko's website for some extra ideas.
Nikko Toshogu Shrine: A World Heritage Site known for the incredible detail in handcrafted ornamentation. More info at Toshogu website (in Japanese).
Nikkosan Rinnoji Temple: A World Heritage Site with breathtaking views of the surrounding forest. More info at Rinnoji website (in Japanese).
Taiyuin Temple: A World Heritage Site with amazing gates and spectacular handcrafted details. More info at Taiyuin Website (in Japanese).
Lake Chuzenji: Japan's highest natural lake with an amazing landscape to observe.
Kegon Falls: an impressive 97-meter waterfall in a forested cliff where you have the possibility of taking the elevator to reach the bottom. More info at Tochigi Prefecture website (in Japanese).
Shinkyo Bridge: A beautiful vermilion lacquered sacred bridge that belongs to Futarasan Shrine. More info at Shinkyo website.
Futarasan-jinja Shrine: A magnificent traditional shrine in the mountains from the 8th century. More info at Futarasan website (in Japanese).
Shoyoen Garden: A beautiful small zen garden where you can take a break from the World Heritage Sites and enjoy the colorful scenery.
Kanmangafuchi Abyss: A nice and tranquil place with several statues, perfect for a peaceful walk along the abyss.
Tamozawa Imperial Villa: An historical landmark that was a former palace and it's now opened to the public. More info at Tamozawa website (in Japanese).
You may also like:

Is Hakone worth visiting?
Is Mount Fuji worth seeing?
Japan Rail Pass Calculator: Is the JR Pass worth it?
How many days should I spend in Nikko?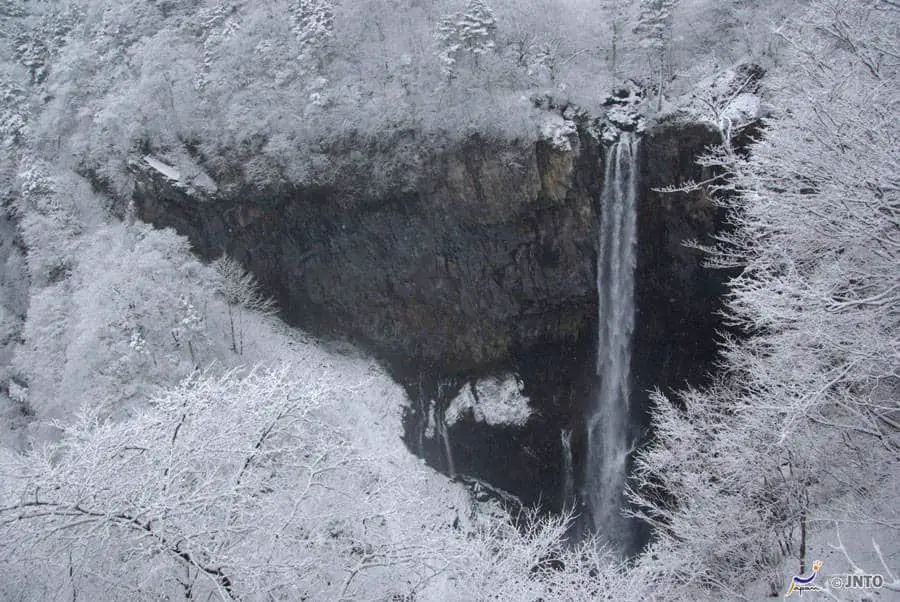 Most people visit Nikko as a day trip from Tokyo and this is perfectly doable, but if you want to make the most out of your visit, you should spend at least two days (maybe more depending on how you travel and how you enjoy the sights that are offered to you).
When visiting Nikko as a day trip, you can easily see the most important tourist spots in Central Nikko. If you concentrate your interest in this area only, you can visit the three World Heritage sites (Toshogu, Rinnoji and Taiyuin), the Shinkyo bridge, but also incredible gifts of nature like the Kirifuri Falls, Kanmangafuchi Abyss and Urami Falls.
Depending on the time of the year, you can enjoy some interesting events like Ohina-sama Festival (Girl's day) from mid February to early March, Nikko Kekko Festival in Autumn and the World Heritage sites light event in early November.
If you allow at least two days to visit Nikko, you can expand your travel away from Central Nikko and reach areas like Okunikko where you'll be able to see nature at its best in places like Lake Chuzenji, Kegon Falls, Ryuzu Falls or Yudaki Falls, and some cool architecture like Tachiki Kannon or Futarasan-jinja shrine.
Regarding events and festivals, it's better to visit Okunikko during Winter so you can enjoy the Mushasai Festival in January, 4 or the Chuzenji Onsen Kamakura Festival and the Yumoto Onsen Yukiakari Snow Festival both in early February.
If you prefer, you can visit the Yunishigawa-Kawamata-Okuniku Onsen area to enjoy the Heike Village or the beautiful nature around Lake Kawamata, Jao Falls, Setoaikyo Canyon, Lake Yunoko or Kawamata Geyser.
With a little more time, you can even go to more remote areas like Kinugawa-Kawaji Onsen and enjoy Lake Ikari, Ryuo Valley, Kinugawa RIver or visit the Gokoku-jinja and Onsen-jinja shrines and the Edo Wonderland or the Tobu World Square. And the best part of visiting this area is that you have amazing things to experience all year round like the Cherry Blossom Night Viewing in Kinugawa Onsen in early April, the Summer Fireworks in Kinugawa Onsen, the Kawaji Onsen Leaves Festival or the Illumination of Tobu World Square in Autumn and the Lunar New Year and Oni Festival in early February.
At the end, the time you spend in Nikko will depend on your interests and what you want to visit the most. I would say that one day is enough if you just want a glimpse of what Nikko has to offer and if you don't have several days available to explore Nikko a little more.
Allowing two days is better so that you can leave Central Nikko and experience what the other areas have to offer. You certainly won't regret it because even if there are some really cool things to see in Central Nikko, there is so much more in the less known areas, and there are fewer tourists and crowds too.
Of course, it is also possible to just take a quick look at the World Heritage sites in Central Nikko and head to more remote areas right after in only one day but you will need to manage your time really well.
How far is Nikko from Tokyo?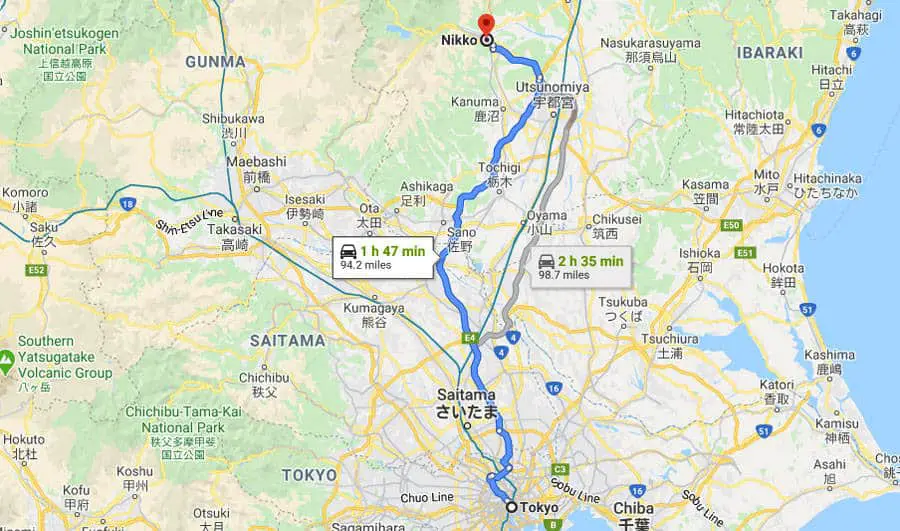 Nikko is located about 94 miles (150 km) from Tokyo and it's easily accessible by car or by train.
By car:
It will usually take less than two hours to get to Nikko by car from Tokyo if you avoid rush hours and if you pick the route with tolls. If you want to avoid tolls, it will take 3,5 hours so it is not worth it unless you have plenty of time to spend driving. Even if the car will be very useful to get around Nikko, you can also get to Nikko by bus or train.
By bus:
If you don't feel like driving in Japan, you can choose to take the bus to Nikko. It will take longer, but at least you are seating comfortably instead of driving. It is also cheaper than the car option. Usually, you will spend 3,5 hours in the bus and it will cost you around 2,500 yen which is pretty affordable when comparing to other means of transportation.
By train:
The travel time by train can vary a little according to the train you pick, but generally it's around two hours (some trains take less time and some take a little more). When you decide to pick the train, you normally pick the shinkansen from Tokyo to Utsunomiya and from there you take the JR Nikko line to Nikko.
The regular ticket with seat reservation will cost around 5,700 yen, unless you have a Japan Rail Pass (if not, you can buy the JR Pass easily online and check my previous article for detailed information about it).
Even if you pick the train or the bus, keep in mind that the easiest way to move around all Nikko areas is by car because some tourist spots aren't easily accessible on foot from Central Nikko and there are some hidden gems farther off the tourist path. You can rent a car at rentalcars.com from 50USD, for example.