If you're planning to visit Fushimi Inari shrine, which is one of the most amazing places in Kyoto by the way, you probably want to know what else is there to see and do around this shrine. And you won't be disappointed because there is so much to see in Fushimi, and Kyoto in general, that you certainly won't have time to see all that you wish to see.
So, what are the best places to see near Fushimi Inari shrine? When visiting Fushimi Inari shrine, tourists also visit Tofukuji Temple and bridge, Sanjusangendo Temple, Kiyomizudera Temple, historical pedestrian streets like Sannenzaka and Ninenzaka, Kodaiji Temple, Maruyama Park, Yasaka Shrine, Gion District and Tatsumi Bridge and Shinkyogoku Shopping Street Union.
These places are just some of the best to visit not that far from Fushimi Inari, but let me tell you that there are much more to see. In the next paragraphs, I'll tell you more about these places with some cool pictures and videos.
Tofukuji Temple and Tofukuji Tsutenkyo Bridge
Tofukuji is a Buddhist temple build in 1236 in a scenic landscape, and it is particularly known for fall foliage. It has several majestic buildings and the view is astonishing. If you visit during Autumn, then you will have the best experience with the amazing fall foliage.
Make sure you take your time to walk around and don't miss the incredible Tofukuji Tsutenkyo bridge. If you want to experience the red leaf ocean and take the best pictures, this is the place to be. And since this is one of the best spots, I recommend coming as early as possible and head directly to the bridge before it gets too crowded.
Don't forget to take a look at the outstanding Sammon Gate, which is a two-stories gate of 22 meters. It is considered a National Treasure since 1952 and it is definitely a structure worth seeing.
You can watch the video below to have an idea of what to expect.
Tofukiji Temple official website
Sanjusangendo Temple
The Sanjusangendo is a Buddhist temple that was designated as a National Treasure. While the outside of the temple has nothing truly special compared to other temples, what you'll find inside is completely astonishing.
In the center of a spacious room you will find an impressive statue made of cypress wood, with 42 hands and more than 3 meters of height. But this giant is not the only thing you will notice in the room because it is surrounded by 1000 life-size statues neatly arranged in rows.
Sanjusangendo official website (Japanese only)
Visit Sanjusangendo Temple with a day tour from Kyoto or Osaka on Klook >>
Kiyomizudera Temple
This Buddhist temple is one of the most famous tourist places in Japan so most people already know a lot about it. The main spots of this temple are certainly the main hall, which has a sort of stage standing in the cliff of Mt. Owa, the Okunoin hall, where you can take the most amazing pictures with views of the main hall and the cityscape.
But if you want to make the most out of your visit and take the most astonishing pictures, make sure you visit during the special night viewing, when the temple is illuminated with a gentle light. This usually takes place 3 times a year when the temple is opened till 9.30 p.m. a few days in Spring, Summer and Autumn.
Visit Kiyomizudera with a day tour from Osaka or Kyoto on Klook >>
Sanneizaka and Nineizaka (Sannenzaka and Ninenzaka)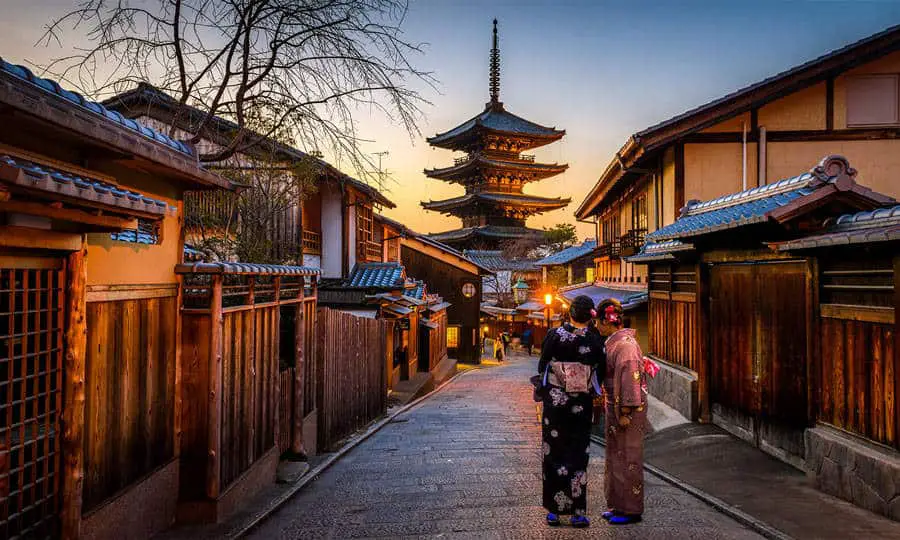 Sanneizaka and Nineizaka are charming pedestrian streets filled with tradition. If you're looking to see the best of Japan, these two ancient streets are what you need. Your mind will be blown away with the perfectly preserved wooden houses, but also with the traditional shops. And if you're lucky enough, you might even get the chance to see a Maiko.
These streets are also particularly beautiful at night, where you can take outstanding pictures with no crowds. Depending on the season, they might get a little crowded during the day, but the visit is totally worth it if you want to experience the ancient Kyoto atmosphere.
You may also like:

Is Nara worth visiting?
23 Iconic landmarks in Japan that you'll never forget
Is Mount Fuji worth seeing?
Kodaiji Temple
Kodaiji is a tranquil Buddhist temple with beautiful gardens and different types of scenery. This temple doesn't have tall pagodas so it is usually calmer than other temples filled with tourists. It also has a small bamboo grove if you don't intend to go to Arashiyama.
This temple is particularly beautiful during nighttime illumination in Spring (from mid-March to early May), Summer (from August 1 to August 18) and Autumn (from late October to early December). The temple will be illuminated after sunset until 9.30 p.m.
Kodaiji official website (Japanese)
Maruyama Park
Maruyama is a scenic park and a great place to walk around to relax or simply to take a break from the temples in the area. If you visit during spring, you can be surprised by the cherry blossom viewing and specially by the Gion Weeping Cherry Tree, a famous cherry tree in the center of the park. This tree is usually illuminated for two weeks during the cherry blossom season (generally from March 20).
Maruyama official website (Japanese)
Visit Maruyama Park with a full day tour from Osaka on Klook >>
Yasaka Shrine
The Yasaka shrine is one of the most important in Kyoto and everyone should have it in their itinerary. This shrine is huge and very beautiful. Right after the gate, you'll find several food and souvenir stalls, so you can taste some snacks and grab your lucky charms. During the night, the shrine is illuminated which makes it even more beautiful. If you want to take good pictures of the Japanese atmosphere, you have to visit this shrine.
Yasaka shrine official website
Gion District and Gion Tatsumi Bridge
Gion is the most famous district in Kyoto and it is well known for all kinds of traditional sightseeing. It is probably the best place to come across geishas and maikos dressed in colorful kimonos. If you want to immerse in the traditional Japan, you have to visit Gion and walk around the small alleys.
Gion is also known for its picturesque Tatsumi bridge and all the charming area around it. This place has several cherry blossoms, so if you visit during spring, you will take some awesome pictures.
Pontocho Alley
Pontocho is a long and narrow street along the Kamo river. It is small but there are plenty of restaurants on both sides. All in Pontocho is so Japanese thanks to the old-style houses and the lanterns. It is beautiful during the day and stunning after sunset, so make sure you visit during day and nighttime to appreciate the difference.
Pontocho official website (Japanese)
Visit Pontocho with this Magical Kyoto after dark walking tour on Klook >>
Shinkyogoku Shopping Street Union
Shinkyogoku Shopping Street is a place where you can spend hours if you like shopping, eating and looking for souvenirs. It is also a nice place to spend some time, specially if you visit Kyoto during a rainy day because it is covered.
You better come with an empty stomach because there is so many delicious food in here that you will be tempted to taste everything (and you should). As it can get a little too busy around noon, it is better to get there in early morning or early evening.
Shinkyogoku Shopping official website
Nishiki Market
The Nishiki Market is an 400-year-old market in Kyoto and the best place to go if you want to try all sorts of Japanese food. On top of that, the food is extremely fresh and not too expensive, so you can try different things.
Like many other tourist spots, it can get packed so keep that in mind specially if you're visiting around lunchtime and hold on to your friends and family. Even if you go there during a busy day, it is a wonderful experience.
Nishiki Market official website (Japanese)
Visit Nishiki Market and take a Donburi cooking course with this tour on Klook >>
Kyoto International Manga Museum
The last place on this short list is the International Manga Museum. This Museum is an amazing place and a completely different experience, so that's why I really wanted to include it on this list. Here you can watch several exhibitions, read manga and even participate in workshops. And if you're a total manga fan, you can even have your portrait drawn by an artist in about 20 minutes.
In the museum there's also a shop to buy all kind of manga-related souvenirs and a café to eat some good food if you're hungry.
Kyoto International Manga Museum website