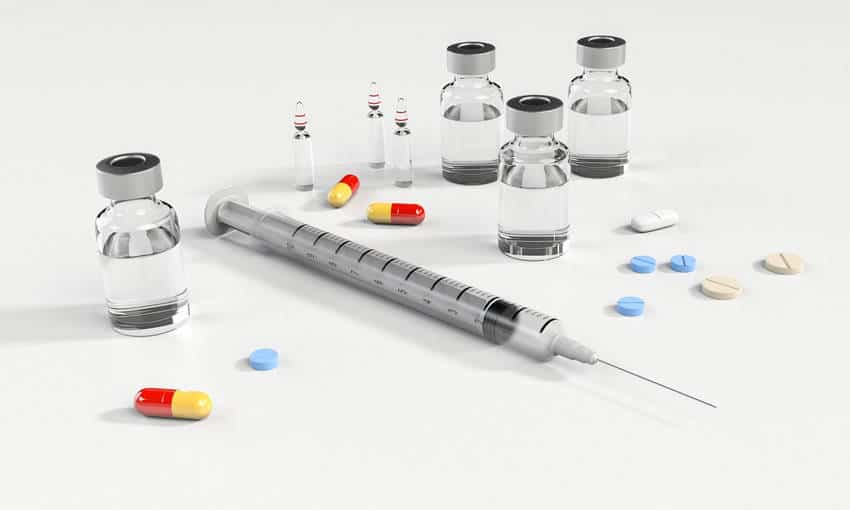 Japan is a country with strict rules regarding medicine, even when we're talking about over-the-counter (OTC) medicines. There are several medicines that are allowed in the United States, and in other countries in the world, that are not allowed in Japan. This can be a huge issue for tourists that usually take some common medicines for a cold or flu without even realizing that they are transgressing the Japanese law.
So can you bring medicines like paracetamol to Japan? You can bring paracetamol and general over-the-counter medicines to Japan if the amount is for 2 months supply. Prescription medicines are allowed for 1 month supply. For more quantity, you have to apply for a yakkan shoumei. Psychotropics and narcotics can be brought only for your personal use and under specif conditions.
Now let's take a closer look to what type of medicines you can bring to Japan, what medicines are forbidden and what procedures you should follow regarding medicine in Japan.
Table of Contents
Medicines You Can Take to Japan
Disclaimer: please notice that this information is considered to be true and correct at the date of publication, but it can be changed by the Japanese Government without further notice. You should always check the Japanese Ministry of Health, Labour and Welfare website for recent changes.
Over-the-counter Medicines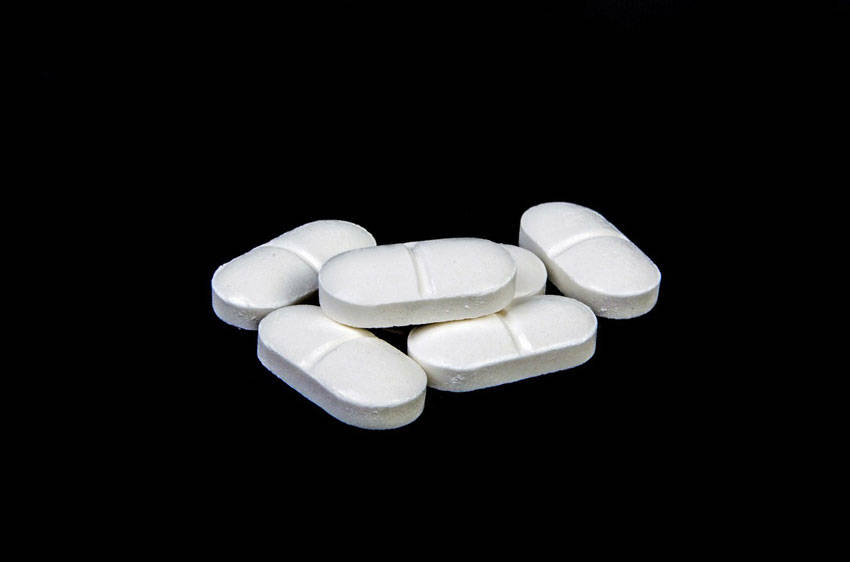 Common over-the-counter medicines you can bring to Japan include for example:
Ibuprofen
Paracetamol
Acetaminophen
Vitamins
Disposable contact lenses
But be careful because you can only bring the equivalent of 2 months supply. If you need more than that, you will have to apply for a Yakkan Shoumei (see further below how to do it).
Prescription Medicines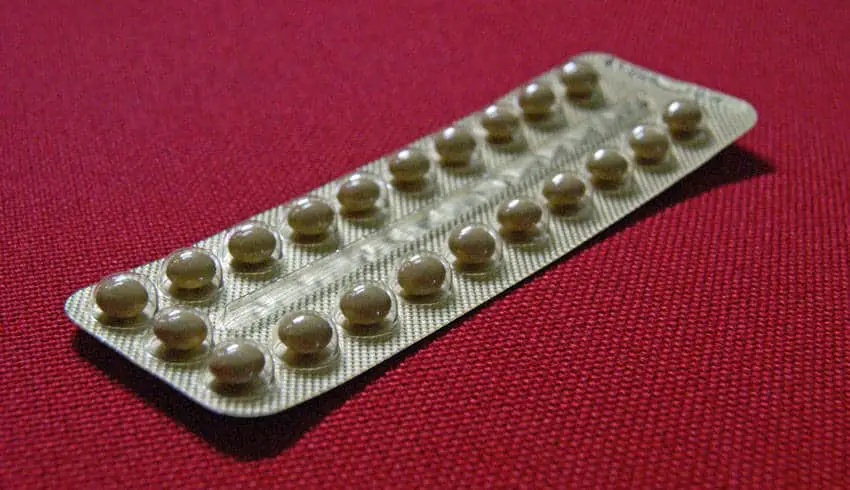 Just like over-the-counter medicines, prescription medicines can be ok to bring to Japan if you carry with you less than one month supply.
Common examples of prescription medicines are:
Tramadol
Contraception pills
Pre-loaded syringes and inhalers
If you want to bring more than 1 month supply of this kind of medicines, you have to apply for a Yakkan Shoumei (see further below how to apply).
Medicines containing the pharmaceutical ingredients in the table from the Japanese Ministry of Health, Labor and Welfare, can only be brought to Japan if they're meant for your personal use.
Psychotropics
Psychotropics work a little like the prescription medicines, but with a few differences. You have to refer to the Japanese Narcotics Control Department list of psychotropics and the tolerated amount to know exactly if a given medicine respects the Japanese law or not.
If the medicine you want to bring falls under the amount on the table (link above) and you bring up to a month supply, then it is ok.
If you need more than one month supply or your medicine is in the injection form, then you will need a Yakkan Shoumei to bring it to Japan and a certificate from your doctor to leave Japan with your medicine.
If you need to bring more than the amount on the table (link above), you will need a doctor's certificate to enter and to leave Japan with your medicine.
Please make sure that your doctor's certificate explains clearly:
The disease
The necessity of the psychotropics for your treatment
The names of the psychotropics prescribed
The quantities prescribed
You may also like:

Can I bring vape to Japan?
Do I need an adapter in Japan?
Who needs a visa to enter Japan?
Narcotics
This is where things start to become complicated. There are several medicines in the USA and other western countries that are perfectly legal and contain narcotics in their recipes, but this is a little different in Japan.
Some common narcotics used in western medicines might be:
Codeine
Morphine
Oxycodone
Sufentanil
If you need narcotics for your own medical use, you will have to ask for permission before entering Japan (see further below how the narcotics' application form works).
Medicines Forbidden in Japan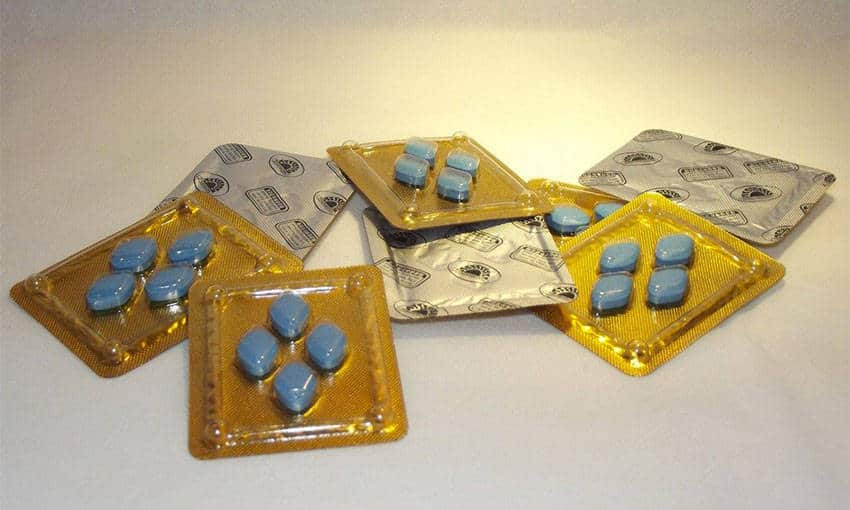 Now this is the most important list you should keep in mind regarding medicines in Japan. This is not a full list, but you should never bring these medicines or medicines containing one or more of these components because you will end up being arrested and Japan doesn't take punishment lightly regarding illegal drugs.
Even if you said that you didn't know the law, you will still be arrested and punished.
Some common medicines/ingredients illegal in Japan are for example:
Heroin
Cocaine
MDMA (also known as Ecstasy)
Opium
Cannabis
Amphetamine (Adderall, Vyvanse, …)
Methamphetamine
Stimulant drugs or any medicine containing pseudoephedrine (Actifed, Sudafed, Vicks inhalers, …)
Prozac
Viagra
There are absolutely no exceptions for these drugs. Even if you have a prescription and/or a customs declaration form, you CANNOT BRING these to Japan ever.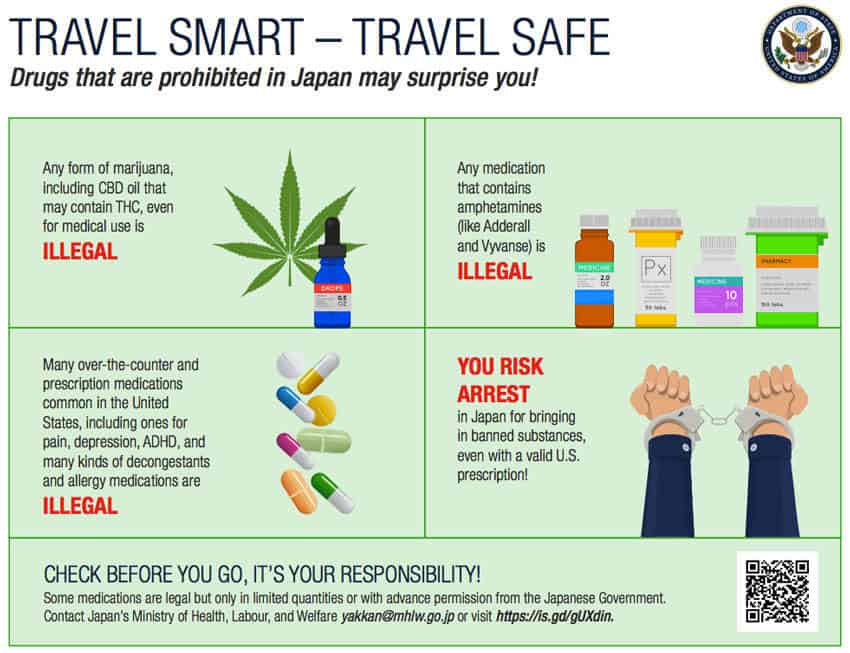 How Can I Bring Medicine Legally to Japan?
Yakkan Shoumei
A Yakkan Shoumei it's a sort of certificate needed to bring your personal medicines to Japan. You have to apply and receive it before leaving your country because you have to declare it at the customs. Make sure you allow enough time to receive it (usually 2 weeks).
The Yakkan Shoumei is needed in these cases:
When you want to bring more than 1 month supply of your medicine.
When you bring injectable medicine that is not in the form of a pre-filled syringe or a self-injection kit.
And the documents necessary to apply for a Yakkan Shoumei include:
2 copies of the import report of medication page available at the Japanese Ministry of Health, Labor and Welfare website (a sample of how to fill the import report is also available).
A copy of the explanation of the product page for each product you want to bring (a sample is also available at the Japanese Ministry of Health, Labor and Welfare website)
A copy of your doctor's prescription (with signature) with the name of the medicines and the quantities prescribed to you
A document with your arrival date and place (copy of your airline ticket for instance)
A return envelope with Japanese stamps and your address to receive the Yakkan Shoumei in paper format (this is not needed if you want to receive it by email).
There are 3 offices where you can send your application for the Yakkan Shoumei as shown in the table below. The one you have to use depends on the area you will be landing.
Arriving at…
Office to apply
Narita International Airport or Haneda International Airport
Kanto-Shin'etsu Regional Bureau of Health and Welfare
Ministry of Health, Labour and Welfare Saitama-Shintoshin Godochosha 1, 7th floor, 1-1Shintoshin, Chuo-ku,
Saitama City, Saitama Prefecture, JAPAN 330-9713
Kansai International Airport or the Chubu International Airport
Kinki Regional Bureau of Health and Welfare
Ministry of Health, Labour and Welfare, Ohue Building,
7th floor, 1-1-22 Nonin Bashi, Osaka City, Chuo-ku,
Osaka Prefecture, JAPAN 540-0011
Naha Airport
Kyushu Regional Bureau of Health and Welfare
Ministry of Health, Labour and Welfare,
Naha-Daiichi-Godochosha,6th floor, 1-15-15 Higawa,
Naha City, Okinawa Prefecture, JAPAN 900-0022
Narcotics Import Application Form
If you need to bring to Japan any medicine that contains narcotic substances, you need to obtain permission before leaving to Japan because you will have to show the certificate at the customs once you land.
To ask for permission to carry narcotics for your personal use in Japan, you will need the following:
Import application form: for anyone that intend to enter Japan with narcotics.
Export application form: for anyone that intend to leave Japan with narcotics.
Medical certificate from your doctor: clearly explaining the disease, the treatment necessity using narcotics, the name of the narcotics and the doses prescribed. The certificate has to be signed and dated by the doctor, of course.
Photos of the whole package (medicine) you'll bring.
Reply envelope with your name and address (to receive the answer).
This process takes at least 2 weeks so don't do it at the last minute.
You need to submit all the documents to the Narcotics Control Department of the area where you'll be landing. Here's a table of the Narcotics Control Department per region.
Region (name of the prefectures)
Narcotics Control Department
Ibaraki, Tochigi, Gunma, Saitama, Chiba,
Tokyo, Kanagawa, Yamanashi, Nagano, Niigata
Kanto-Shin'etsu Office
〒102-8309
1-2-1-17F, Kudanminami, Chiyoda-ku, Tokyo
E-mail: tokyoncd@mhlw.go.jp
Fukui, Shiga, Kyoto, Osaka, Hyogo, Nara, Wakayama
Kinki Office
〒540-0008
4-1-76, Otemae, Chuo-ku, Osaka-shi
E-mail: osakancd@mhlw.go.jp
Hokkaido
Hokkaido Office
〒060-0808
2-1-1, Kita-8-jo Nishi, Kita-ku, Sapporo-shi
E-mail: sapporoncd@mhlw.go.jp
Aomori, Iwate, Miyagi, Akita, Yamagata, Fukushima
Tohoku Office
〒980-0014
3-2-23, Hon-cho, Aoba-ku, Sendai-shi
E-mail: sendaincd@mhlw.go.jp
Shizuoka, Aichi, Mie, Gifu, Toyama, Ishikawa
Tokai Hokuriku Office
〒460-0001
2-5-1,Sannomaru, Naka-ku, Nagoya-shi
E-mail: nagoyancd@mhlw.go.jp
Tottori, Shimane, Okayama, Hiroshima, Yamaguchi
Chugoku-Shikoku Office
〒730-0012
6-30, Kami-Hacchobori, Naka-ku, Hiroshima-shi
E-mail: hiroshimancd@mhlw.go.jp
Tokushima, Kagawa, Ehime, Kouchi
Shikoku Office
〒760-0019
3-33-4F, Sunport, Takamatsu-shi, Kagawa
E-mail: takamatsuncd@mhlw.go.jp
Fukuoka, Saga, Nagasaki, Kumamoto, Oita, Miyazaki, Kagoshima, Okinawa
Kyusyu Office
〒812-0013
2-10-7, Hakataeki-Higashi, Hakata-ku, Fukuoka-shi
E-mail: fukuokancd@mhlw.go.jp
Conclusion and Useful Resources
I tried to summarize all the information I could find regarding medicines that are authorized or banned in Japan, but this is a delicate subject that can have dramatic consequences if taken lightly.
Even if you use this article to have an idea of what you can bring or not to Japan, you should always contact the Japanese Government before your travel to make sure that you comply with the law as the list of authorized and banned medicines can change at any time. You really don't want to get into trouble with the Japanese law and ruin your vacations because of a medicine.
Here are the resources you need to inform yourself and to help you with the procedures:
---
Japanhorizon.com is a participant in the Amazon Services LLC Associates Program, an affiliate advertising program designed to provide a means for sites to earn advertising fees by advertising and linking to Amazon.com. Japanhorizon.com also participates in affiliate programs with Viator, Jrailpass, Kayak, Klook, Japan Experience, and is compensated for referring traffic and business to these companies.