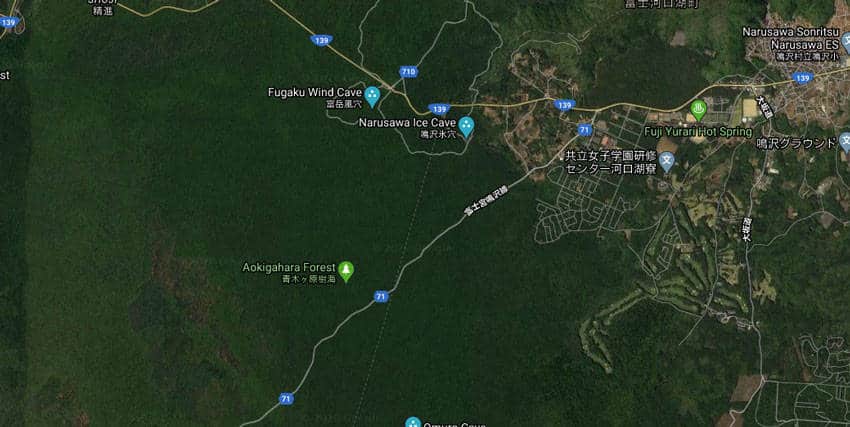 For those of you who are fans of horror movies like The Forest, you might want to visit one of the most famous Japanese forests: the Aokigahara Forest (青木ヶ原) also called the Sea of Trees (樹海). The Aokigahara forest is located at the base of Mount Fuji, but it's not that easy to get there if you're planning on using public transportation only. Even if Japan's railway system is pretty awesome, there aren't any high speed railways near the forest.
So how to go to Aokigahara from Tokyo? The fastest way to get to Aokigahara is by car, but it can be expensive. Otherwise, you can get there by train which is less expensive, but there are a few transfers. The cheapest way is by taking a highway express bus (2,000 yen), while the easiest is going on a guided tour that takes care of everything for you.
Now let's look at all these options in detail, so you can have all the information necessary to make the best choice for your travel, according to your preferences and budget.
Table of Contents
The fastest way to get to Aokigahara forest
Since there's no train station near Aokigahara, the fastest way to get there from Tokyo with no hassle is by car. It takes a little more than 1 hour and 30 minutes and you have to drive for 76 miles (122 km). The only problem is that this option can be expensive because you take the highway and you have some tolls with this route.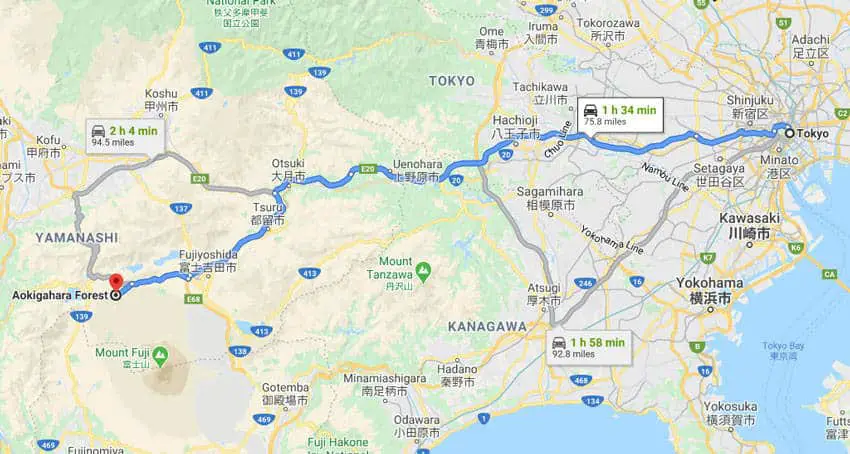 On the other hand, if you chose to avoid the tolls, you will take at least 3 hours to make 81 miles (130 km), assuming that you leave early in the morning and you don't get caught in traffic jam.
So yes, getting to Aokigahara forest by car is great, but only if you're willing to pay the price for car rental, tolls and gas. You might want to try to save some money by renting a car in advance.
Cheaper ways to get to Aokigahara forest
Because renting a car is not an option for everyone, let's see how you can get to the forest using public transportation. I'll try to explain the best I can since there are a few transfers, so you should be careful and try not to get lost.
The first thing you have to keep in mind is that the closest train station is Kawaguchiko Station which is 8 miles (13 km) away from the forest.
To get to Kawaguchiko Station from Tokyo by train you have to:
Take the Chuo Line and go from Tokyo Station to Takao Station. It will take roughly 1 hour and will cost you less than 1,000 yen.
Change train and take the Chuo Line to Otsuki Station. It will take around 35 minutes and will cost a little more than 500 yen.
If you want to avoid switching trains very often, you can go from Tokyo Station directly to Otsuki Station in 1 hour and 15 minutes by taking the Limited Express Kaiji, but it will cost more than 2,500 yen (roughly 1,000 yen more than the previous option).
From Otsuki Station to Kawaguchi Station, you have to pick the Limited Express Fuji Excursion that will take 40 minutes and will cost around 1,800 yen
To get to Kawaguchiko Station from Tokyo (Shinjuku) by bus it's cheaper because you can take a highway express bus which takes you there in less than 2 hours and costs only 2,000 yen. (Info and reservation available at Highway buses website)
Once you get to Kawaguchiko Station, you can pick a Fujikyu bus and drop off at Akaike. It takes around 30 minutes. And if you need more detailed information on Fujikyu Bus you can visit their website for fares and timetable.
For detailed information on train timetables and fares, please use the Japan Travel by Navitime website.
As you can see, you have to be a little motivated to see the Aokigahara Forest, but it is really worth it.
You may also like:

Is Mount Fuji worth seeing?
How late can I buy a Japan Rail Pass?
Is Hakone worth visiting?
The easiest way to get to Aokigahara forest
So far we've seen, the fastest and the cheapest ways to get to the forest, but you probably want to know the easiest way too. Well, the easiest way will be on a guided tour from Tokyo.
There are several guided tours you can find online, but make sure you choose one that starts in Tokyo, so you don't have to worry about all the trains and buses, timetables, and fares.
It can be interesting to pick a guided tour to have a guide once you manage to get to the forest, but the most complicated part is precisely how to get to the forest, so if you pick a guided tour that takes care of that for you, then you will be less stressed out.
And by the way, there are guided tours that include visiting the forest, the Fugaku Wind Cave, and Narusawa Ice Cave. So if you were also planning on seeing Mount Fuji, a guided tour that includes several of these places like this one from Viator might be a good choice. I guess everyone wants to see Mount Fuji at least on their first trip to Japan, but don't assume that it is worth it every single time. That's why I wrote a full article named Is Mount Fuji worth seeing?
What to see in Aokigahara Forest?
This forest is sadly known as the suicide forest because it is one of the favorite spots in Japan to commit suicide, but it is also an extremely quiet place where you can enjoy the calm and the beauty of nature.
There are trees everywhere and in some places, there are so many trees that you have a hard time trying to see the sunlight.
As the forest was created due to the volcanic eruptions of Mount Fuji, the ground is mostly made of volcanic rock, making it really difficult for the trees' roots to enter the soil. That's why you will have to be careful when walking around the forest, since you can easily trip over the roots.
There are a few caves in the area that can be visited by tourists, but the most important are the Narusawa Ice Cave and the Fugaku Wind Cave.
Narusawa Ice Cave (鳴沢氷穴)
The Narusawa Ice Cave is located in the heart of the Aokigahara forest, and it is definitely a place worth visiting mainly because of the huge ice pillars that can measure over 30 meters long. The cave's temperature stays around 32 °F (0 °C) all year round, so make sure you take something warm to wear even during the hot summer.
The cave is usually opened from 9am to 5pm, but opening hours can change according to the seasons, and it is usually closed for a brief time in December. There's an entry fee of 350 yen for adults and 200 yen for children.
You can find more information at the Yamanashi's official travel guide website.
If you want to have an idea of what this cave looks like, I selected this short video for you.
Fugaku Wind Cave
Just 20 minutes away from the Narusawa Ice Cave, you will find the Fugaku Wind Cave. It is also an incredible place to visit with amazing ice pillars.
Like the Narusawa Ice Cave, it takes around 15 minutes to see the cave and it is opened from 9am to 5pm (opening hours can change according to the season too). It also costs 350 yen for adults and 200 yen for children.
And the Yamanashi's official travel guide website also has updated information about this cave too if you need to check before going.
For those wondering what this cave looks like, here's a video that gives you a peak behind the curtain.
Conclusion
Hopefully, by now, you already have a clearer idea of the options you have to get to this incredible forest. It is definitely a place worth visiting, especially if you plan on visiting Mount Fuji nearby.
For me, the best option is taking the highway express bus because it is cheaper, and it doesn't take much time, but if you're traveling with your family or with a group of people, you might want to consider the car option.
The train option is not that bad, but you have to be careful not to get lost in all the transfers (especially if it's your first time in Japan).
The guided tour option is pretty cool, but it all depends on the budget you established for your travel. If you are traveling on a low budget, you might want to skip this and stick to the basic expenses.
Good luck with your trip to Aokigahara!
---
Japanhorizon.com is a participant in the Amazon Services LLC Associates Program, an affiliate advertising program designed to provide a means for sites to earn advertising fees by advertising and linking to Amazon.com. Japanhorizon.com also participates in affiliate programs with Viator, Jrailpass, Kayak, Klook, Japan Experience, and is compensated for referring traffic and business to these companies.