Sakura is one of the most used Japanese words around the world. We've heard it a lot in many Japanese anime, but I just figured out that we didn't know much about its true meaning. I was doing some research when I came across some interesting information.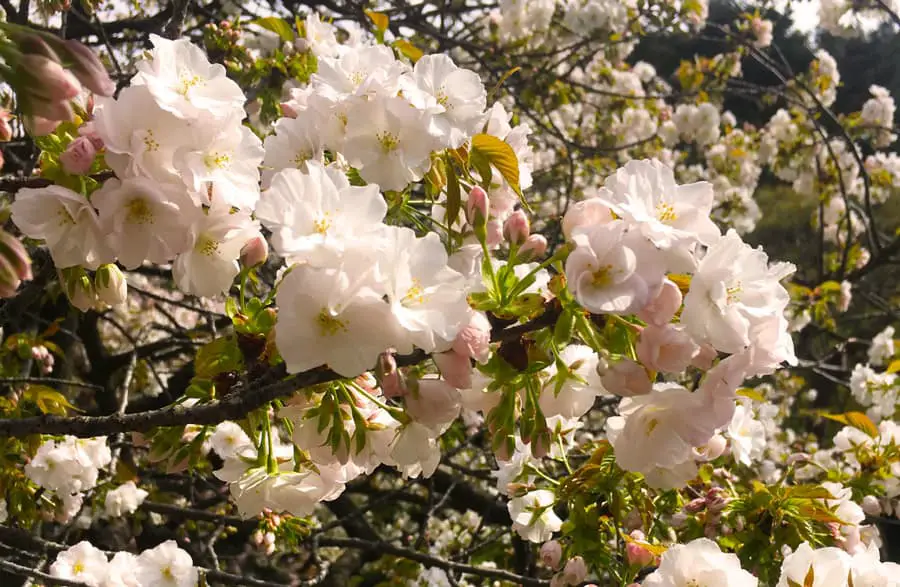 Sakura (桜 or さくら) is the Japanese word for cherry blossom trees and their blossoms – a special flower which symbolizes the spring, the beauty of nature, the renewal, and the ephemeral nature of life. These concepts are strictly related to the Japanese way of living.
But let's take a more in-depth look at this incredible aspect of the Japanese culture.
Sakura True Meaning
As I said before, Sakura is the Japanese word for cherry blossom trees and their blossoms. These small ephemeral flowers from the cherry blossom tree are more than just a simple flower for the Japanese people, they are a true national symbol, strictly related to the Japanese culture.
As cherry blossoms bloom only for a week (sometimes up to 10 days), they are related to the ephemeral nature of life. This event makes people understand that life is short and that it must be lived and enjoyed the most.
But they are also a symbol of renewal because, every year, they mark the end of cold winter and the beginning of spring – an event that starts over again each year. The arrival of spring is also the end of the fiscal year and the school year in Japan, which is the perfect time to celebrate the blooming of Cherry blossoms with family and friends.
Sakura's flowers are so important to the Japanese people that they are present in a lot of Japanese art, manga, anime, songs, and almost everything in Japan.
This Cherry Blossom passion is now fascinating the whole world, and you can find all sorts of products made from cherry blossoms (like beauty products with an amazing smell) or with a cherry blossom design (like beautiful clothes, incredible home decoration, nearly natural bonsai cherry blossom or even LEGO cherry blossom bonsai…). All these products and many others can be found easily on amazon.com for all the cherry blossom fans like me.
This post contains affiliate links that have no extra cost for you. You just pay the activity or the product price, however the seller will give me a small commission every time people buy through my links. If you found the information I gave you useful and want to support my work, please use my affiliate links below.

Thanks for your kind support!
Sakura Hanami (桜 花見): Cherry Blossom Viewing
The word hanami is formed by the kanji character 花 (hana), meaning flower, and the character 見 (mi), meaning to view. Used together, these two characters mean to view flowers.
Hanami is a well-known event that is also very important to the Japanese people. During cherry blossom blooming, foreigners from all over the world visit Japan to have this once-in-a-lifetime opportunity of viewing an amazing demonstration of nature's beauty.
This is the main event happening in Japan, mostly in April, when the Japanese and thousands of foreigners gather under cherry blossoms to celebrate the beauty of life.
There are a lot of hanami festivals throughout the country, but they don't take place at the same time. As a matter of fact, cherry blossoms start blooming first on the east side of Japan and continue to the west, finishing in the northern regions of the country. To give you an idea, the average first bloom in Fukuoka is around March 23 while in Sapporo, at the other extremity of Japan, it will be around May 3. This is why there are always a lot of festivals going on in Japan between March and May.
So what is the best place to see cherry blossoms in Japan?
Even if it is possible to see cherry blossoms throughout the country, there are a few places you should absolutely visit.
One of the best places is Ashino Park in Aomori during the Sakura Festival combined with the Golden Week (Japanese holiday during the first week of May). The park has more than 2,300 cherry trees, and it's part of the immense Ashino Chishogun Prefectural Natural Park. In the park, you can rent a rowboat to appreciate the amazing romantic views.
If you plan on viewing the cherry blossoms at night, then you must unquestionably go to the Hirosaki Park in Aomori or the Takada Park in Niigata.
The Hirosaki Park has more than 2,600 sakura trees of different varieties (more than 50) and some of them are over 300 years old. You can walk along the Sakura Tunnel or observe the Hirosaki Castle among the Sakura trees.
The Takada Park hosts one of the top 5 flower festivals in the world. It has approximately 4,000 Sakura trees and 3,000 lanterns to make a magnificent, breathtaking spectacle at night. During Hanami, you'll have the Sakura Road lit up every night, and you can also enjoy the three-tier castle.
If you intend to observe the cherry blossoms near Mount Fuji, then you should go to Lake Kawaguchi or to the Chureito Pagoda in Fujiyoshida.
But if you arrive a little late to Japan, you can go to the Japanese Alps where Toyama, Nagano, and Niigata also have some good spots. And don't forget the famous tree in Mihara Park (Fukushima) which is over 1,000 years old.
These are just some of the many places in Japan where you can see cherry blossoms, but don't forget that hanami festivals aren't only about these specific trees. The Tonami Tulip Park in Toyama and the Ashikaga Flower Park in Tochigi (exclusive spring tour available at Klook) put forward amazing flower beauty not related to cherry blossom.
Make sure you check some tours available online that can provide you with rich and immersive experiences. The Mt. Fuji Cherry Blossom one-day trip from Tokyo is actually a good choice because you can visit Shinarakura Sengen Shrine, Lake Kawaguchiko, Kachi-kachi Ropeway, and even stop at Mt. Fuji's 5th Station above an elevation of 2,400 m.
Lots of people go to Japan on their honeymoon to see the cherry blossom because it is a truly romantic season. If you're going to Japan on your honeymoon, you might want to check my article "These 3 mistakes can destroy your honeymoon in Japan".
You may also like:

What is The True Meaning of Japan's Flag?
The Real Reason Why Japanese Don't Wear Shoes Inside
10 Steps To Plan A Trip To Japan From Scratch
Cherry Blossom vs. Plum Blossom vs. Peach Flower
One of the most common mistakes made by many foreigners – and even some Japanese – is to mix up cherry blossoms with other similar flowers. Even if plum blossoms and peach flowers have also 5 petals and the same colors as cherry blossoms, they are not the same, and they don't bloom at the exact same time.
So how can you make a distinction between these 3 flowers? It's "easy", you just have to look at the petal's shape, the stems, and the time of blooming.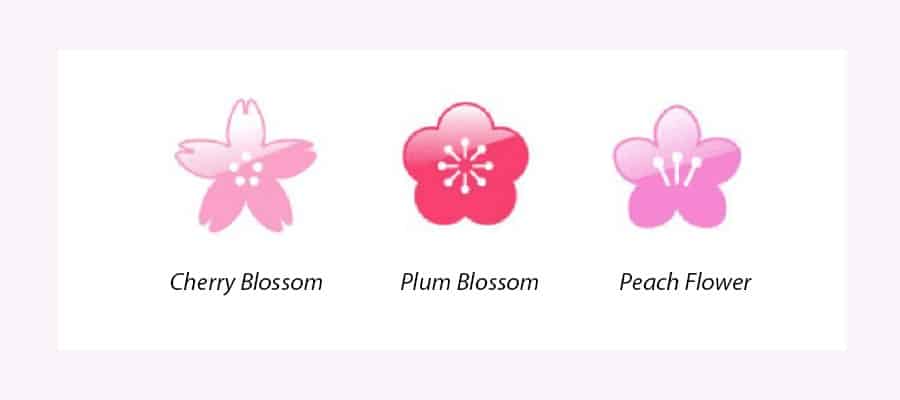 Cherry Blossom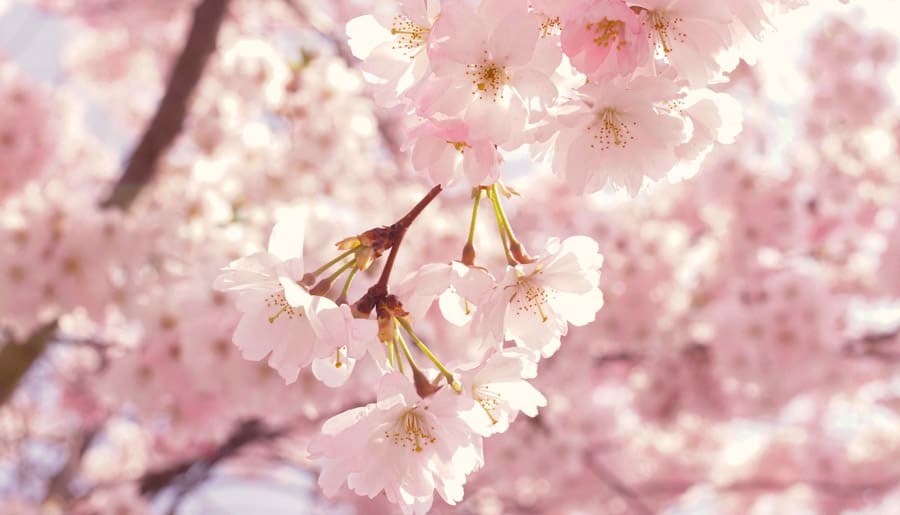 Cherry blossoms usually start blooming in late March (and all the month of April) with the arrival of springtime. If you look closely, they have a little opening in the petal, which makes them different from Plum blossoms and Peach flowers. They also have long stems and when they bloom, they form a bundle of multiple flowers. Cherry blossom colors may vary from white to the beautiful pink that characterizes this specific flower.
Plum Blossom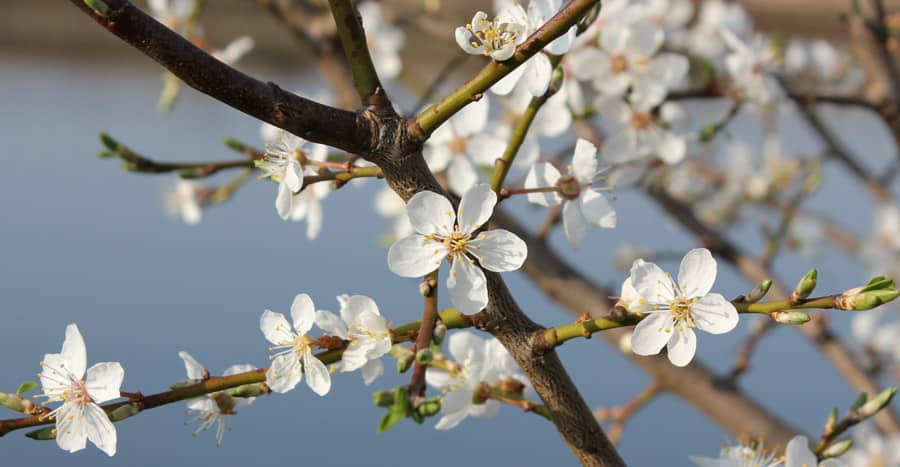 Plum blossoms start blooming very soon, generally mid-February, which means that you're more likely to see these before Cherry blossoms. Their petals are rounder and shorter than the Cherry blossom ones. Another interesting characteristic is that these flowers don't have stems, and therefore they grow on the branches directly, where they develop individually (they don't form bundles like Cherry blossoms). Plum blossom colors are a little like the Cherry blossom ones, but they can also have a purple color (which you'll never see in Cherry blossoms).
Peach Flower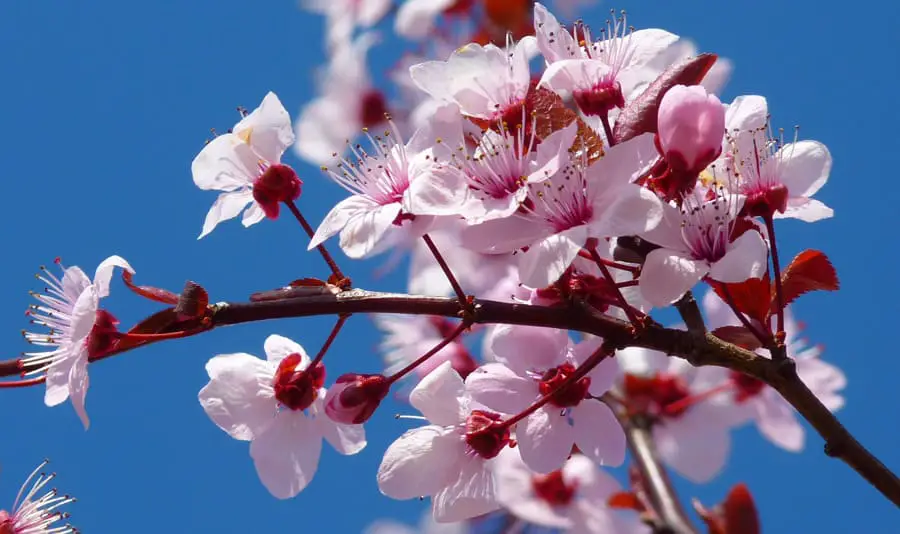 Most of the time, Peach Flowers bloom mid-March, between the Plum blossoms and Cherry blossoms blooming time. Although very similar to Cherry blossoms, these flower's most eye-catching characteristic is their pointed petal. They have short stems and bloom in pairs on each side of a branch. They don't develop individually like Plum blossoms, and they don't form bundles like Cherry blossoms; they're in between both. The Peach flower colors are essentially like the ones from the Cherry blossoms.
Sakura Forecast 2023
In 2023, according to the Weather Map Cherry Blossom fifth forecast, cherry blossoms will start blooming a few days earlier than normal. This happens because of the warm winter and the high temperatures expected in March. Therefore, the rapid growth of flower buds will be a natural consequence of this kind of weather.
Remember to always check a Sakura Forecast when planning your trip to Japan, so you do not miss the hanami near the place you'll be visiting.
Here's a video of the cherry blossoms at night in Tokyo, if you want to have an idea of what to expect when visiting Japan.
Conclusion
Now that you know a little more about Sakura trees and their meaning, you will be able to surprise your friends with your new knowledge.
If you're going to Japan, try to make the difference between cherry blossoms, plum blossoms, and peach flowers. This can be a fun activity while appreciating the beauty of the flowers.
And feel free to share in the comments your favorite spots for Hanami in Japan 😉
Japanhorizon.com is a participant in the Amazon Services LLC Associates Program, an affiliate advertising program designed to provide a means for sites to earn advertising fees by advertising and linking to Amazon.com. Japanhorizon.com also participates in affiliate programs with Viator, Jrailpass, Kayak, Klook, Japan Experience, and is compensated for referring traffic and business to these companies.