As Japan is located in the Ring of Fire, I was wondering how many volcanoes does Japan have and, most importantly, how many are active. Volcanoes are true wonders of nature and a lot of them can be visited in Japan or in the surrounding islands, but what I didn't know was that people could visit active volcanoes so easily and that some were considered as tourist spots.
Japan has 111 active volcanoes, which represent more than 10% of the total active volcanoes in the world that can threaten humans. Because of their high level of activity, the Japan Meteorological Agency monitors continuously 50 of them (43 on the mainland and 7 in Izu and Ogawara Islands).
If you want to know more about some of these amazing volcanoes, keep reading till the end of the article. I put some pics of the volcanoes, so you can have an idea of what they look like. Some volcanoes in this list often don't allow you to approach the crater or even the volcano itself as they are in persistent activity.
Mount Sakurajima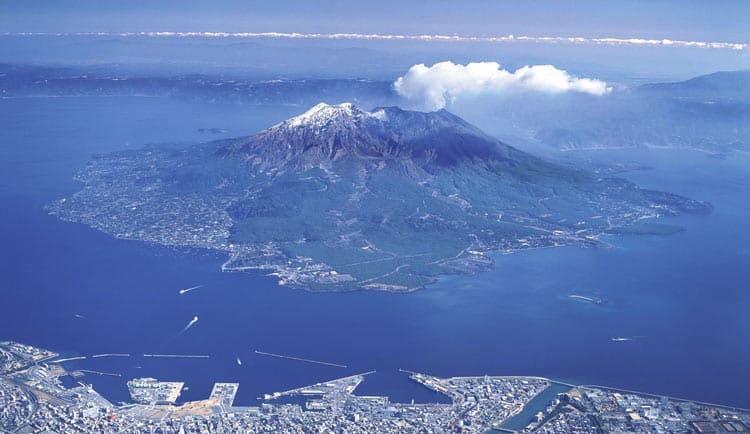 Elevation: 3,665 ft (ca. 1,117 meters)
Sakurajima (桜島), located in the south of Kyushu Island, is the most active volcano in Japan and one of the most active in the world. This volcano is often in level 3 warning, which means that you can't really approach the volcano, but you still can observe it from a further distance.
Before the eruption in 1914, this volcano was an island, but the lava flows linked it to the Osumi Peninsula. Since 1955, Sakurajima has been showing a lot of small explosions and summit eruptions. Researchers actually think that, in the next 30 years, Sakurajima may have a major eruption.
If you visit the Kirishima-Yaku National Park, take a little time to see this volcano and its amazing lava flows. Also, it might be a good time to enjoy the many hot springs resorts around it.
Mount Aso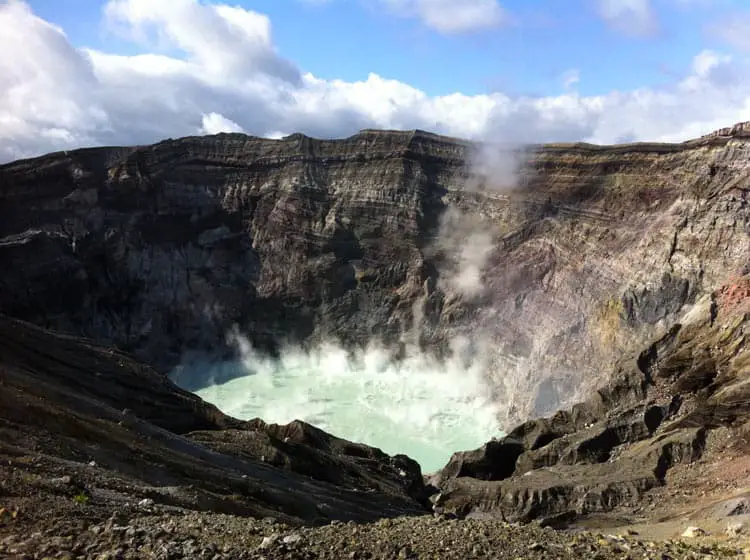 Elevation: 5223 ft (ca. 1,592 meters)
Mount Aso (阿蘇山) is also known as Aso Caldera and is one of the largest active volcanoes in the world. It is located in the center of Kyushu Island. The central part of the volcano has five peaks (Mount Taka, Mount Naka, Mount Kishima, Mount Eboshi, and Mount Neko).
The first crater of this volcano is pretty active and has erupted several times between 1974 and 2016.
If you plan on visiting Mount Aso, the best way to access the crater is by using the bus shuttle. Before April 2016, you could use the Mount Aso Ropeway, but it closed because the pathway was damaged during the last eruption. Feel free to visit the official website to get the latest news on the matter.
Mount Fuji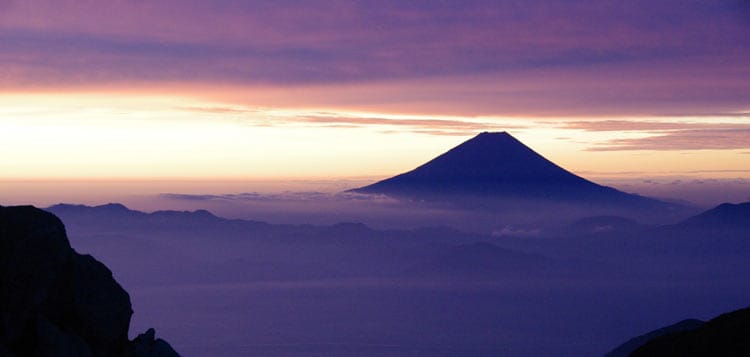 Elevation: 12,389 ft (ca. 3,776 m)
Mount Fuji (富士山) is the most famous volcano in Japan and also the highest one. It is located on the Honshu Island, about 62 mi (ca. 100 km) from Tokyo. Its symmetrical cone is covered with snow for almost half of the year.
I guess that you don't need any arguments to convince you to visit this volcano, as its beauty speaks for itself. Make sure you visit Japan when the sky is clear, otherwise, the clouds will usually hide Mount Fuji.
But even if you miss the chance to view Mount Fuji, you can still enjoy the five lakes around it: Lake Kawaguchi, Lake Yamanaka, Lake Sai, Lake Motosu, and Lake Shoji.
Mount Ontake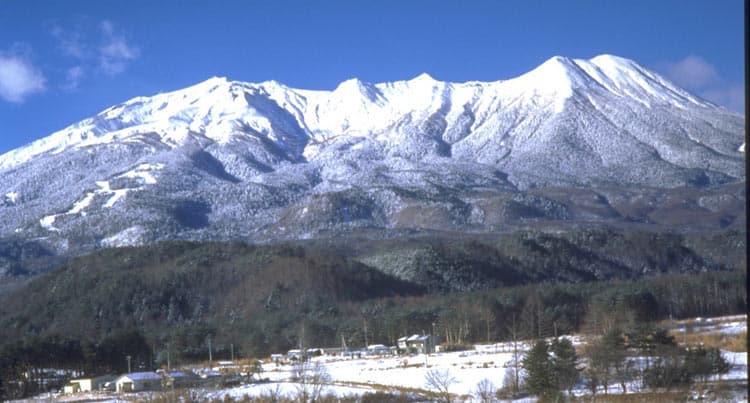 Elevation: 10,062 ft (ca. 3,067 m)
Mount Ontake (御嶽山) is located on the Honshu Island at about 62 mi (ca. 100 km) from the city of Nagoya, and it's the second-highest volcano in Japan.
Before October 1979, this volcano was considered inactive, but after that, it started having a series of eruptions, and the most recent dangerous eruption happened in September 2014 with no warning, resulting in 63 casualties.
Mount Asama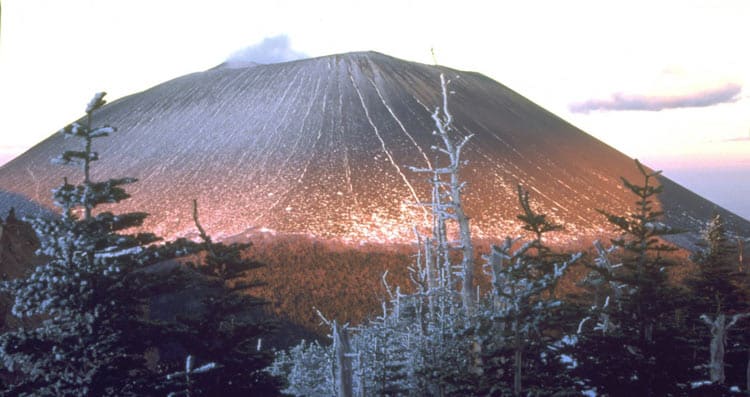 Elevation: 8,425 ft (ca. 2,568 meters)
Mount Asama (浅間山) is a volcano also located in central Honshu, 90 mi (ca. 145 kilometers) from Tokyo. It is considered the most active volcano on the island of Honshu and one with the most documented eruptions.
By the time I wrote this article, its last eruption was in 2019.
If you plan on visiting this volcano, there are several walking trails that are worth it. You can also enjoy the chaotic landscape of Onioshidashi Park and the Asamayama Kannondo Temple. After all the effort, make sure you take a bath at the Takamine Kogen Onsen nearby (hot spring).
Mount Kusatsu-Shirane
Elevation: 7,123 ft (ca. 2,171 m)
Mount Kusatsu-Shirane (草津白根山) is located in Central Honshu at less than 31 mi (ca. 50 km) from Nagano city. At the summit, you can find 3 lake-filled craters (Karagama, Yugama, Mizugama).
If you want to visit this volcano, know that there's a free shuttle bus to the main hiking course. From mid-April to mid-November, there are buses that leave Kukatsu Bus Terminal every hour.
Lake Yugama is really worth the visit as you can see yellow sulfur floating on the turquoise water.
Also, don't forget the 2 famous onsen that are located on the way up to the mountain (Kukatsu Onsen and Manza Onsen).
Mount Hakkoda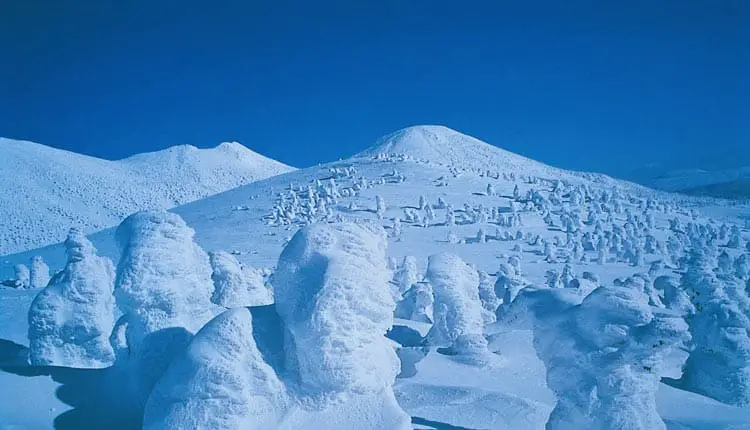 Elevation: 5,197 ft (ca. 1,584 meters)
Mount Hakkoda (八甲田山) is located in the northernmost part of Honshu island, in Aomori prefecture. It consists of more than 10 volcanoes divided into 2 groups.
Even if it is an active volcano, there has been no documented eruption since 1550.
The best time to visit Mount Hakkoda is during winter because of the famous snow monsters. Snow monsters are a sort of ice figures that are created when fog instantly freezes on the trees. It's a rare phenomenon in the world, but if you're going to Mount Hakkoda you will definitely see it.
If you're not going during winter, the rest of the time you can enjoy the several trails that take you to Lake Towada, Suirennuma Pond, Sukayu Onsen, and some peaks of Mt Hakkoda.
Mount Akita-Komagatake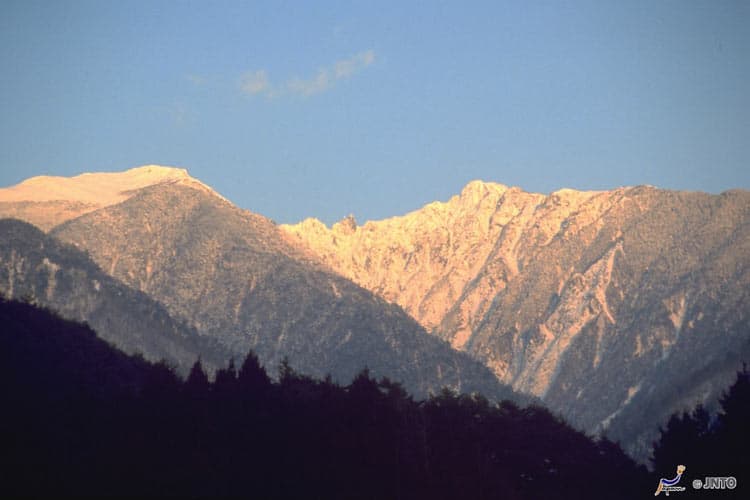 Elevation: 5,371 ft (ca. 1,637 meters)
Akita-Komagatake (秋田駒ヶ岳) is located in the north of the Honshu Island, between Akita and Iwate prefectures, and it's a part of the Towada-Hachimantai National Park.
There has been no real eruption since 1971, so this is a pretty calm volcano (for now).
If you travel to the north of Japan, you might want to take a look, but in my opinion, there are much better volcanoes than this one that really are worth the travel.
Mount Usu
Elevation: 2,405 ft (ca. 733 meters)
Mount Usu (有珠山) is a volcano located on the Hokkaido Island, and it's part of the Shikotsu-Toya National Park. Along with Showa-shinzan, they are the most important tourist attractions of the park.
One of its latest eruptions (between March 2000 and September 2001) forced 13,000 residents to evacuate.
There's a ropeway to get you to the volcano, but if you need more information on this, there's the official website with all you need. And if you have some time, try the Eruption Experience Room which sounds like an amazing experience.
Mount Hakone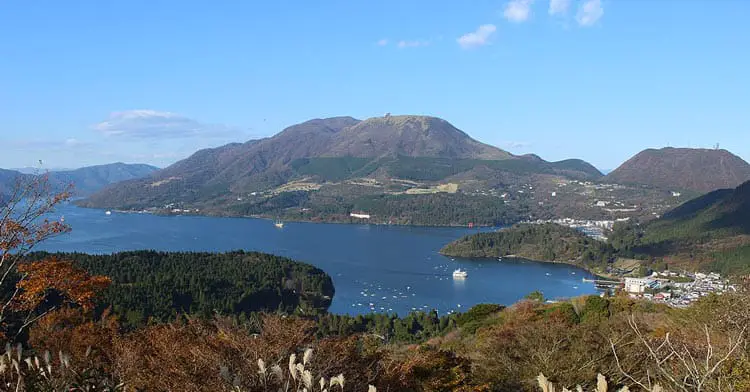 Elevation: 4,718 ft (1,438 metres)
Mount Hakone (箱根山) is located on Honshu Island in Kanagawa prefecture (50 mi / 80 km from Tokyo). It has 2 overlapping calderas, which make it a really cool volcano.
There was no real volcanic activity in at least 800 years.
When visiting Mount Hakone, make sure to enjoy at least one of the 17 hot springs in the area, which represent 20 different types of spring water! And don't forget Lake Ashinoko, formed thanks to a volcanic eruption more than 3,000 years ago, where you can have a magnificent view of Mount Fuji.
Mount Meakan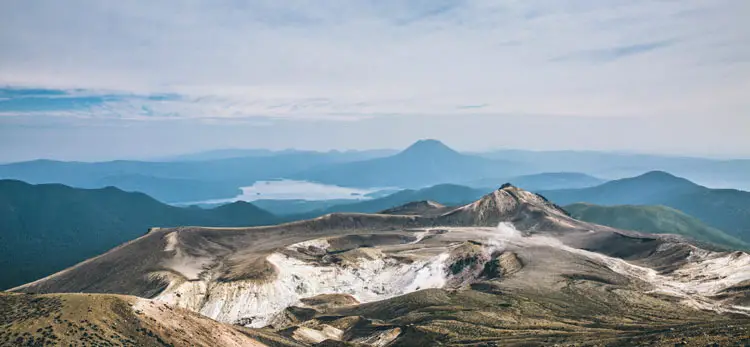 Elevation: 4,918 ft (1,499 m)
Mount Meakan (雌阿寒岳) is located to the east of the Hokkaido Island in the Akan-Mashu National Park. At the summit of the volcano, you'll find 2 ponds: Sekinuma (Red Pond) and Aonuma (Blue Pond).
If you want to visit Mount Meakan, you must travel between June and October, otherwise, it will be most likely covered with snow.
Mount Iwaki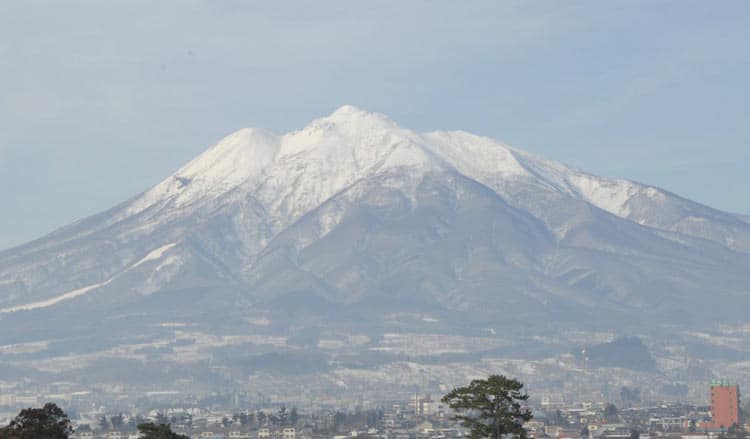 Elevation: 5,330 ft (1,624 m)
Mount Iwaki (岩木山) is located in the north of Honshu Island, not far from Aomori. It is almost a symmetrical volcano, and it's often called Tsugaru-Fuji.
The volcano was really active in the 19th century with multiple eruptions, but since then it has been pretty calm.
From the summit, you'll have an amazing panoramic view of the surroundings, and you'll be able to see other beautiful mountains.
Mount Daisen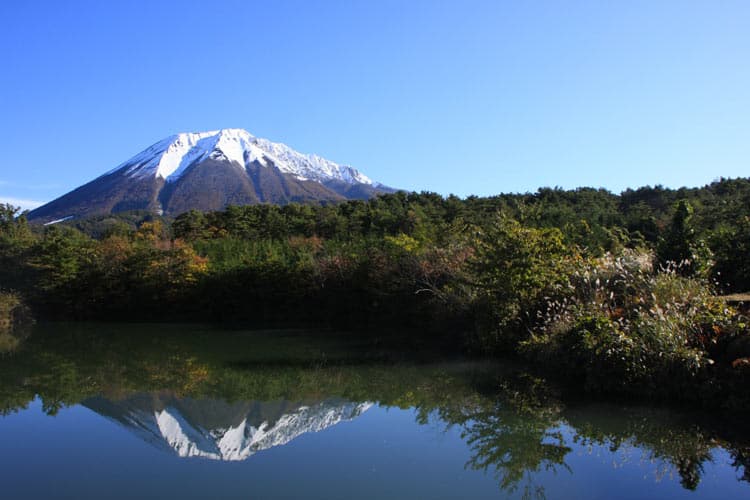 Elevation: 5,673 ft (1,729 m)
Mount Daisen (大山) is located in the west of Honshu Island, and it's part of the Daisen-Oki National Park. It has several peaks, but the highest one, Kengamine Peak, is unavailable because it has been unstable since the Tottori earthquake in 2000. But you can still go to the second highest, Misen Peak at 5606 ft (ca. 1,709 m).
There are several trails to get you to the summit, but the Natsuyama trail is better for amateurs. Other trails allow you to see different things but also take more time.
On your way to the top, you'll find the Daisen-ji Temple, which is definitely worth the stop.
During summer, you'll see incredible wildflowers, while in autumn you'll see amazing foliage. During the winter, it becomes one of the top ski destinations in West Japan.
Mount Tsurumi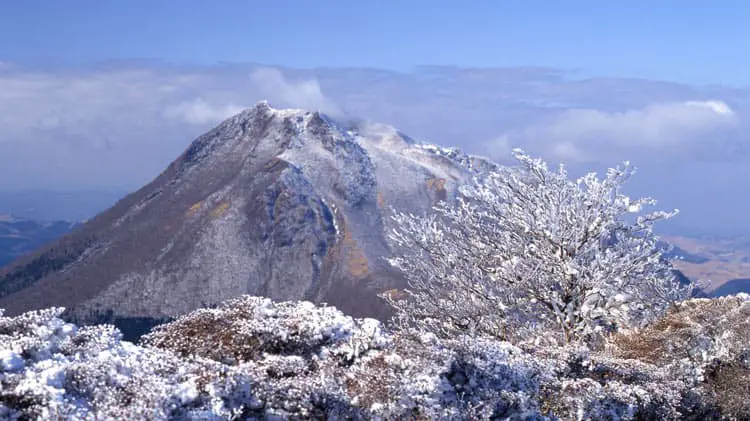 Elevation: 4,510 ft (1,374 m)
Mount Tsurumi (鶴見岳) is located on Kyushu Island in the city of Beppu, known for its hot springs.
There was only one known historical eruption a long time ago, so this place is more than calm.
You can get to the top with the Beppu Ropeway and enjoy an astonishing view. If you need information on this, you can use this official brochure.
Mount Tsurumi it's amazing at any season, so you won't be disappointed.
Mount Kirishima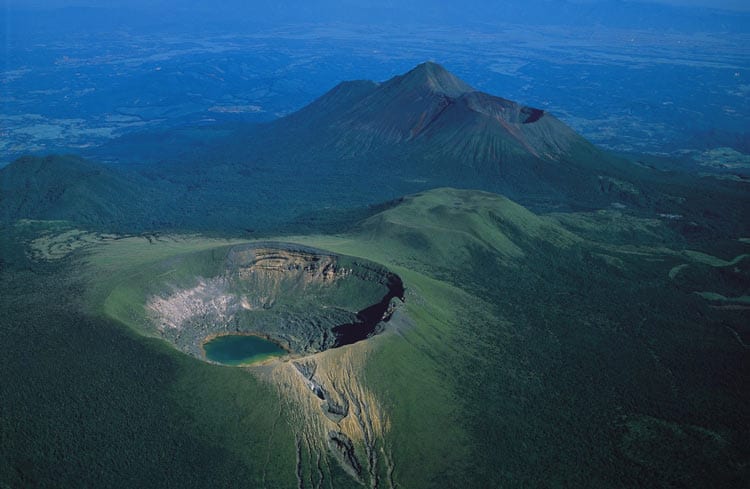 Elevation: 5,600 ft (1,700 m)
Mount Kirishima (霧島山) is a highly active volcano group located in the south of Kyushu Island. It's made of more than a dozen peaks, the highest of them being Karakuni-dake from where you can see Korea.
The most active volcano of this group is Shinmoedake with four eruptions between 2011 and 2018.
The peaks are frequently surrounded by clouds, making them look like islands floating in the sky. When that happens, you have one amazing hiking journey. Due to the high activity of Shinmoedake, please check the situation before going there as the trails might be closed.
Mount Yotei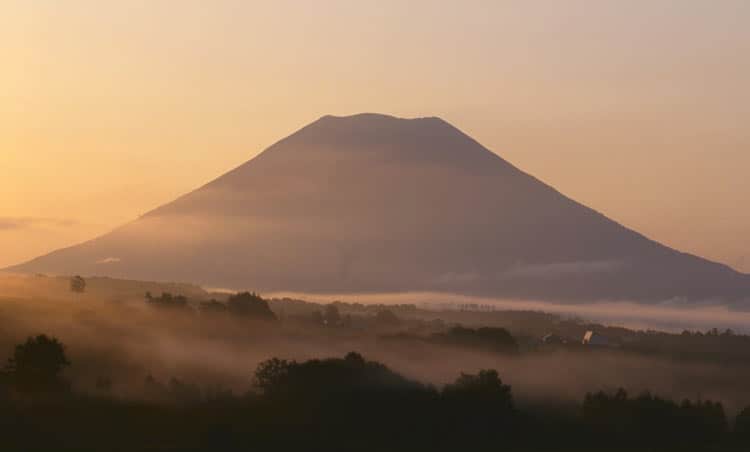 Elevation: 6,227 ft (ca. 1,898 meters)
Mount Yōtei (羊蹄山) is a volcano in the south of Hokkaido Island and a part of Shokotsu-Toya National Park.
At the summit, you can find a crater of 700 m, which erupted around 6,000 years ago. By the time I wrote this post, there were no recent eruptions of Mount Yotei.
As this is a symmetrical volcano, it is often compared to Mount Fuji.
Mount Haruna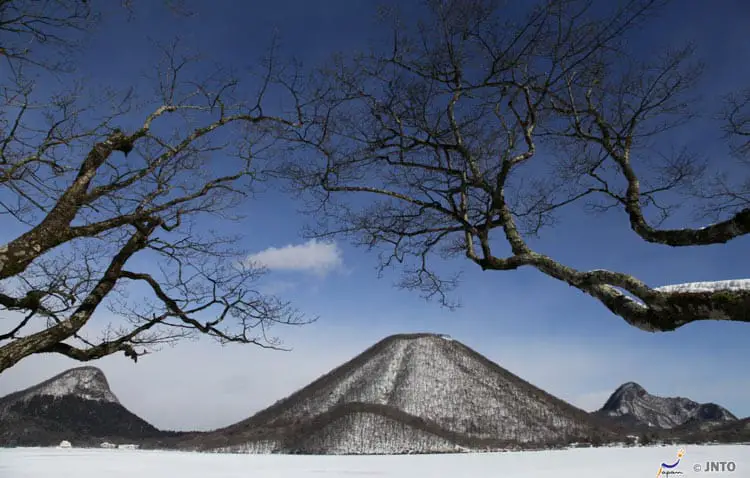 Elevation: 4,754 ft (1,449 m)
This volcano hasn't erupted in more than 1,000 years, so it's quite calm too.
Mount Haruna (榛名山) is a volcano located in central Honshu at about 68 mi (110 km) from Tokyo.
At 3,641 ft (ca. 1,110 m), you'll find the breathtaking Lake Haruna where you can have fun at any time of the year. You can try riding a bike around the lake, horse riding, camping and even renting a canoe to go into the water. During the winter, the lake freezes, allowing ice-fishing or ice skating.
You can visit the official website for more details.
Mount Io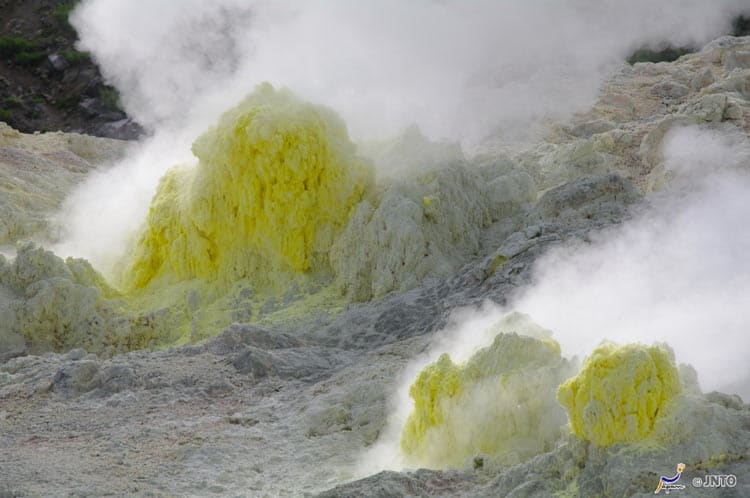 Elevation: 5,124 ft (ca. 1,562 m)
Mount Iō (硫黄山) is an active volcano in the northwestern part of Hokkaido, in Shiretoko Peninsula. Its name means sulfur mountain as a reference to the sulfur present at the top.
There was one eruption in the 20th century, but after that, it was pretty calm.
As it is a part of Shiretoko National Park, which is a UNESCO World Heritage Site, there are always magnificent landscapes to see all around you.
Mount Kaimon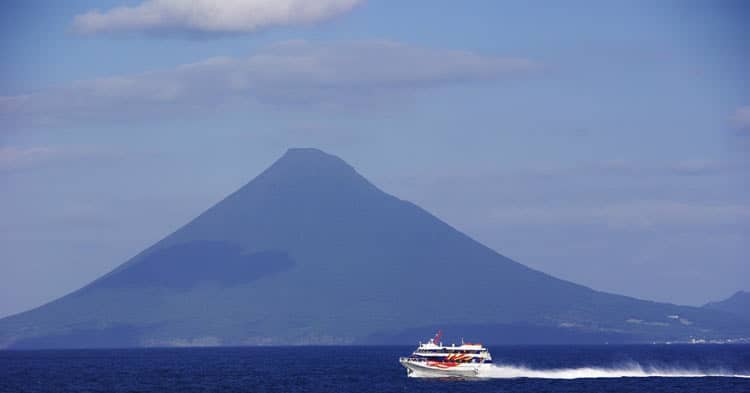 Elevation: 3,031 ft (924 m)
Kaimondake (開聞岳) is a volcano in the very south of Kyushu Island near Ibusuki city. Like some other volcanoes we saw, this one is also compared to Mount Fuji because of its shape.
The last known eruption was in 885, a long time ago.
In general, you can get to the top and return in about 6 hours. And after that, a stop at Ibusuki Onsen is almost mandatory 🙂
Mount Rishiri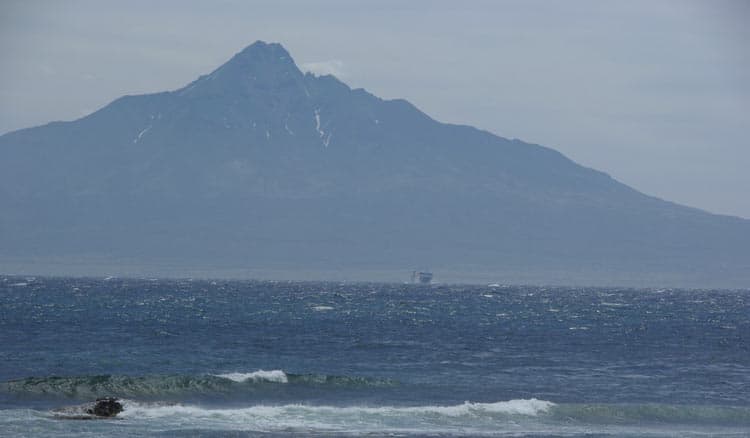 Elevation: 5,646 ft (1,721 m)
Mount Rishiri (利尻山) is located off the coast of Hokkaido on Rishiri Island, and it's part of the Rishiri Rebun Sarobetsu National Park.
It erupted more than 8,500 years ago, and there's no sign of recent activity since then.
From the top, you can enjoy a clear panoramic view of the ocean, but it is quite challenging getting there. If you don't feel like it, just enjoy the nature at the base (you won't be disappointed).
Mount Zao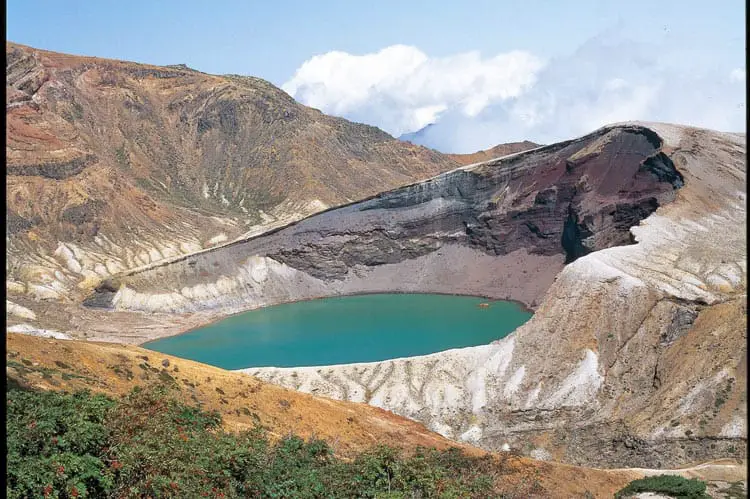 Elevation: 6,040 ft (1,841 m)
Mount Zaō (蔵王山) is a volcano on Honshu Island between Yamagata and Miyagi prefectures and it's considered the most active volcano in the north of Honshu.
This volcano has erupted several times during the 19th century and 4 times during the 20th century.
If you plan on visiting this volcano, don't miss the opportunity to go to the Zao Fox Village and get close to dozens of foxes. You should also get to the top and see Okama Lake, also known as the Five Color Pond because of its changing colors according to the weather.
Last but not least, Mount Zao has also the famous snow monsters phenomenon.
Conclusion
I really hope you liked this post on these 21 volcanoes, at least as much as I liked doing this research for you. You must know that this is a small part of all the volcanoes available in Japan, so if there's any other volcano that you would like to see in this list, feel free to leave a comment in the section below.
Before you go, you might want to see this impressive video from BBC News about Mount Ontake's eruption in 2014.
Japanhorizon.com is a participant in the Amazon Services LLC Associates Program, an affiliate advertising program designed to provide a means for sites to earn advertising fees by advertising and linking to Amazon.com. Japanhorizon.com also participates in affiliate programs with Viator, Jrailpass, Kayak, Klook, Japan Experience, and is compensated for referring traffic and business to these companies.