The other day I was looking really closely at Japan's map and I saw plenty of small islands all around it. I started wondering how many islands it had in total, so I did some research, and what I found was that Japan had more islands than I could imagine.
Japan is an archipelago made of 6,852 islands, of which only 430 islands are inhabited. The main islands, from North to South, are Hokkaido, Honshu (the largest and most populated), Shikoku (the smallest of the main islands), and Kyushu.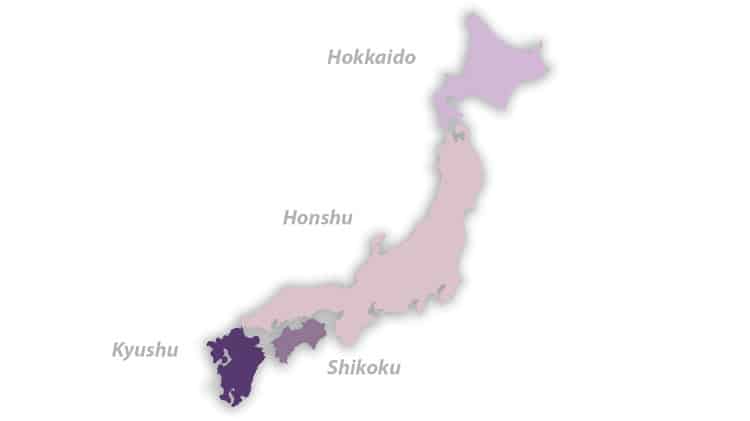 That's pretty cool, right? At first sight, we think that Japan is made of just the four main islands we can easily see, but then we notice that there are thousands more. There's a pretty good series on Amazon Prime Video called "James May: Our Man in Japan" that explores Japan from North to South and that you can watch for free if you have an Amazon Prime subscription (otherwise you can try the 30-day free trial). But for now, let's take a deeper look into these famous islands of Japan.
Honshu Island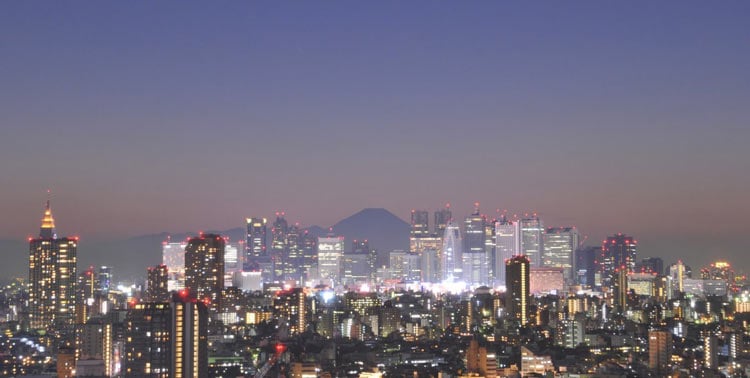 Honshu island is just the largest (more than 227,000 km2 / 88,000 sq mi) and most populated island in Japan (more than 104 million people). Its size is approximately the same as the state of Utah, making it the seventh-largest island in the world. The highest point of this island is the famous Mount Fuji at 12,388 ft (3,776 m).
Honshu island is also the most visited of all the Japanese islands. Here you'll find the most well-known cities like Tokyo, Kyoto, Osaka and Nara (those you'll most likely visit during your first travel to Japan).
Even if it is an island, Honshu is well-connected with the other three main islands of Japan (Hokkaido, Kyushu, and Shikoku) by bridges or tunnels. There are a lot of bridges between Honshu and Shikoku, a tunnel that connects to Hokkaido, and a bridge and tunnel that connects to Kyushu.
There are never-ending points of interest in the Honshu island, but you should keep in mind at least the following:
Mount Fuji (an active volcano and the highest point in Japan)
Arashima bamboo forest (an amazing natural bamboo forest in Arashima, Kyoto)
Tokyo Skytree (a broadcasting tower with 2,080 ft / 634 m)
Osaka Castle (one of the most famous landmarks of Japan)
Imperial Palace (the primary residence of Japan's Emperor)
Lake Kawaguchi (one of the Five Fuji Lakes near Mount Fuji)
Tokyo Disneyland (the first Disney outside the United States)
Gion (the Geisha's district in Kyoto)
Nara Park (a natural treasure known for its wild sika deer)
Kenroku-en Garden (one of the top 3 gardens in Japan. If you want to know more, read my previous post on zen gardens)
Hiroshima Peace Memorial Park (a place to remember the atrocity of the first nuclear attack)
You may also like:

21 Active Volcanoes in Japan That People Actually Visit
Japan Weather Month by Month: Best Time to Visit
Tsunami Warning System in Japan: A Quick and Helpful Guide
Hokkaido Island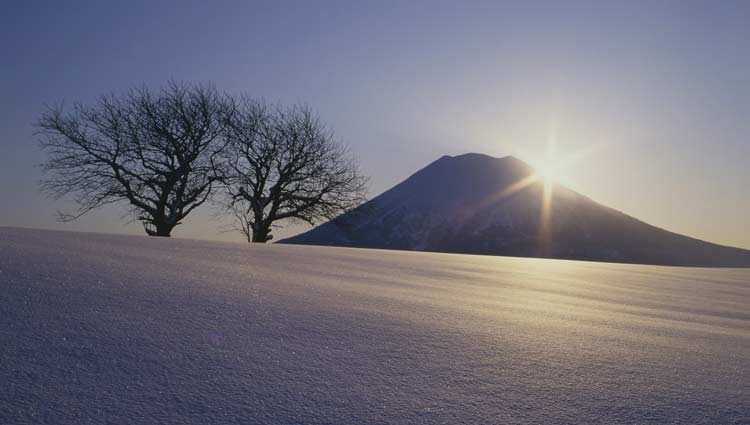 Hokkaido is the second-largest island in Japan (more than 32,000 sq mi / 83,000 km2) and the 21st largest in the world. It is located in the northern part of Japan, and it's connected to the main island of Honshu by the Seikan Tunnel. Its size can be compared to the state of South Carolina.
Hokkaido is an island where nature is present everywhere with a central mountainous region and coastal plains. There are also several lakes you can enjoy like Lake Toya or Lake Shikotsu, for instance.
Even in big cities like Sapporo or Hakodate, you'll be amazed to see how Japanese people manage to reunite nature and the city in a magnificent place.
This island benefits from four distinctive seasons, so you'll be able to clearly make the difference between Spring, Summer, Autumn, and Winter.
During Spring, the island is covered with flowers everywhere, and you'll be able to see the famous cherry blossoms here if you missed it in the rest of Japan. The summers are generally cooler than the rest of Japan, so Hokkaido is definitely the place to be if you're running away from the hot and humid summers of Tokyo. In Autumn, nature changes and shows its most beautiful colors with red and gold leaves. Last but not least, Winter is the key season of Hokkaido and you don't want to miss the Winter festivals, especially Sapporo Snow Festival, Asahikawa Ice Festival, or Sounkyo Ice Festival.
If you need more information about the activities, the best food, and the guided tours available in Hokkaido, you can check Klook's catalog to get some ideas of what you can do. And if you're not sure whether it is ok to visit Japan during winter, you can read my other post on the "13 good reasons to visit Japan during winter".
Feel free to download the official Hokkaido brochure for the main tourist information.
Kyushu Island
Kyushu is a mountainous island and the 3rd largest island in Japan. It is located in the southern part and has a warm and subtropical climate (warmer than Honshu island). In terms of size, with an area of more than 14,000 sq mi (36,000 km2), it is bigger than the state of Maryland but smaller than West Virginia.
The island is famous for its natural wonders, like many volcanic spots. You'll be able to see two of the world's most active volcanoes: Mount Aso and Sakurajima. (If you're interested in the active volcanoes in Japan, you can check my other post "21 active volcanoes in Japan that people actually visit".)
It is also known for its beaches (Aoshima, Keya, Iso, Cape Hado, Shirogahama, Takahama or Matama) and hot springs (Beppu onsen and Yufuin onsen in Oita, Kurokawa onsen in Kumamoto, Ureshino onsen in Saga, Unzen onsen in Nagasaki, Kirishima onsen and Ibusuki onsen in Kagoshima).
And it even has an unexpected onsen for those who like to bathe in the colored water. Some of the best-colored water onsens in Kyushu are:
Yufuin Onsen (blue water)
Takenoyu Onsen (blue water)
Ukenokuchi Onsen (yellow water)
Yumigahama Onsen (red water)
Ondake Onsen (red water)
Kojigoku Onsen (white water)
Myoban Onsen (white water and green water)
Hitiyoshi Onsen (black water)
Yoshimatsu Onsen (black water)
Kuju Onsen (brown water)
Tsuana Onsen (brown water)
If you've never been to an onsen, you must know that there are some rules to respect. You can check my post "How to use Japanese onsen if you try it for the first time" to be aware of what to expect.
Don't forget to check if the onsen you intend to visit provides all the essentials. Many of them do, but not all. Here's a list of the basics for a good onsen experience with links to some examples on Amazon:
Akasuri: a scrub towel to wash yourself before entering the onsen bath
Tenugui: a small towel that you'll carry around the bath area
Bath products: In case they're not provided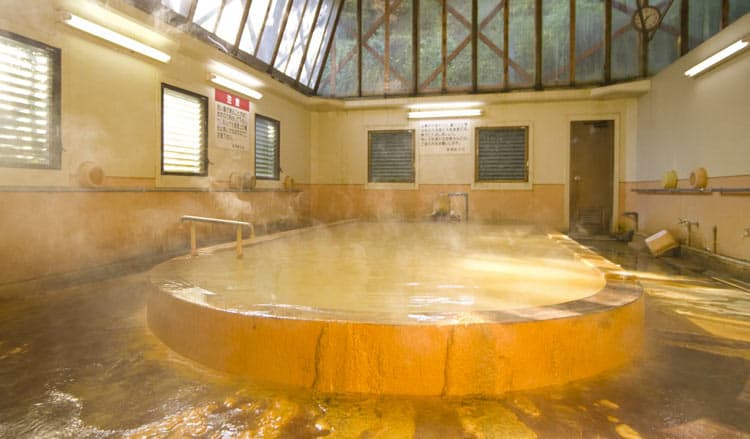 In Kyushu island, you can find well-known cities like:
Fukuoka: the largest city in Kyushu, famous for its castle, shrines, and temples
Nagasaki: known for its tragic history, today the city is a symbol of peace
Arita: known for its pottery, this town was the first place in Japan to produce porcelain
Kitakyushu: the main port town that establishes the connection with the Honshu island
Karatsu: known for its castle and pottery
Beppu: famous for its uncountable hot springs
Kumamoto: known for one of the most beautiful Japanese gardens and for its castle
Miyazaki: beach resort in the south
Kagoshima: major city in the south known for the Sakurajima volcano
For more information about Kyushu island, you can check the Kyushu Tourism website and Klook's catalog for Kyushu activities, sightseeing, and the best foods.
Shikoku Island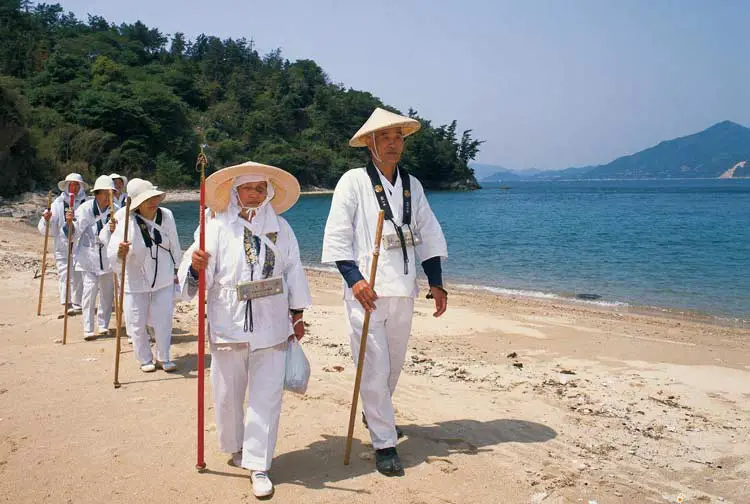 Shikoku island has an area of 7,300 sq mi (18,800 km2), which is almost like the state of New Jersey. It is the smallest of the four main islands of Japan with its highest point, Mount Ishizuchi, at 6,503 ft (1.98 km).
This island is known for the Shikoku 88 Temple Pilgrimage, a highly recommended experience for visitors. It's a roughly 745 mi (1,200 km) journey around the island to visit all the temples.
Some of the most important cities on Shikoku island are:
Matsuyama: largest Shikoku's city with an amazing castle
Takamatsu: a city in Kagawa prefecture known for its castle and the Ritsurin Garden (see my previous post if you want to know more about this garden and many others)
Kochi: a city famous for the Kochi castle, one of the few Japanese original castles
Naruto: no, it's not the city of Naruto Uzumaki, but this city is famous for its whirlpools (maybe you can relate to Naruto Uzumaki's rasenshuriken)
Other than the main cities, I can also give you a list of some amazing places you can visit:
Chichibugahama beach: 1 km-long beach known for making astonishing mirror pictures
Niyodo Blue: parts of Niyodo River with an incredible blue water
Omogo Gorge: near Mount Ishizuchi, this place is a national scenic site
Angel Road: a sand road in the middle of the ocean that can be crossed during low tide (twice a day)
Okuboji temple: the last temple of the 88 Pilgrimage
Ryozeji temple: the first temple of the 88 Pilgrimage
Kochi castle: the only Japanese castle that has preserved the structures of the main building
Takamatsu castle: One of the Three Water Castles of Japan
And, as usual, if you want to know more about Shikoku, you can visit the tourism official website.
Thousands More
Okinawa Islands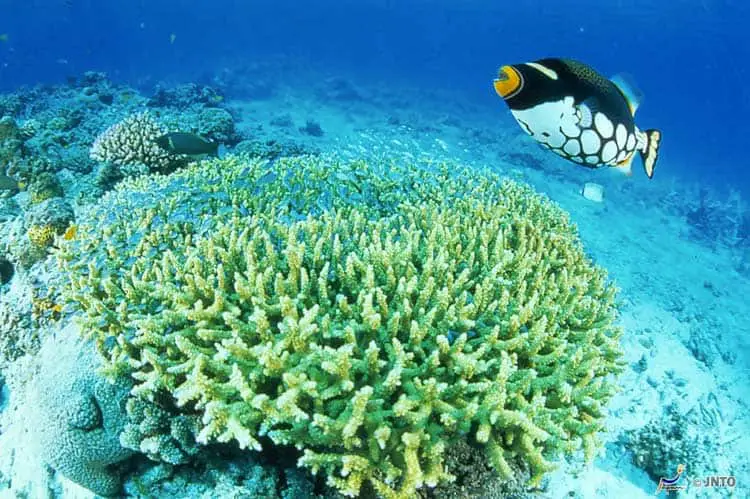 This group of islands consists of more than 150 islands, but the most important are:
Okinawa (the main island)
Iheya-Izena islands (Ihena and Izena)
Yokatsu islands (Yabuchi, Hamahiga, Kudaka, Minamiukibara, Ukibara, Henza, Ikei, Miyagi and Tsuken)
Kerama islands (Geruma, Aka, Zamami and Tokashiki)
Aguni islands (Tonaki and Aguni)
Ie
Sesoko
Kume
Okinawa has a subtropical climate, and it's well-known for its wide beaches and coral reefs. If you decide to go to Japan during summer, this is definitely the place to be. Some of the best beaches you can find in Okinawa are:
Nirai beach (natural beach with crystal clear waters in central Okinawa. Possibility of seeing the reef during low tide)
Busena beach (a very popular beach in the north with clear water and colorful fish)
Manza beach (a popular beach in a calm inlet known for the famous Manza Cove)
Emerald beach (part of the top 100 beaches in Japan, Emerald beach has magnificent cobalt blue water)
Okuma beach (combines white and natural sand surrounded by the wide Yanbaru forest)
Sun Marina beach (a beach protected from the waves with one of the best water clarity)
Okinawa Islands are also perfect for scuba diving or snorkeling and you can choose from a wide catalog of diving experiences on Klook's website.
But Okinawa is also known for its World Heritage Sites like Nakijin Castle, Katsuren Castle, Zakimi Castle, Nakagusuku Castle, Shurijo Castle, Tamaudun Royal Mausoleum, Sonohyan-utaki Stone Gate or Shikinaen Royal Garden.
If you want to know more about the Okinawa islands, you can visit the Okinawa website which has a lot of useful up-to-date information.
Sado Island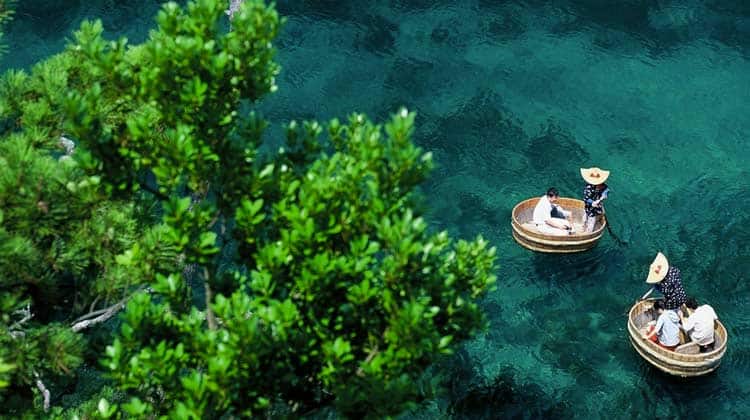 Sado Island (佐渡島) is the sixth largest island of Japan after the four main islands and Okinawa. Here you'll find the famous tarai bune (たらい舟) or tub boat, a traditional fishing boat designed to fish in small coves originated by earthquakes.
On this island, you can visit amazing places like the historic Sado Kinzan Gold Mine, which represents a 400-year history of mining, or some temples like Myosen-ji, Konpon-ji, or Kaicho-ji temple.
If you truly want to understand the history of this island, I recommend reading Sado: Japan's island in exile which is a profound book, available on Amazon, where the author paints a vivid picture of this incredible island.
Also, check out the Sado Official Website for more detailed information if you plan on visiting this awesome island.
Oki Islands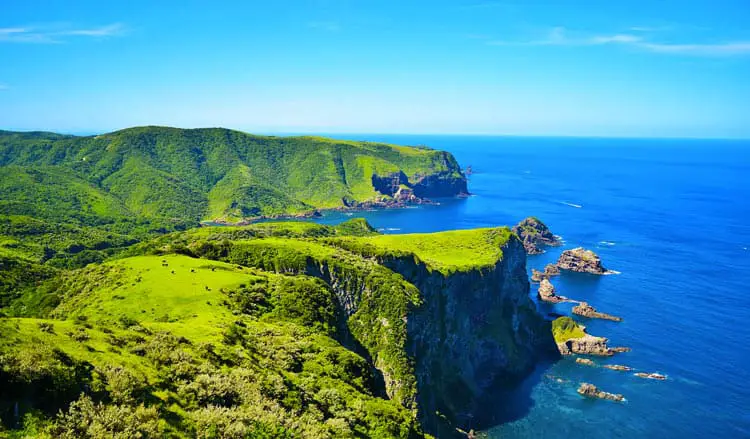 Dogojima, Nishinoshima, Nakanoshima and Chiburijima are the four inhabited islands of the Oki archipelago, located about 50 miles (ca. 80 km) to the north of Honshu.
In September 2014, the Oki islands were designated a UNESCO Global Geopark so you can imagine the beauty that lies within these islands.
Here you'll be able to see natural beauties like the Candle Island in Okinoshima, the Sekiheki Cliff in Chibu, the Matengai Cliff in Nishinoshima or the Akiya Coast in Ama.
Here's a small video from the Oki Islands YouTube channel so you can appreciate the unique nature of these islands.
Hashima – Gunkanjima Island (Battleship Island)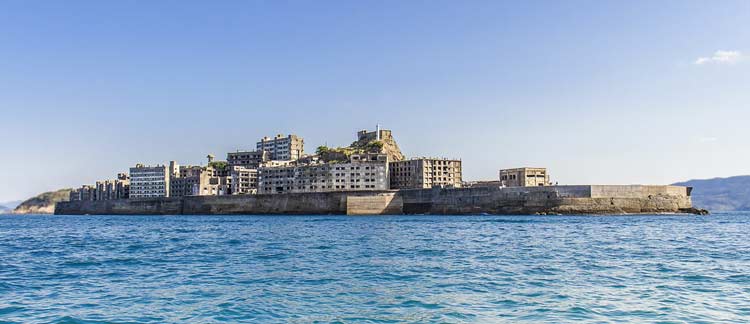 The Hashima island (端島) is also known as Gunkanjima (軍艦島), which means battleship island, due to its strange appearance that can be related to the Japanese battleship called Tosa.
The island's purpose was only for coal mining, essentially between 1890 and 1974 when the mine was closed. Today, it is a ghost island, abandoned for more than 40 years, but it saw more than 5300 people living there in 1960. Hashima island had many buildings like shops, a school, a hospital, a temple, a police box, etc, and it worked just like a city.
Since April 2009, it is possible to visit this abandoned island to better understand its history. You won't be able to see all the buildings, but it is a pretty cool visit to do anyway.
Make sure you find the right company for the guided visit as they do not offer the same services. If you want to know more about this island, you can visit the Gunkanjima website for all the information needed.
Meanwhile, you can watch this cool video if you're already curious about Gunkanjima. Please note that this is a video of an unguided visit, and you should not do the same.
Okunoshima (Rabbit Island)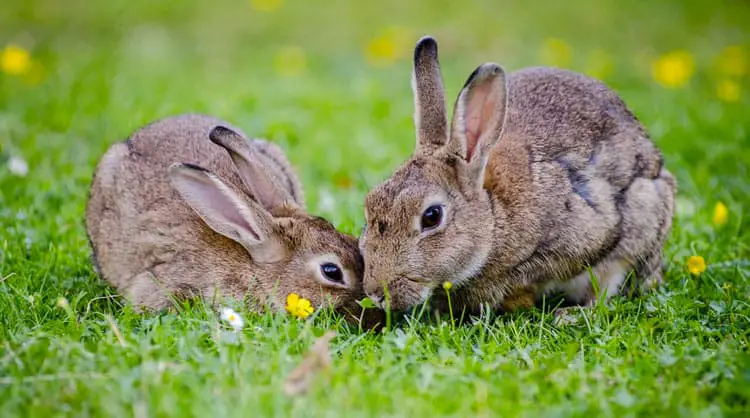 Okunoshima is a small island in the Hiroshima Prefecture accessible by ferry. Today, this island is the home of hundreds of adorable rabbits (more than 1,000 actually), but it has a dark past.
During World War II, it was the center of chemical weapons research and production. The Japanese used the rabbits to test chemical weapons, mainly poison gas, and the facility is still present on the island, although it is abandoned now. Please be assured, the rabbits that were used for the tests are no longer alive and the rabbits on the island are perfectly normal.
While on the island, you can visit The Poison Gas Museum which opened in 1988. This museum has only two rooms and it is used to show the effects of poison gas and to remind the importance of peace.
Okunoshima island doesn't have many buildings and there's only one hotel and one restaurant with a coffee shop. There's also a campsite with an ocean view.
If you plan on staying overnight, you can fully enjoy the island with these activities:
Rabbits sightseeing (they are everywhere and if you bought their food at the port, they'll come to you real quickly)
Poison Gas Museum (an interesting visit to remember the past)
Beach walking (it's always nice to mix a beautiful view with some rabbits)
360° panoramic view (at the summit of the island)
Lighthouse (a cool place to have a scenic ocean view)
Hot Spring (available at the hotel)
All the information you need is available on the Rabbit Island website if you want to take a look.
And that's all for now.
You have now some useful information about the four main islands of Japan plus a few more (we can't talk about all the 6,852 islands, right?). I hope you enjoyed reading this post and let me know in the comments below if you are planning to visit any other interesting island in Japan.
And if you want to see some cool islands, you can watch Japan: Islands of Extremes for free with your Amazon Prime subscription or Japan: Earth's Enchanted Islands on Amazon Prime.
---