As a general rule of thumb, most people avoid traveling during winter. And yet, this can be a great season to visit Japan, if you know the right places to visit and the best things to do. If you're not one of those persons that only travels during the hot summer days, you will have a wonderful time visiting Japan during the winter months of December, January and February. To help you find the winter travel of your dreams, I prepared a list of good reasons to visit Japan in the winter just for you.
Is Japan good to visit in December, January and February?
Japan is a perfect country to visit during the winter because there will be fewer or no crowds at all. Also, you can enjoy the outdoor onsen (hot springs) surrounded by snow, as well as magnificent winter landscapes and some of the best festivals and winter illuminations in Japan.
Want to know more about these great reasons? All you need to know for the best winter travel in Japan is waiting for you in the next paragraphs!
Table of Contents
No Crowds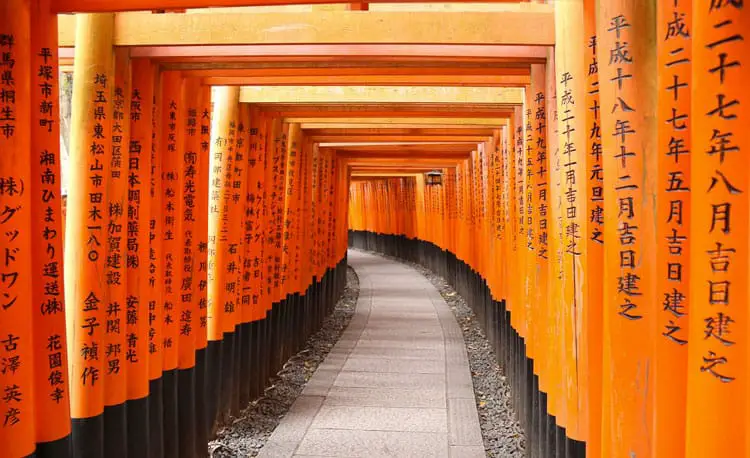 If there's something you should keep in mind, is that Japan is a very prized travel destination and, therefore, you should expect huge crowds in the most famous tourist spots. The good news is that this doesn't happen during winter!
For some unknown reason, people don't usually travel during wintertime and most of the time they spend their long vacations during summer in some sort of well-known tropical island. (Speaking of which, you should probably try Japan's southern islands like Okinawa for example)
What people don't know is that winter can be a great choice for your vacations, specially if you know in advance all the amazing things you can see and do in Japan without having thousands of people around you.
Don't get me wrong, visiting Japan is great all year round, but the huge crowds you have to face during spring and autumn can be a true challenge even for the best motivated people. Some places, like those that are well-known tourist spots, are totally crowded when you try to visit them which can ruin a little your expectation of a great trip.
The pictures you'll see everywhere that show you these beautiful places and no one around are usually taken the first thing in the morning, before the crowd arrives. Otherwise, you will find yourself taking pictures with lots of unknown people in them.
Visiting Japan during winter will avoid all this inconvenience. The weather will be cooler, but you can move freely and enjoy some sunny days too.
If you need to know more about the weather in Japan month by month to make your decision, you can read my previous article here.
Lower Prices
Another good reason to travel to Japan in December, January or February are the lower prices. Indeed, since these months are not very researched, the prices are lower.
Japan works pretty much like any destination, if you travel during the low season, you get to avoid the higher prices. And this concerns not only the flights, but also the accommodations and certain activities that you might enjoy in Japan. For instance, certain parks or gardens have higher entrance fees when you visit during the cherry blossom season. So when you visit during winter, you avoid all these extra fees that can be really annoying for your travel budget.
Just to give you an example, you can fly from Los Angeles to Tokyo from December 2nd to December 16th for less than $500 per person (round trip). And if you have flexible dates, you can try different ones and get the best offer, so this is really worth considering when choosing the cheapest time to visit Japan.
Shirakawa-go Village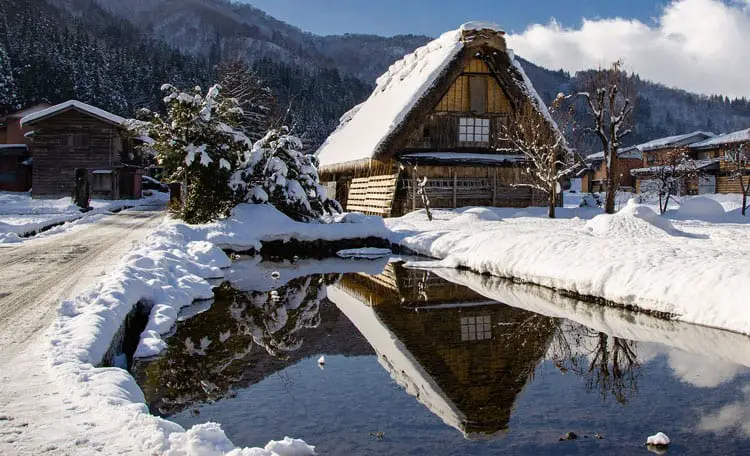 Shirakawa-go is a magnificent traditional village, located in the Gifu Prefecture, that is recognized as a World Heritage Site. This village is characterized by typical houses using a particular kind of construction. They are tall but narrow, with roofs that almost touch the ground due to heavy snowfalls during winter. These houses are masterpieces of the past, and even if some were converted into museums and guesthouses, many are still residences.
Even if this village can be visited at any time of the year, its beauty is largely amplified during winter. Snowy landscapes are naturally beautiful, but a small traditional village like this covered in snow is simply astonishing. I'll bet you will take the best pictures to show on your Instagram. 🙂
I recommend visiting at least the Wada House, Kanda House and Nagase House which are pretty amazing.
Mount Fuji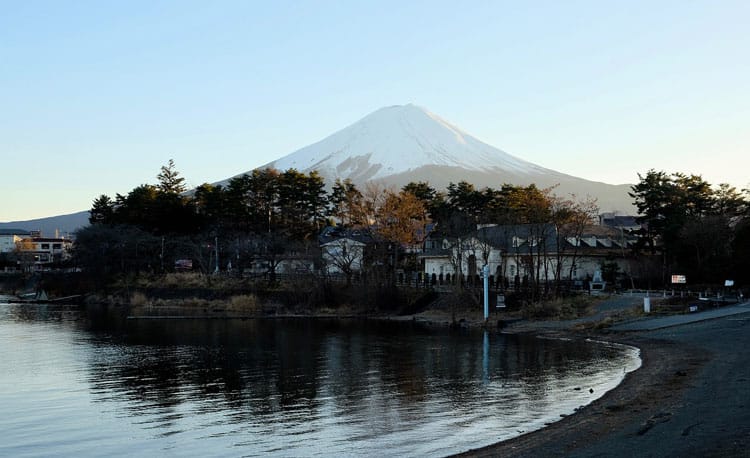 Mount Fuji is the highest mountain of Japan, but also the most beautiful and the most famous. So going to Japan and not seeing Mount Fuji can be really disappointing, but that happens a lot specially in June when Mount Fuji is hidden by clouds.
The great advantage of traveling during winter is that you will have clear and sunny days (even with low temperatures) and you can actually see Mount Fuji. You can enjoy Mount Fuji either by climbing it or by admiring its beauty from far away. Unfortunately, for those willing to climb Mount Fuji all the way up to the top, climbing is not possible during winter, but if you just want to admire its beauty, the best moment is during winter.
Some of the best spots to do admire Mount Fuji are:
Chureito Pagoda
Urui River
Lake Tanuki
Lake Yamanaka
Lake Kawaguchi
Enoshima Island
Tokyo Skytree
And for the best pictures of Mount Fuji, get at your favorite spot early in the morning or late afternoon. 😉
Jigokudani Monkey Park
The Jigokudani Monkey Park is really a one-of-a-kind place to visit. Even if you can see the monkeys all year round, it's better to visit during winter since the white landscape makes it much more beautiful. During hotter days, monkeys will still be there, but is not as attractive as winter. Also, the monkeys will be more likely to bathe in the hot waters when it is freezing outside.
There's a trail that gets you to the park, which takes between 25 and 40 minutes depending on how fast you walk. There will be snow during winter so be careful and dress accordingly.
When you'll come back from the park, you might want to try the Kanbayashi Onsen near the beginning of the trail to warm you up and make you forget the freezing temperatures. 🙂
Snow Sports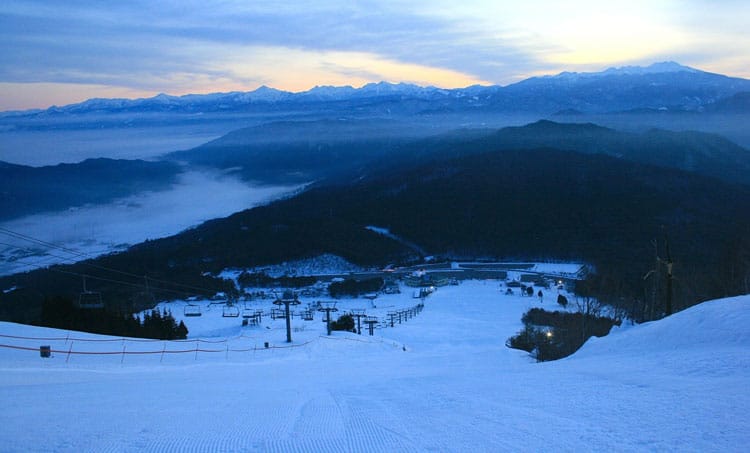 Winter in Japan is also synonym of snow and skiing. There are actually several regions in Japan that are great for snow sports like Aomori, Iwate, Niigata, but most importantly, the whole northern island of Hokkaido.
As a general rule, all the northern regions of Japan are great for skiing and have huge amounts of snow, so if you are a snow addict, you should definitely book your trip to Japan for the next winter.
Although not that frequent, you can also find some snow in the Tokyo region and if that doesn't happen, you can always get on the shinkansen (japan's bullet train) and visit the Nagano and the Niigata prefectures that are not that far from Tokyo. There are actually some excellent ski resorts like Happo One, Hakuba 47 & Goryu or Shiga Koen in Nagano and Myoko Akakura, Kagura or Gala Yuzawa in Niigata.
Winter Scenery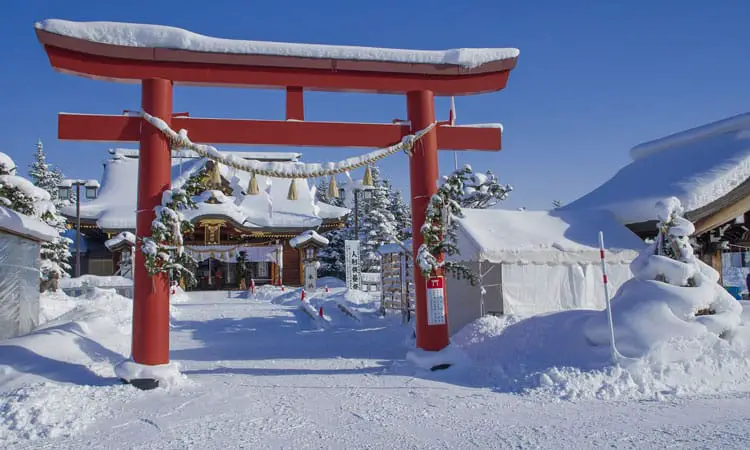 The winter views in Japan are pretty amazing, specially when there's snow. Seeing all these incredible places in Japan covered with snow is a unique experience. Imagine how beautiful a temple can get when there's snow everywhere. Even the red gates (torii) are more impressive with all the snow, as you can see in the picture above.
Japan is a country where there's nature everywhere, even in cities. And when you combine nature with snow, the result couldn't be any more spectacular. To go for a walk in a snowy park during a winter sunny day is an experience that will be recorded in your memory forever.
If you want to brag about your winter travel to Japan, you can take some of the best pictures while there's snow and show them to your friends.
And you can also take the time to have some fun in the snow making some snowman or even having some snow balls fight. 🙂
Onsen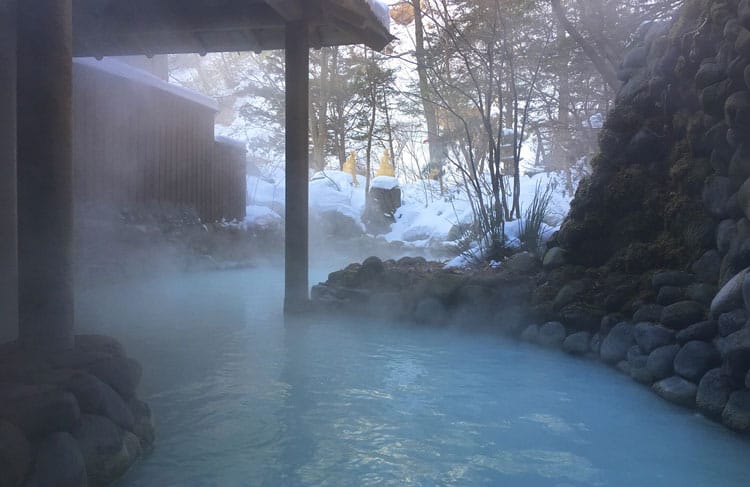 Another great thing you can do during winter is to bathe in a Japanese onsen. A Japanese onsen (温泉) is what we call a hot spring with water that is heated naturally. The water temperature in onsen is generally around 104 °F to 111 °F (40°C to 44°C).
When looking for an onsen, keep in mind that there are outdoor onsen (露天風呂) and indoor onsen (内湯), but during winter you will definitely want to try an outdoor onsen. The reason why you want an outdoor onsen is just because they take the bathing experience to a new level, specially during winter. There is nothing more relaxing than a hot bath surrounded by snow and an amazing view. And also the cold temperatures outside make you enjoy even more the hot water.
Don't get me wrong, you can bathe in an onsen during any other season, but during winter you'll get a totally different experience and it is completely worth it.
There are more than 2,300 onsen in Japan so the choice is huge and you can find an onsen in every region. If you don't have any idea of want onsen to try, here is a small list of some of the best onsen in Japan:
Kusatsu Onsen in Gunma
Hakone Onsen in Kanagawa
Beppu Onsen in Oita
Yufuin Onsen in Oita
Kurokawa Onsen in Kumamoto
Noboribetsu Onsen in Hokkaido
Kinosaki Onsen in Hyogo
Dogo Onsen in Ehime
Fuji Kawaguchiko Onsen in Yamanashi
Tsurunoyu Onsen in Akita
As you can see, the best onsen are spread throughout Japan so you will have the opportunity to try a good one almost anywhere.
Japanese Alps
The Japanese Alps, which include the Hida Mountains, the Kiso Mountains and the Akaishi Mountains, are another excellent reason to visit Japan during the winter. If you love nature and enjoy looking at breathtaking views, these regions are the perfect place for you. And the best thing about winter is that they will be covered in snow.
If you plan on staying in central Japan, make sure you plan to visit some mountains nearby because they are beautiful. Other than seeing the Jigokudani Monkey Park or the Shirakawa-go village, in the Japanese alps you can also visit the famous Matsumoto Castle (one of the most beautiful castles in Japan), the Kamikochi National Park and the Kenroku-en Garden (one of the best gardens in Japan).
These are just some ideas of the best things to do in the Japanese alps, but there are much more.
Hokkaido
In my opinion, to get the most out of winter in Japan, you have to get to the north. Hokkaido is the northernmost island of Japan and definitely the best one to visit during the winter because most of the coolest activities are actually winter activities.
In Hokkaido, you will find the best winter festival of Japan, some of the greatest winter illuminations and winter fireworks. Another great activity to do in Hokkaido, if you have some time, is Drift Ice Sightseeing. You can get on a boat for a 1-hour ride and enjoy viewing all the drift ice.
If you need some ideas, here's a small list of the best things to do in Hokkaido:
Take a Hokkaido Day Tour from Sapporo (Asahiyama Zoo, Shirogane Blue Pond, Shirahige Falls) available at Klook.com
Eat at one of Hokkaido's greatest crab specialty restaurants available at Klook.com
Take a Hokkaido Otaru Rickshaw Tour available at Klook.com
For more information about winter activities, please visit Hokkaido's Official Tourism Website.
Winter Illuminations
Winter illuminations are some of the most amazing things to see in Japan during winter. Yes, you can see winter illuminations everywhere in the world, but the Japanese take things to next level and turn what could be a normal illumination into something truly magical. And because winter illuminations in Japan became a sort of fierce competition between cities, the result it's even more spectacular.
For me, some of the best winter illuminations in Japan that are worth the visit are:
The Otaru Snow Light Path
The Sapporo White Illumination
The Ashikaga Flower Fantasy
The Shiraito Falls Illumination
The Nabana no Sato Winter Illumination
The Otaru Snow Light Path
This event takes places in the port city of Otaru in the Hokkaido island. It is held in February and it lasts for 10 days. The main illuminations can be seen in the canal and the old Temiya railway line, but is not uncommon to see lights all over the area. Other than the snow sculptures and lanterns, you will also be able to see the floating candles down the canal creating a beautiful, magical moment.
The Sapporo White Illumination
The winter illuminations start late November in Sappporo and you will be able to see at least 3 iconic sites turn into magical places: Odori Park, Ekimaedori and Minami-ichi-jo dori. The Odori Park holds the main event and it can be seen until late December. Ekimaedori street is illuminated until mid-February while Minami-ichi-jo dori street will be illuminated until mid-March.
The Ashikaga Flower Fantasy
The Ashikaga Flower Fantasy is just 90 minutes away from Tokyo and it's the perfect mix between astonishing Christmas lights (with over four million lights) and remarkable laser show. This flower park is amazing all year round, but during the winter illumination it is even better. You will usually have 3 different kinds of light shows:
The Light and Flower Collaboration from late October to mid-November
The Christmas Fantasy from late November until Christmas
The New Year Illumination from January 1st to February
The Shiraito Falls Illumination
The Shiraito Falls is a cool place to visit in the North of Karuizawa. Even if the Shiraito Falls is only 3 meters tall, its width is spectacular (70 meters), and it makes all the beauty of this place.
Don't miss the Shiraito Midwinter Light Up event, which takes place from late December to early March, and it's one of the most amazing things to see during the winter evenings in this area. And it is just 2 hours and 30 minutes away from Tokyo if you pick the bullet train to Karuizawa station and then the bus to the Shiraito Falls stop.
The Nabana no Sato Winter Illumination
The Nabana No Sato Park is located in Nagashima in the Mie Prefecture. This park, which is already beautiful, becomes even more extraordinary between mid-October and early May during the winter illumination.
Winter illumination is not just a few lights here and there. Instead, all the park will be covered with colorful lights everywhere (on the trees, on the ground, over the water pond…). They even make tunnels of light where you can pass and be completely immersed in this beauty.
Here's a cool video of what to expect from the Nabana no Sato winter illumination. You'll see that this is a place that is worth visiting.
More information on these and other winter illumination ideas in Japan visit the National Tourism Organization website.
Winter Festivals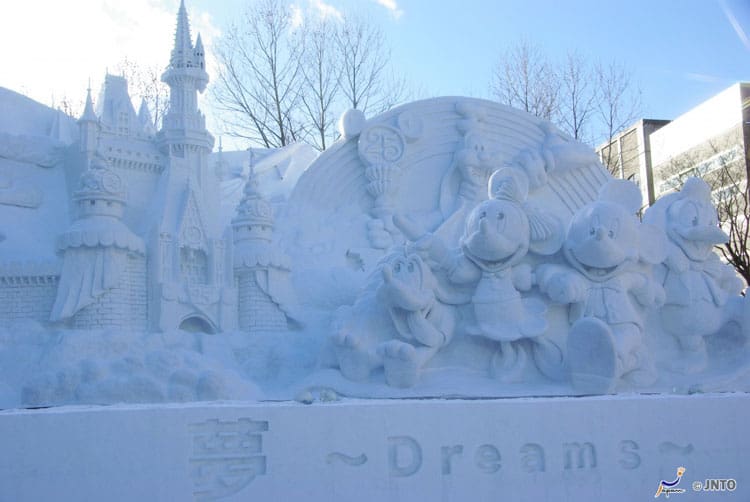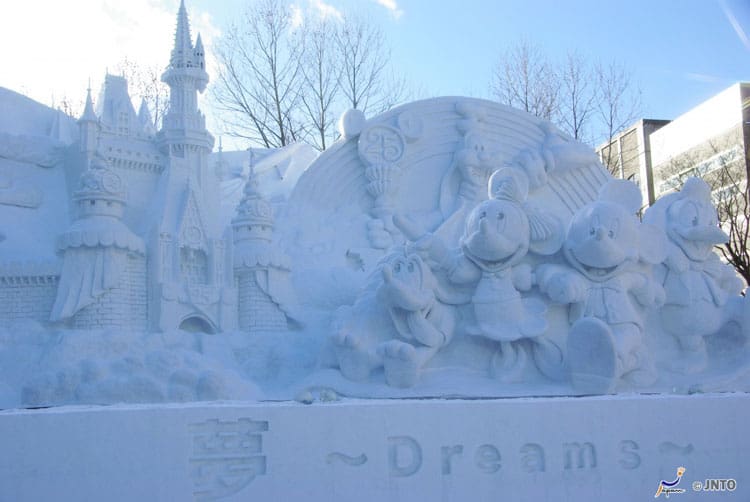 As you probably already know, Japan has many festivals during the spring and summer, but winter is also a season for festivals. As a general rule of thumb, winter festivals feature snow and ice sculptures, illuminations and fireworks, and lots of food stalls with delicious food.
In my opinion, some of the best winter festivals in Japan are:
The Sapporo Snow Festival
The Asahikawa Winter Festival
The Lake Shikotsu Hyoto Festival
The Sapporo Snow Festival
The Sapporo Snow Festival is the unmissable winter festival in Hokkaido that attracts millions of visitors every year. This festival takes place in early February and runs for a week. It has hundreds of snow and ice statues, and some of them are so huge that even Japanese soldiers have to help. The top 5 sculptures are usually the size of a building, so you can imagine the magnificence of this event. And it all gets even more magic when the night comes because the sculptures will be illuminated and you will enjoy a breathtaking scenery.
The Asahikawa Winter Festival
The Asahikawa Winter Festival is the second largest festival in the Northern island of Hokkaido. It takes place in February and it lasts for a week. There are lots of cool things to see everywhere, but make sure you don't miss the ice sculptures along Heiwa-dori street that are magically illuminated at night. This festival usually runs at the same time as the Sapporo Snow Festival, but it is less crowded.
The Lake Shikotsu Hyoto Festival
The Lake Shikotsu Hyoto Festival is held from late January to mid-February in Chitose (Hokkaido). While other festivals have sculptures that are carved in ice with precision, this one uses spraying water that freezes and creates massive natural sculptures.
More information on these and other winter festivals ideas in Japan visit the National Tourism Organization website.
Winter Fireworks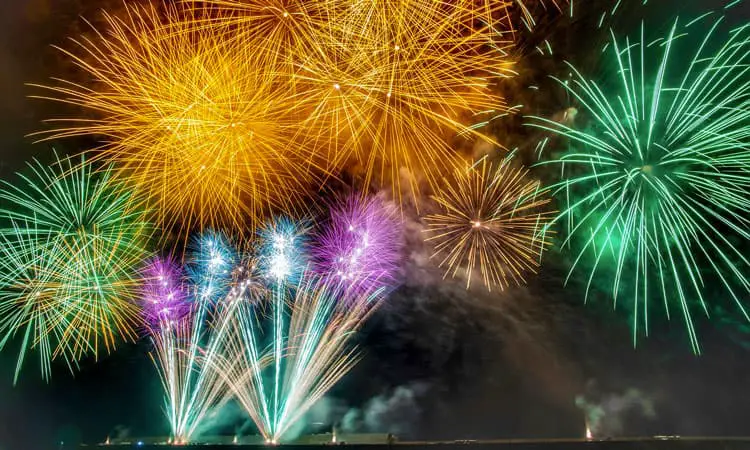 Fireworks by themselves are already a beautiful thing to see, but Japanese fireworks are simply astonishing.
Here are some great fireworks you can see during winter:
Hakodate Fireworks
Daisen Fireworks
Lake Kawaguchi Winter Fireworks
Lake Akan Ice Festival Fireworks
Hakodate Fireworks
The Hakodate fireworks festival runs in early February and lasts for 3 days. The fireworks take place at Hakodate's bay but you can actually see them for further away. Since there's a chance of snow in February, some visitors might even get the chance to watch the fireworks while snowing.
Daisen Fireworks
Daisen is known as the fireworks capital of Japan because it has 3 big fireworks competitions that gather thousands of visitors. Even if the winter event that takes place in late March is as impressive as the one that takes place in the summer, there're fewer crowds during the winter.
Lake Kawaguchi Winter Fireworks
As you probably know, Lake Kawaguchi is one of the five Fuji lakes and if you add fireworks to the natural beauty of Mount Fuji, the result couldn't be more amazing. This firework's event takes place from mid-January to mid-February.
Lake Akan Ice Festival Fireworks
The Lake Akan Ice Festival takes place in Hokkaido from early February to early March. This event is held on the lake itself because the lake's surface freezes during the winter. The fireworks are launched every night at 19:30.
More information on these and other winter fireworks ideas in Japan visit the National Tourism Organization website.
I hope you liked all these ideas of what to see and do in Japan during winter and that you're going to try at least some of them on your next trip to Japan. If you know some other good reasons to visit Japan in the winter, leave your thoughts in the comments below.