One of the most common things people want to know when they're planning their trip to Japan is whether they should buy a Japan Rail Pass or not. I saw this question so many times that I decided to give a little help to get a clear idea of what is this famous Japan Rail Pass and if it is really worth it all the time. Deciding if you should buy a Japan Rail Pass for your travel is not that straightforward, so let me help you clarify in which cases you should get it.
So, does the Japan Rail Pass pay off for your travel?
The Japan Rail Pass is worth it when used for long-distance round trips using the Shinkansen. The 7-day Japan Rail Pass is worth it for an itinerary like a day trip to Nikko from Tokyo (round trip), then going to Osaka for 3 days, before heading to Hiroshima for 2 days and getting back to Tokyo.
Now that you have a short answer to your question, let's take a closer look at the differences between these passes and some examples of common itineraries where you should get the pass or not.
What is the Japan Rail Pass?
The Japan Rail Pass is a multi-use ticket available for all tourists visiting Japan. It is usually less expensive than buying several individual tickets, but this depends on your itinerary. The Japan Rail Pass can be used around Japan while using transportation from the JR Group, but there are a few exceptions.
Different Japan Rail Passes
There are 2 types of Japan Rail Pass:
Standard Japan Rail Pass
Green Japan Rail Pass (first class)
The Standard Japan Rail Pass is enough for almost everyone because the Japanese bullet trains are already very comfortable, but if you feel like getting some extra comfort, you can choose the Green Pass instead. The Green Pass is also a good choice if you're traveling during the peak season because Green Cars never get crowded.
Each type of pass can have 3 validity periods:
7 days pass
14 days pass
21 days pass
The days included in each pass are consecutive days, so this means that once you activate your pass in Japan, you have to use it for 7, 14, or 21 days in a row and then it will expire.
All these passes are available for children between 6 and 11 years old and cost roughly half the adult price. Children under 6 don't need a Japan Rail Pass, but they don't have individual seats either (they have to sit on their parents' knees). If you absolutely need a seat for children under 6, then you have to purchase the pass.
Here's a table with the Japan Rail Pass prices (prices are updated regularly):
Standard Pass Adults
Standard Pass Children
Green Pass Adults
Green Pass Children
7
days
50,000
25,000
70,000
35,000
14 days
80,000
40,000
110,000
55,000
21 days
100,000
50,000
140,000
70,000
Prices in yen, last updated on October 2023
Prices are defined by JR Group and can change at any time. Please refer to Japanrailpass.net for the updated price before buying.
For more information on when to buy the Japan Rail Pass, you might want to check my articles "How far in advance should I buy the Japan Rail Pass?" or "How Late Can I Buy a Japan Rail Pass?". Also, if you want to know if the Welcome Suica card is worth it for you, you can read my article "Is Welcome Suica worth it?".
Trains that accept the Japan Rail Pass
The Japan Rail Pass is valid when using transportation from the JR Group, but there are some exceptions. Here's a small list to help you get an idea of where you can use the pass. The Japan Rail Pass is valid for:
All JR Group Shinkansen (bullet trains), except Nozomi and Mizuho (need an extra ticket)
All JR Group limited express trains, express trains, and rapid or local trains
Narita Express at Narita airport
Tokyo Monorail
Several local lines of JR Bus (with some exceptions)
JR West Miyajima ferry
You may also like:

How far in advance should I buy the Japan Rail Pass?
How late can I buy the Japan Rail Pass?
10 Steps To Plan A Trip To Japan From Scratch
Is the Japan Rail Pass Worth it Every Single Time?
The Japan Rail Pass is not worth it every single time. The Japan Rail Pass is a good purchase for your travel when visiting different cities far away, but sometimes, it is not worth it.
For example, if you're staying only in Tokyo the pass isn't worth it because it will be more expensive than all the individual tickets you can buy.
Another example will be an itinerary where you land at Narita Airport and then go to Tokyo, Kyoto, Osaka and leave Japan from Kansai Airport. In this case, even if it is a long-distance travel, since you're not doing a round-trip, the pass isn't worth it. Just check the details in the picture below.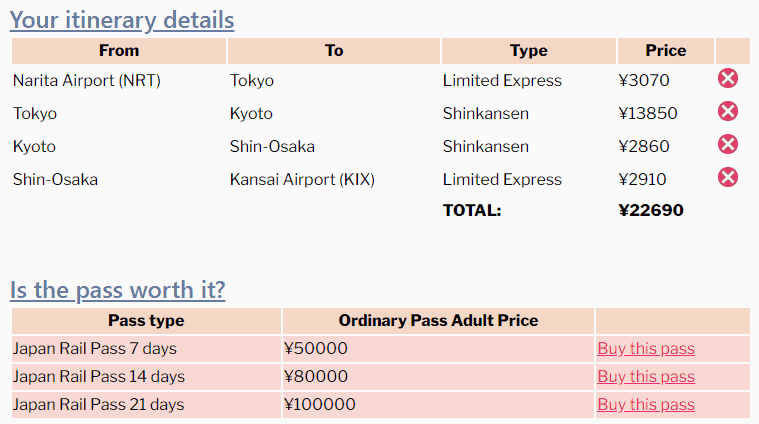 A sample itinerary that makes the 7-day pass worth it and that is doable in 7 days is the following: a day trip to Nikko from Tokyo, then head to Kyoto for 3 days and finally go on a day trip to Hiroshima and head back to Tokyo to leave Japan.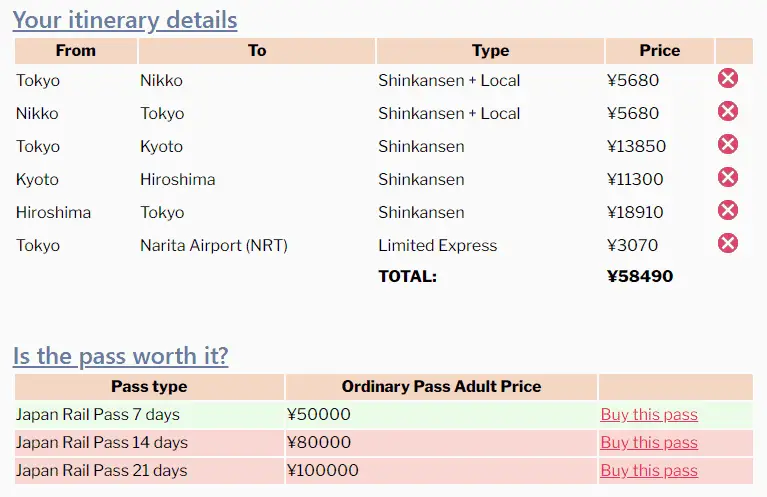 What people usually do is activate the 7-day pass before they leave Tokyo. They don't use it to get from Narita Airport to Tokyo or to visit Tokyo, but they activate the pass right before leaving from Tokyo to Kyoto (or any other distant city). By doing this, you can buy the 7-day pass for the rest of your trip, as long as you visit several cities in the 7-day window.
As you can see, finding a good pass for your itinerary is not that simple. This is why I decided to share with you the Japan Rail Pass Calculator owned by Japan Horizon.
Using the Japan Rail Pass Calculator
My Japan Rail Pass Calculator is available for your personal use on this page, and it's very simple to use. You just need to select your departure city, and your destination city and check the round-trip box if you want to add a round-trip. Once you select these options, you just have to hit the ADD ROUTE button to add the selected route to your itinerary.
You can repeat these steps as many times as you need, and if you make a mistake, you can delete the route by hitting the X button at the end of the row. The cost is calculated instantaneously each time you add or delete a route.
In the end, you have a table with the 3 adult passes that change colors according to your itinerary total.
Red color: the pass doesn't pay off
Orange color: it is a close call
Green color: the pass pays off
Where to Buy the Japan Rail Pass?
The Japan Rail Pass can be bought online on any official reseller website (usually has the best deals) or the official website. Unfortunately, you can no longer buy the Japan Rail Pass in Japan since October 2023.
There's more information on how far in advance and how late you can buy the Japan Rail Pass in my dedicated articles:
How to Use the Japan Rail Pass?
If you don't buy the pass directly in Japan, you will always receive an exchange order (not the real pass). You must trade the exchange order to get the real pass once you get to Japan because you can't ride the trains using the exchange order.
Exchange the Voucher for the Japan Rail Pass
This exchange order can be traded for the pass at any exchange office in Japan (mostly at airports, Ticket Offices, or Travel Service Centers). To get your pass, you have to give the exchange order and your passport for confirmation. Your passport must have the Temporary Visitor stamp because if you don't have it you can't benefit from the Japan Rail Pass (a copy of your passport is not accepted either).
Be careful with the exchange order validity because it must be used within 3 months. If you want to know more about buying the Japan Rail Pass in advance, you can read my previous article on the subject.
Seat Reservation With a Japan Rail Pass
The seat reservation fee is included in the Japan Rail Pass price, so you don't have to pay an extra fee to reserve your seat, but you still need to get to the ticket office to make a reservation. If you have planned a detailed itinerary, I would recommend making all the seat reservations at once. Like this, you will have all your tickets with you and won't lose time.
Please notice that seat reservation is not mandatory for trains that have non-reserved cars. If you pick a train that has reserved cars only, then you must make a seat reservation. Making a reservation is also recommended when traveling during the high season because the trains are usually crowded. Seat reservation is particularly recommended during these dates:
From April 27 to May 6
From August 10 to 19
From December 28 to January 6
Use Japan Travel by Navitime to Find Train Names and Schedule
Since March 2023, Hyperdia no longer offers timetable search, so it is better to use Japan Travel by Navitime for route search. The route search looks like the picture below.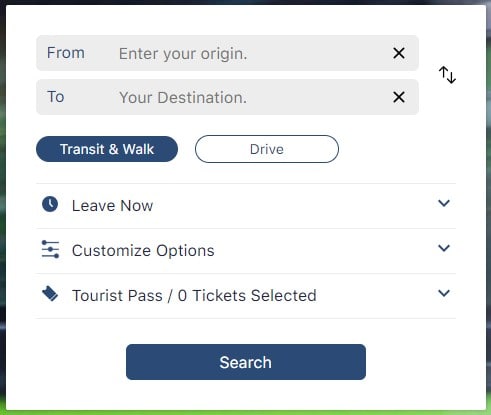 You could search using only the basic options, but it's better to do a more detailed search to have the best results. If you don't enter all the options, you are likely going to get inaccurate information. I recommend filling in all three options: "Time", "Customize Options" and "Tourist Pass". To set each option, you just have to click on the arrow at the end of each option line.
The "Time" option allows you to specify the date and time. This is very important, especially if you are planning your route before going to Japan. By adding the day and time when you intend to travel, you get the most reliable information. I saw lots of people getting confused because they searched for a route with "Leave Now" by default and the results didn't seem correct.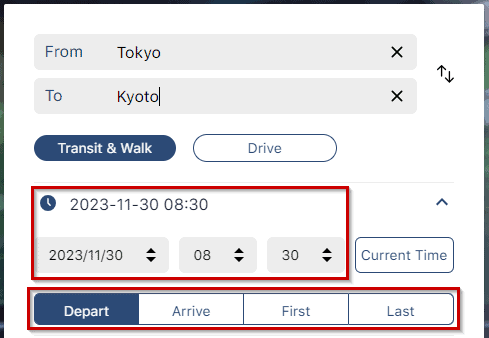 For example, let's imagine you're in Los Angeles, at 7 a.m., searching for a route in Japan, and didn't select the date and time. Since Japan is 16 hours ahead of Los Angeles, you will get results from 11 p.m. in Japan. The issue is that most trains, and transportation in general, stop running around midnight, so your result will include an overnight delay saying that your trip will take 9 hours when it really takes 2 hours.
You can also use this option to say that you want to arrive at a certain date and time. This is particularly useful when you need to be at your destination at a specific time, for example, when you booked an activity and you can't be late. 'By the way, if you need to know what to book in advance for Japan, check my article which gives you all the information you need.)
Another interesting feature of the time option is that you can select the first or the last transportation on that day. Again, this is so useful to enjoy your day to the fullest and return to the hotel in time on the last train available.
Now let's take a look at the "Customize Options" feature.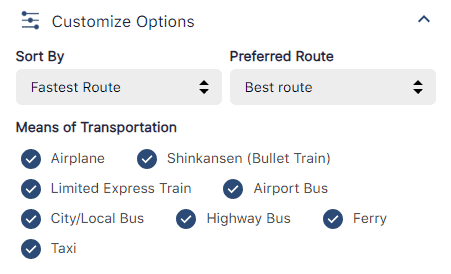 By default, you will get the best route sorted by the time it takes to reach your destination, but you can also change these settings according to your preferences. For example, if time isn't an issue for you, you can sort by the "cheapest routes" and save money on transportation. Or you can sort by the "fewest changes" and minimize the chances of getting lost.
Another interesting option is to select the "means of transportation" you are willing to use. By default, all means of transportation are selected, but you can untick the ones you don't want in your route search. For example, if you are not willing to take a taxi or get on an airplane, just untick these two options and your results will be more accurate.
The last important option is the "Tourist Pass". This one is extremely useful if you want to make a profit on the money you paid for a Japan Rail Pass or any other pass you bought.
By default, the route search is done without any pass, but if you want to take profit from your pass, it's better to select it on the list. You might get some routes that are a little bit slower, but at least they are included in your pass and you don't have to pay extra money.
PS: I noticed that there are only 3 passes available on the website, but Japan Travel by Navitime also has a mobile app for IOS that allows you to select a wide range of passes and get even more accurate results.
Once you entered all your options, you can hit the "Search" button and get the best route results according to your preferences.
And that's it! You are now an expert in the Japan Rail Pass and in the Japan Travel by Navitime route search.
I hope that all this information will be useful to make your Japan transportation experience a little easier and feel free to share your thoughts in the comments below.
Have a nice travel!
---