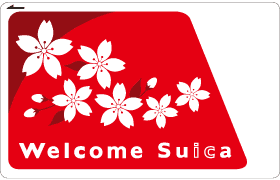 If you already did some research for your trip to Japan, you probably have heard about the Suica card. But did you know about the Welcome Suica card? It's a version of the Suica card used by the Japanese but created especially for tourists. And it might be a good idea to learn a few things about these cards because they can make your life easier in Japan.
The Welcome Suica card is worth it for tourists staying in Japan for 28 days or less. This prepaid card is useful for moving around Japan, but also for shopping in several shops and vending machines. As no deposit is needed, you can take the Welcome Suica card home as a souvenir.
Although Welcome Suica was made for tourists, the differences between regular Suica and Welcome Suica might not suit every tourist's needs. It is pretty obvious that everyone should have a Suica card in Japan, but choosing between the regular Suica card and the Welcome Suica card is not that obvious. In the next paragraphs, I'll tell you every difference, so you can make the right choice for you.
What is The Difference Between Welcome Suica and Suica?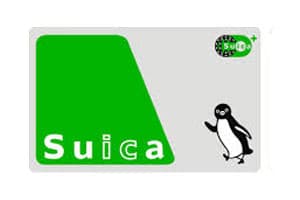 Even if regular Suica and Welcome Suica cards work in the same way and are accepted at the same places, there are a few differences that might make you choose one over the other.
Validity
The first big difference is that Welcome Suica is only valid for 28 days, while the regular Suica is valid for 10 years! Most tourists don't stay 28 days in Japan, so the validity period of 28 days is not really a problem, except if you want to buy your Welcome Suica online before your travel or if you want to return to Japan in less than 10 years.
The validity period of 28 days includes the purchasing date, which means that the 28 days start right when you purchase your card, even if you don't have it with you. When buying online, this can be a huge problem, because you will have to wait until the last minute to buy your card. On the other hand, waiting until the last minute is not a good thing because you take the risk of not receiving your card before your trip.
So if you are one of those people who prefer preparing anything you can in advance and don't want to waste time in Japan to buy a Suica card, choose the regular Suica that can be bought easily online (or a Pasmo card if Suica is out of stock). You can keep the regular Suica for 10 years and use it again if you return to Japan within that timeframe.
Deposit
Another difference is that there is no deposit if you choose Welcome Suica, while there's a 500 yen deposit for the regular Suica. Although this is not a huge amount (500 yen is about 3.60 USD), it is always interesting to save some money. But if you return your regular Suica card, the deposit will be returned to you, so I wouldn't say this is a huge difference.
Balance refund and refund fee
While the balance in your regular Suica can be refunded, this is not the case with the Welcome Suica. This difference between both cards can be a problem. After all, you will have to watch your Welcome Suica balance, especially in the last days of your trip, because you don't want to leave any balance in it. It will be lost money.
Regarding balance, the regular Suica card is more flexible because the balance can be refunded. Any unused balance will be refunded, and the refund fee is only 220 yen (around 1.60 USD). If the unused balance is less than 220 yen, there will be no refund and no fee.
Having the possibility of a refund saves you the hassle of controlling your card's balance and charging the card several times with small amounts.
Reference paper
Since Welcome Suica is intended for tourists, when you buy it you receive a reference paper that you must keep with you at all times. This paper can be requested by staff members during controls. It's kind of annoying to keep this paper with you, but that's how it works. In this case, I prefer the regular Suica card, because you don't have this reference paper.
Apple Wallet
A really cool thing about the regular Suica card is that you can buy it directly from your iPhone and use it on Apple Wallet. You just have to add a new card and select "Travel Card". Then enter "Suica" on the search bar and select the amount you want to add in yen. And that's it! Unfortunately, the Welcome Suica card is not available in the options, so this cool feature only works for the regular Suica card for the moment.
I don't know if the possibility of buying the Suica card from your smartphone is available for Android phones, but at least it is possible to buy the Suica card online (or a Pasmo card if Suica is out of stock) and then add it to Google Wallet.
Design
The last difference between Welcome Suica and regular Suica is their design. Regular Suica is green and white and has a penguin on the right, while Welcome Suica is red and white (like the Japanese flag) and has the famous cherry blossoms or Sakura flowers on it.
Personally, I prefer the design of the Welcome Suica card, but I wouldn't pick the Welcome Suica over the regular Suica just for the design.
By the way, if you want to learn about Sakura's meaning, check out my previous article.
Since there's a lot of information about these card's differences, here's a table that sums up the differences between the Suica card and the Welcome Suica card:
| | | |
| --- | --- | --- |
| | Suica | Welcome Suica |
| Expire after | 10 years | 28 days |
| Deposit | 500 yen (refunded when you return the Suica card) | 0 |
| Balance refund | Can be refunded | No refund possible |
| Refund fee | 220 yen | No refund, no fee |
| Design | Green card with a penguin | Red card with sakura flowers |
| Online purchase | Can be purchased online | Online purchase is not frequent |
| Balance limit | 20,000 yen | 20,000 yen |
| Reference paper | No reference paper | Always bring it with you |
| Apple Wallet | Can be purchased directly from Apple Wallet | Cannot be purchased from Apple Wallet (at least for the moment) |
Suica vs Welcome Suica
Where to Buy Welcome Suica?
Now that you know the differences between regular Suica and Welcome Suica, you might want to know where to buy Welcome Suica. As I told you before, online purchase is not recommended, and to be honest, I didn't see any website selling the Welcome Suica (at least at the time I was writing this article).
For now, Welcome Suica can be purchased at JR East Travel Service centers, which are available at the main stations only, or the Japan Rail Café in Tokyo. There are also Welcome Suica vending machines at Narita and Haneda airports.
Here's the full list of where you can buy Welcome Suica in Japan:
JR EAST Travel Service Centers
Tokyo Station
Hamamatsuchō Station
Haneda Airport Terminal 3 (Tokyo Monorail) station
Shinagawa Station
Shibuya Station
Shinjuku Station
Ikebukuro Station
Ueno Station
Kashiwa Station
Yokohama Station
Kawasaki Station
Tachikawa Station
Ōmiya Station
Narita Airport Terminal 2 and 3 Station
Funabashi Station
Sendai Station
Fukushima Station
Niigata Station
Japan Rail Café (Tokyo)
Important: During chip shortage periods (like the end of 2023), Welcome Suica cards can only be bought at the airports. Make sure you get it before leaving the airport, if you didn't buy it online before going to Japan from an official reseller like Japan Experience or Klook. If Suica is out of stock, you can choose a Pasmo card that works the same way.
Welcome Suica Vending Machines
Narita Airport Terminal 1 Station
Narita Airport Terminal 2 and 3 Station
Haneda Airport Terminal 2 (Tokyo Monorail) station
Haneda Airport Terminal 3 (Tokyo Monorail) station
Important Information About Suica And Welcome Suica
As you probably know, Suica is a good transportation card to be used in Tokyo and other cities, but be careful because it cannot be used on Shinkansen (the famous high-speed train). For the Shinkansen, it is better to use a Japan Rail Pass or buy individual tickets. Here are a few articles that might help you decide what to buy for riding the Shinkansen:
Although you can purchase a Welcome Suica card using your credit card, you cannot recharge the Suica card using a credit card. You will have to use yen. I'm hoping they will change this soon because it will be easier to use a credit card, but Japan is still a cash-based society, so you will have to adapt.
If you want to learn about payment methods in Japan, check my other article on the subject.
One last thing to know about Suica and Welcome Suica is that these cards cannot be reissued if you lose them. Be careful with your Suica card, especially if you have a high balance on it. These cards don't have your name on them, so anyone who finds a lost card can use it. However, cards can be reissued if they stop working, and you have the card with you.
I hope you have now all the information you need to choose the best card for you and to travel easily in Japanese cities, but if you have any questions, leave a comment below, and I'll try to help you if I can.
Japanhorizon.com is a participant in the Amazon Services LLC Associates Program, an affiliate advertising program designed to provide a means for sites to earn advertising fees by advertising and linking to Amazon.com. Japanhorizon.com also participates in affiliate programs with Viator, Jrailpass, Kayak, Klook, Japan Experience, and is compensated for referring traffic and business to these companies.