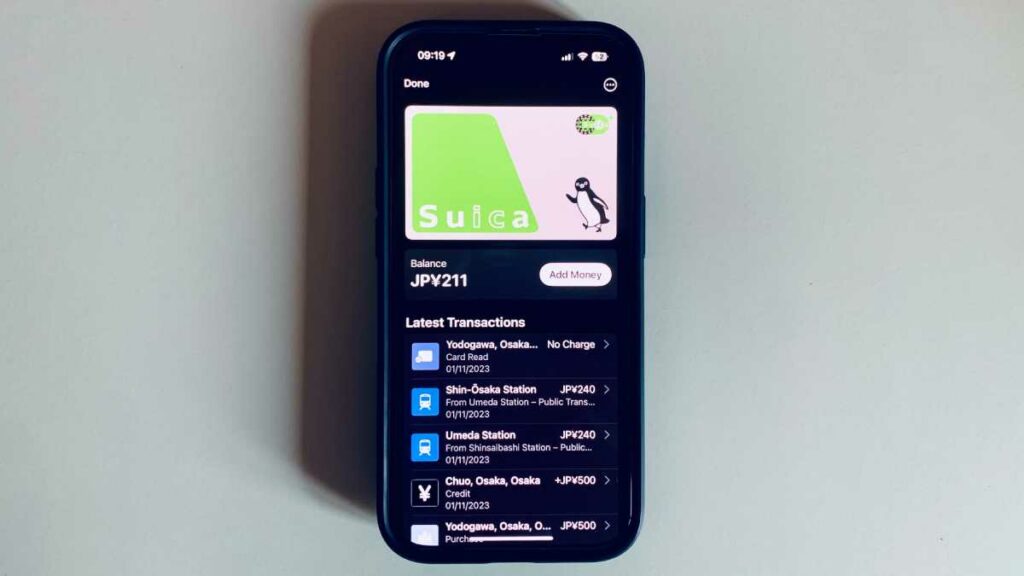 Since the worldwide semiconductor shortage, IC cards in Japan, like Suica and Pasmo, are getting very difficult to find, and sales were temporarily suspended from August 2023. Travelers who land at Kansai Airport, still have the possibility to buy an ICOCA card, which works like Suica and Pasmo, but it's lesser known and therefore still available. For travelers landing in Tokyo, the best option is to use a mobile Suica.
Mobile Suica can be added directly to the Apple Wallet:
Open Apple Wallet and tap the button "+"
Select "Travel Card"
Scroll down to the "Japan" section and choose "Suica"
Tap the "Continue" button
Choose the amount you want and tap "Add"
Finally, proceed with the payment by following the instructions on the screen
It is a very simple process, however, not everyone can do it. Some hardware restrictions will prevent about 50% of travelers from using this fantastic option, but don't worry, I'll explain everything in the next paragraphs. Now, let's take a look in detail to see how the mobile Suica works and whether you can use it or not.
What is Mobile Suica?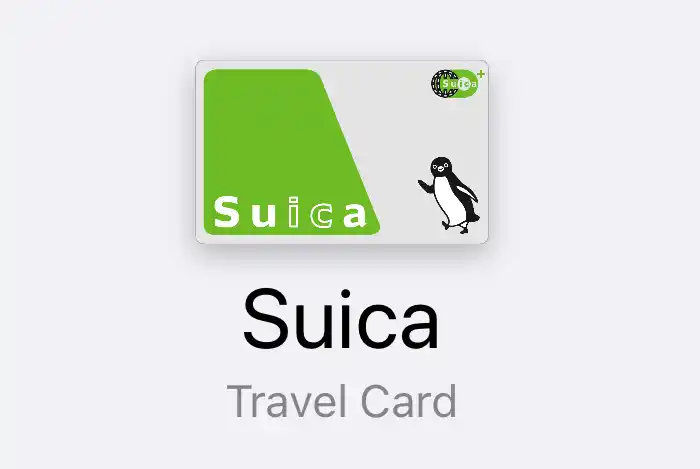 Mobile Suica is a digital version of the Suica card, widely used throughout Japan. The mobile Suica works just like the physical Suica, but there's no 500 yen deposit fee since it is a digital version. Other than that, mobile Suica can also be used for transportation, shopping, vending machines, or lockers.
There is a Suica app for smartphones, as well as a Pasmo app, but it is in Japanese only, so it is very difficult to use when you don't speak Japanese. Please note that the mobile Suica I'm talking about is not the one on the Suica app. I see lots of people trying to download this app on their phones without success, and that's not what foreign travelers are supposed to do. I'll show exactly how to get the mobile Suica on your phone below, but first, let me clarify some advantages of the mobile Suica that we haven't seen yet.
Mobile Suica can be used in Japan without Wi-Fi or a mobile network! Indeed, the card information is stored on your phone's hardware and there's no need to have an internet connection to use the card. The only time you will need it is when you need to add balance to the card. So, if for some reason you don't have a pocket Wi-Fi for your trip (I really recommend buying one online though because it is really useful to help you move around Japan), you won't be bothered to use the mobile Suica.
By the way, it is also possible to use Suica when your phone battery runs out. Even when you run out of battery, and your phone doesn't turn on, you can still use mobile Suica if you have the "Express Transit Card" option enabled (I'll show below how to do it).
I can see the faces some people will do when reading this and imagining how is it possible to use the phone when the battery runs out. Let me explain. Even when your phone shuts down, it still has some battery left for essential components. It is this amount of battery that allows you to see the logo showing that you need to charge your iPhone, for example.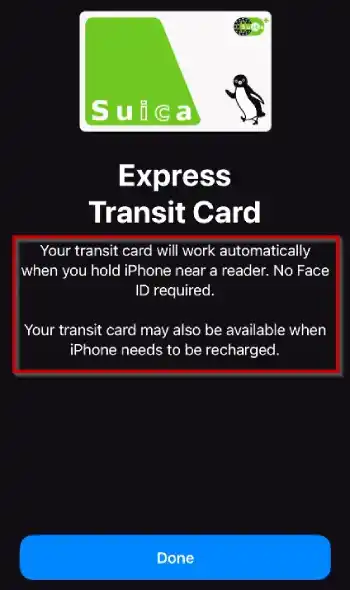 Well, while it is possible to use your mobile Suica if your iPhone runs out of battery, I wouldn't go a whole day like this, and I would charge my iPhone as soon as possible. I always carry a power bank on my trips to Japan that I bought from Amazon. This way, I'm never out of battery to check my itinerary and transportation options.
With mobile Suica, you can check the latest transactions anytime without having to go to a ticket machine at the station (like you do for a physical Suica card). You just tap your card and check the information.
The same happens when you want to check the balance. You just tap the card and the information is right there. You can even set a low-balance reminder if you are afraid of forgetting to charge the card. The reminder can be set to 200, 500, 1000, or 2000 yen.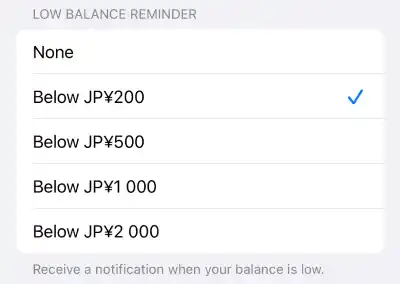 Now that you know all the advantages of mobile Suica, let's see how to set it up on your phone.
How to Use Mobile Suica on iPhone?
Mobile Suica is really easy to use on iPhone once added to the Apple Wallet app. The process is not complicated, but I give a step-by-step procedure with pictures below, so you can do it without any issues.
Procedure to Add Mobile Suica on iPhone
First step: Open the Wallet app and tap the "+" button.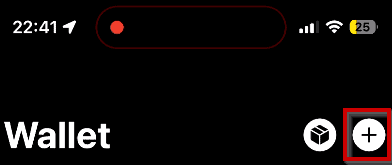 Second step: Choose "Travel Card" from the list.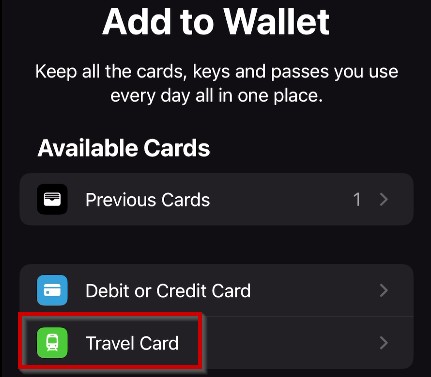 Third step: Scroll down to the "Japan" section and select "Suica". You can also select "Pasmo" (Tokyo area) or "Icoca" (Kansai area), but Suica is more common and widely used throughout Japan.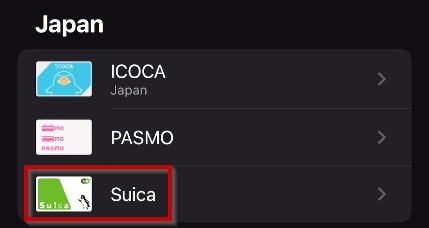 Fourth step: Select the amount you want to add to your Suica. You can pick the preselected amounts (1000, 3000, or 5000 yen), or you just tap the amount you want (like 1500 yen, for example). Keep in mind that the maximum amount you can have on your card is 20000 yen.
Fifth step: Agree to the "Terms and conditions" and proceed with the payment. You must pay with a registered bank card you have on the Wallet app. Note: Some Visa cards might not be accepted. If your payment doesn't work, try a different card and also a different time of the day (avoid between 2 a.m. and 4 a.m. Japanese time).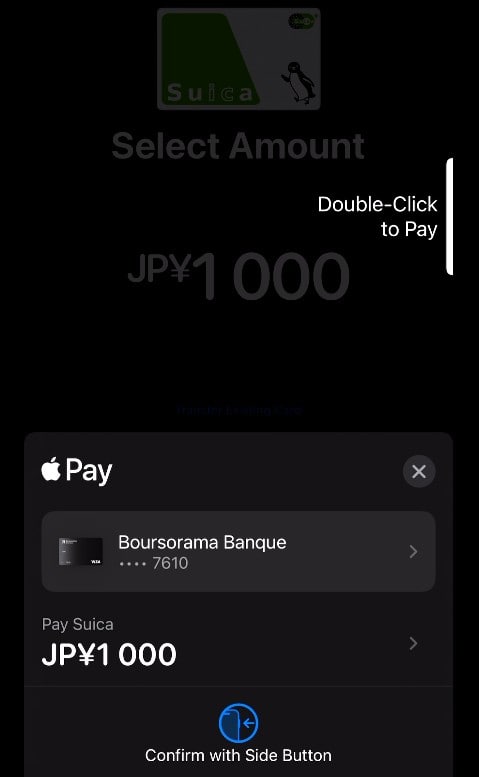 Sixth step: Once you proceed with the payment, the card will be added to your Wallet app. You will see a message "Adding Card" for about 30 seconds, and then you will see "Card Added" when the operation is completed.
Your mobile Suica card is now ready to use.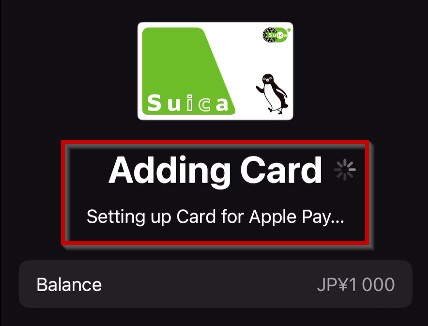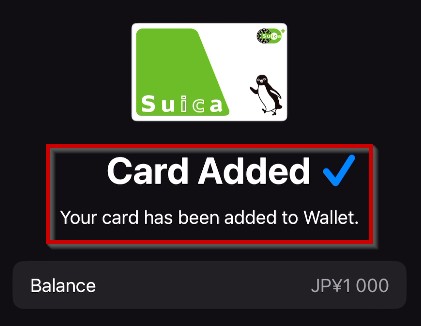 How to Add Balance to Mobile Suica?
Adding balance to a mobile Suica is very simple and fast. However, you have to keep in mind two important things. The first one is that charging the card is not available from 2 a.m. to 4 a.m. (Japanese time), and the second one is that the maximum balance you can have on the card is 20,000 yen.
To charge your mobile Suica, just open the Wallet app and tap the Suica card. You will see your current balance and the "Add Money" button.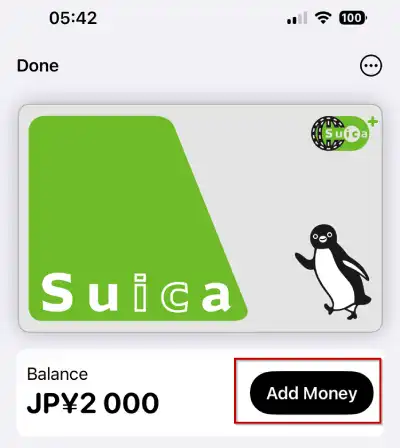 Once you tap "Add Money", select the amount you want to add using the preselected amounts or by typing the amount you want. When you select the amount, you will also see the new balance you'll have on the card. Tap the button "Add" in the top right corner of the screen to confirm the amount.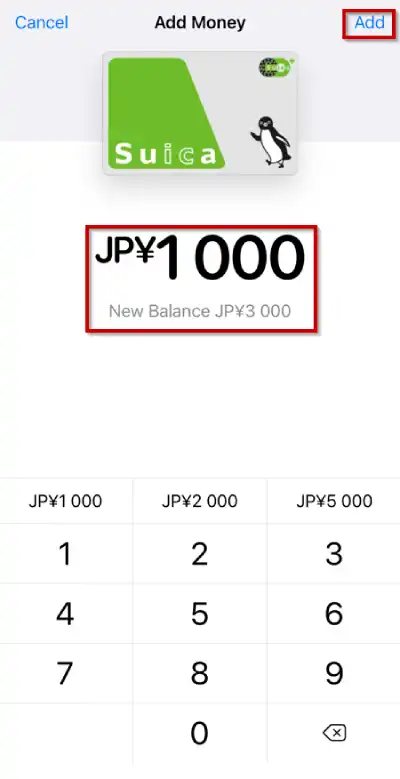 Proceed with the payment using a registered bank card on your Wallet app.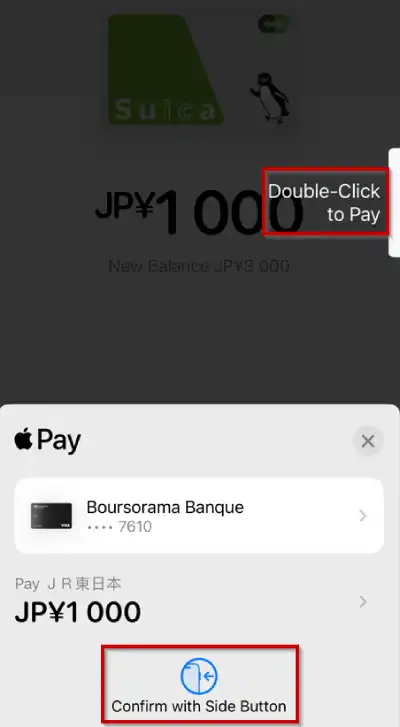 And that's it! The balance is updated and ready to use as soon as you make the payment.
How to Set The "Express Travel Card" Option?
Usually, when you set your first travel card on the iPhone, this option is enabled by default. However, it is important to check if that's the case for you because if you don't have this option enabled, you will have to confirm with FaceID each time you use the mobile Suica on transportation. Also, as we saw above, this option enables you to use mobile Suica even if the iPhone needs to be recharged.
To set the "Express Travel Card", open the Wallet app and tap the Suica card. In the top right corner, tap the "…" button and select "Card Details".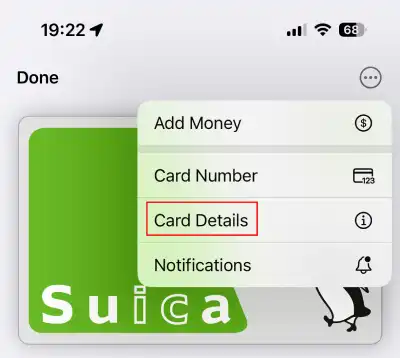 Scroll down to "Card Information" and check if "Express Travel" is ON. If not, tap "Express Travel Settings".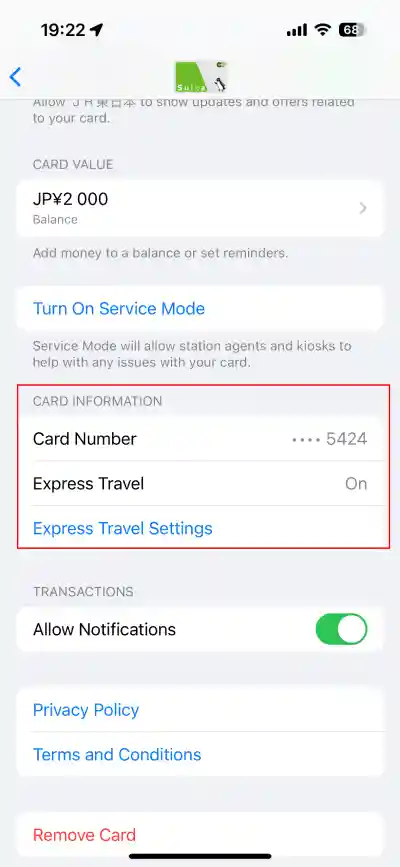 Then tap the button by the Suica card to activate it as the Travel Card.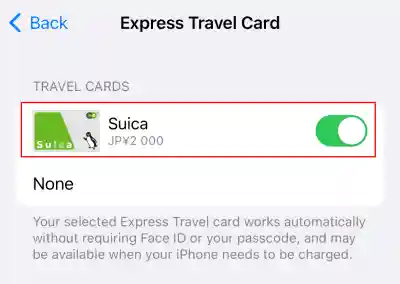 And that is all you need to do. This way, you can use your mobile Suica easily and hassle-free throughout Japan just by tapping your phone over the "IC" logo on ticket gates.
How to Use Mobile Suica on Android?
Unfortunately, it is not possible to use a mobile Suica on Android phones from overseas. Due to hardware restrictions, only Android from Japan can use the mobile Suica card because they use the FeliCa technology. FeliCa is not available on phones outside Japan, except for iPhones.
Indeed, since the end of 2017, Apple announced that the new models featured "Global FeliCa", not only in Japan but worldwide. That's why iPhone users from all over the world can use the mobile Suica, even if their iPhone wasn't bought in Japan.
Can I Use One Suica For Two Persons?
Since it is getting difficult to get a physical IC card in Japan, people often ask if two persons can use the same Suica card. I'm sorry to bring you bad news, but the truth is that each person will need their own Suica card.
This happens because you need to tap the Suica (or your iPhone) at the entry gate and again at the exit gate. There's no way you can tap it twice when entering and exiting the gates. It just won't work.
This can be an issue, especially for families with teens who don't have an iPhone yet. Eventually, you can get away if you have an Apple Watch too. You cannot set the same IC card on both the iPhone and the Apple Watch, so you will have two digital IC cards. This way, you can pass your iPhone or watch to your teen and keep the other device to yourself.
Other than that, two persons can use the same Suica, but only if they are not traveling at the same time, which is highly unlikely.