Luggage delivery in Japan is becoming more and more popular, especially because it is really hard to move around Japan with lots of suitcases. At the end of your trip, with all the souvenirs you bought, you are likely to have one or two extra suitcases, so how do get all that to your last hotel or the airport? Well, luggage delivery is probably the best option, but is it safe?
Luggage delivery in Japan is a convenient and efficient service, also called "takkyubin" or "kuroneko yamato". This kind of service is widely available and is generally safe and reliable. Luggage delivery providers, like Yamato Transport or Sagawa Express, are known for their efficiency and security.
Now let's take a closer look at what this service is and how can you use it in Japan to make your trip easier.
What is Luggage Delivery in Japan And is it Safe to Use?
Luggage delivery is a service that allows domestic and international travelers to have their luggage and other belongings transported from one location to another. Although this service was mainly used by domestic travelers, it is now well-known by international travelers too, and it's being used regularly by foreign tourists visiting Japan.
Luggage delivery is the solution to oversized baggage or simply extra luggage in crowded public transportation, as it makes it easier to move around and explore Japan without having to carry huge bags with you. It means that you won't have to search for elevators when arriving at a crowded train station or carry your luggage up the train station stairs, you won't have to look for coin lockers to store your luggage while sightseeing, and you will have your hands free to hold your children in crowded places.
Regarding safety, you shouldn't have any issues with luggage delivery if you follow the guidelines. As you probably know, Japan is one of the safest countries, and this safety also applies to luggage delivery. If you use one of the well-known luggage delivery companies, you should have a nice experience. Some companies even offer tracking options, so you can follow your delivery in real time. Another option I used was to put an Apple Airtag inside the luggage and check once in a while if everything was going as expected. If you're an iPhone user, you can buy Airtags almost everywhere, even on Amazon.
The number one company used in Japan for luggage delivery is Yamato Transport, but Sagawa Express is also well-known. For this article, and to keep things simple for you, we will see mainly Yamato Transport.
How to Use Luggage Delivery in Japan?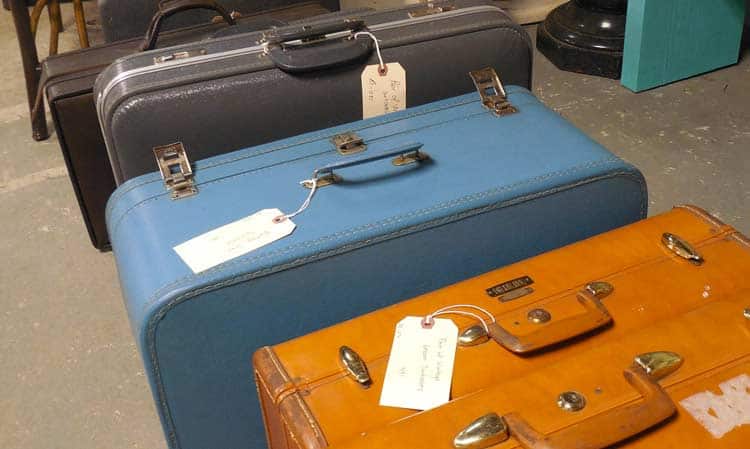 Luggage delivery is very simple to use. With Yamato Transport, you can use luggage delivery from the airport to the hotel and vice versa, from hotel to hotel, and you can even use the luggage storage service.
If your flight lands early in Japan, you can use same-day luggage delivery to send the luggage to your hotel right after you arrive by going to a "Hands-free Travel Service" counter at the airport. We will see further below how to find counters at different airports, and I'll give you a few links you can check for updated information when you will need to use this service.
You can also use luggage delivery when changing from one hotel to another. This is probably the most used service as most tourists usually spend a week in Tokyo and then move to Kyoto or Osaka. Sending your luggage to the next city one or two days in advance (depending on the distance) is the best option to avoid the hassle of dragging luggage in a crowded Shinkansen.
And the best part is that Yamato Transport also provides luggage storage if you need it. This is particularly useful on your last day in Japan when you already checked out of your hotel, but still have half a day (or more) to do some last-minute sightseeing or shopping. You just leave your luggage at a Yamato counter that offers luggage storage services (not all counters offer this service) and you retrieve your luggage before heading to the airport.
To use the luggage delivery service offered by Yamato Transport, you have to follow these steps:
Make a request at a "Hands-Free Travel Service" counter at the airport or hotel reception
Fill out a waybill indicating the address where you'll be staying (staff can help you with this)
Pay the shipping fees
Enjoy hassle-free travel and retrieve your luggage at your destination
Even if luggage delivery is efficient, there are a few things to keep in mind when using this kind of service.
First, you have to check which counters allow same-day delivery if you need your luggage fast. Not all counters offer same-day delivery, so check this in advance. Only counters with the logo "same-day delivery" have this service, and you can check the list of Yamato counters here. Keep in mind, however, that same-day delivery is only in the same area. You will never have a same-day delivery service when you send your luggage from Tokyo to Kyoto, for example.
Another thing to consider is the delays and opening hours. To receive your luggage on time at your next destination, you have to plan in advance. Most of the time, you will have your luggage delivered the next day or the following, but this only happens when you drop off your luggage on time. For example, if you drop off your luggage in the late afternoon in Tokyo, it will never arrive the next day in Kyoto. Check with the counter you will be using when you must drop off your luggage to guarantee the delivery date you need.
Also, keep in mind to prepare your luggage. It's always a good thing to keep your ID and important documents with you, as well as medication, valuables, and other important things. For example, you should never put your Japan Rail Pass on the luggage that you are sending from Tokyo to Kyoto, otherwise, you will have to pay for your Shinkansen trip again. (More information on the Japan Rail Pass can be found here).
Last piece of advice, even if the staff can help you with filling the waybill, always have your hotel address written in Japanese. This allows the staff to quickly fill the waybill and guarantees that luggage is delivered to the right place.
For those who want to book their luggage delivery before arriving in Japan, it is possible to do so using Klook.com. Klook allows you to book a luggage delivery service between hotels and from/to some Japanese airports. This way, you can plan everything before you even get to Japan and pay in advance, avoiding any eventual issues with credit card acceptance, for example.
Can I Send Luggage From The Hotel to The Airport in Japan?
Luggage delivery services are not only used when you arrive in Japan or when you move from one city to another. They can also be used from your hotel to the airport, which is very useful, especially when you buy lots of souvenirs and an extra suitcase to store them.
Not all airports and terminals have the same luggage delivery counters, so depending on your departure flight and terminal, you might have to choose one company or another. To help you with this, I gathered the counters' information for three major airports: Haneda Airport, Narita Airport, and Kansai Airport.
Just check your departure flight and the terminal, and then click the link below for your airport information:
Now that you have all the information needed to use luggage delivery, you are ready to travel hassle-free around Japan.