A few days ago, a friend of mine, who's traveling to Japan in October, asked me if I knew some cool landmarks in Japan he could contemplate and take real good pictures. I immediately started searching the best I could find, and I came up with a few on this list for him. This is my opinion, but I bet you'll agree to most of them, at least.
Other than the well-known Mount Fuji, Japan has some of the most amazing landmarks you can visit.
Do you want to know more about Mount Fuji and the other landmarks? Just keep reading, take a good look at the pictures, and you won't be disappointed.
Mount Fuji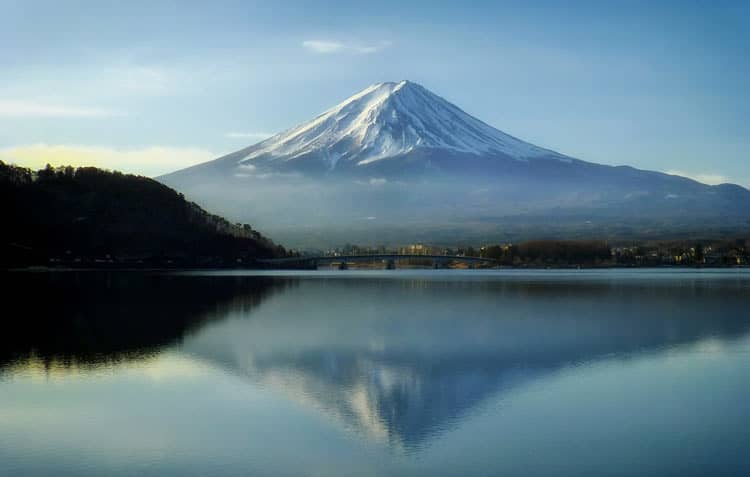 Location: Kitayama, Fujinomiya, Shizuoka 418-0112, Japan
Information: With its 3,776 m (ca. 12,388 ft), Mount Fuji is the highest mountain of Japan, but also the most beautiful. You can enjoy Mount Fuji either by climbing it or by admiring its beauty from far away. But, if you decide to climb it, its better to do it during the night so that you can reach the top by dawn. The view will be amazing! If you don't feel like scaling it, you can go to different spots to admire the most popular symbol of Japan.
Some of the best spots to do admire Mount Fuji are:
Chureito Pagoda
Urui River
Lake Tanuki
Lake Yamanaka
Lake Kawaguchi
Enoshima Island
Tokyo Skytree
Keep in mind that Mount Fuji is often hidden by clouds from June to mid-July, and the best time for viewing is during clear winter days. In my opinion, you should go there in early morning or late afternoon for the better views.
How to get there: Mount Fuji is around 136 km (ca. 85 mi) from Tokyo and it's a 2-hours ride.
Kinkaku-ji Temple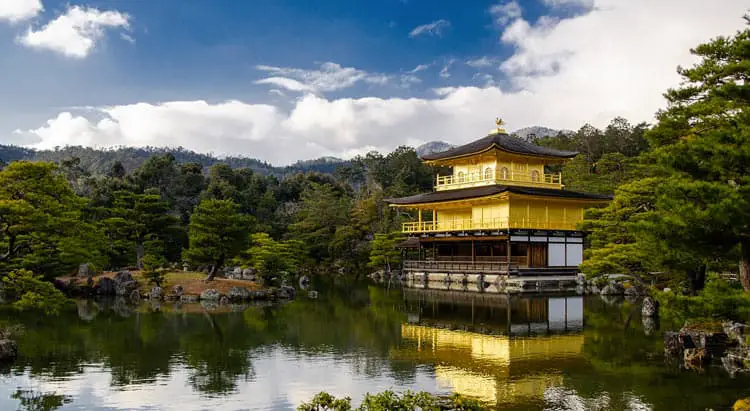 Location: 1 Kinkakuji-cho, Kita-ku, Kyoto, 603-8361, Japan
Information: Kinkaku-ji, which means Temple of the Golden Pavilion, is a famous Buddhist temple and a well-known tourist attraction in Kyoto. Its second and third floors are covered with gold leaves and that's why it is usually called Golden Pavilion. Kinkaku-ji is a UNESCO World Heritage Site since 1994.
Generally, Kinkaku-ji is opened all year from 9 am to 5 pm and has an entry fee of 400 yen for adults and 300 yen for children.
If you need more detailed information, you can go to the official website here.
How to get there: From Kyoto Station, it takes 30 to 40 minutes to get to Kinkaku-ji by bus (there are several buses every 10 to 30 minutes).
Senso-ji Temple
Location: 2 Chome-3-1 Asakusa, Taito City, Tokyo 111-0032, Japan
Information: The Senso-ji Temple is the oldest temple in Tokyo. It was completely destroyed during World War II and then reconstructed thanks to people's donations. During the day, it is a vibrant place full of visitors, except if you go early in the morning. During the night, it is a much more relaxed place where you can enjoy its beauty while the temple is lit up to 11 pm. I really recommend visiting at these two different times of the day to appreciate the difference.
How to get there: From Asakusa Station, you just have to walk for five minutes until you get to the temple. From Tawaramachi Station, it's more like a 10-minute walk.
Tokyo Tower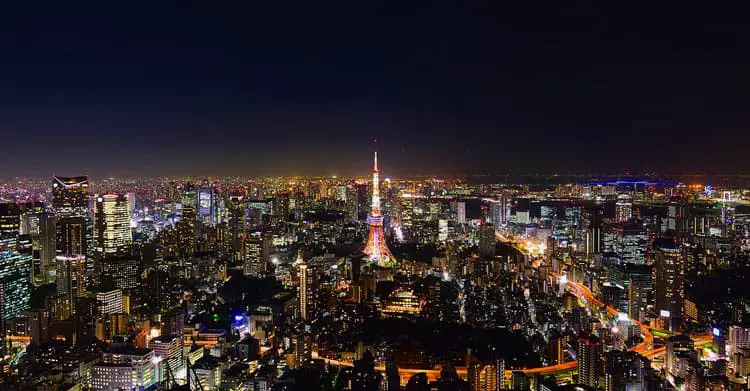 Location: 4 Chome-2-8 Shibakoen, Minato City, Tokyo 105-0011, Japan
Information: Tokyo Tower was completed in 1958 and was the tallest structure in Japan until 2010 with its 333 m (ca. 1,093 ft). This tower serves as a broadcasting facility, but also as a perfect spot to see the impressive city below. It's based on the Eiffel Tower design, so if you have visited Paris, you know what I'm talking about (they look practically the same but with different colors).
If you plan on visiting the Tokyo Tower, there are 3 different parts to see:
The base of the tower where you'll find several restaurants, cafes and shops, but also the One Piece Tower (if you're a fan of manga and anime)
The main observatory at 150 meters high where you'll enjoy a good view and a sort of "look-down" window
The special observatory at 250 meters high where you can appreciate the panoramic view and even, Mount Fuji or the Skytree if the weather is good.
Regarding the opening hours, the One Piece Tower is opened from 10 am to 10 pm, while the observatories are opened from 9 am to 11 pm. There's an entry fee of 3,200 yen for the One Piece Tower, 900 yen for the main observatory and 2,800 yen for both observatories.
For more detailed information, check the official website here.
How to get there: The tower is easily accessed using the subway. You can get off at Onarimon Station or Kamiyacho Station and walk for about 5 minutes.
Tokyo Skytree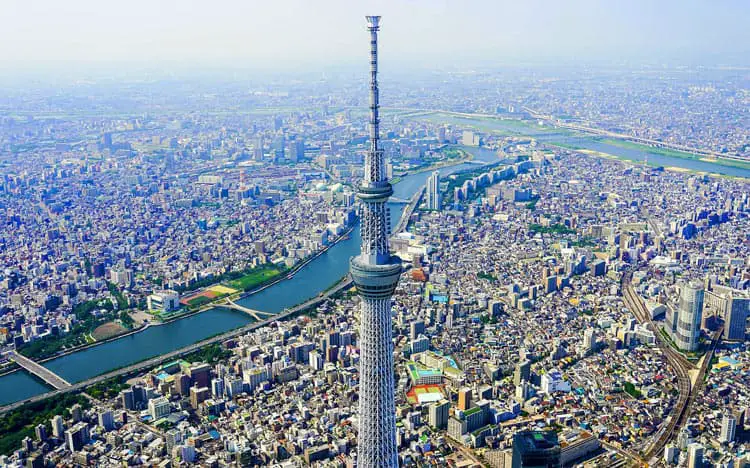 Location: 1-chōme-1-2 Oshiage, Sumida City, Tōkyō-to 131-0045, Japan
Information: Tokyo Skytree appeared in the Guinness Record of November 2011 as the world's tallest tower with its 634 m (ca. 2,080 ft). If the Tokyo Tower wasn't high enough for you, then you'll be served with Tokyo Skytree.
Tokyo Skytree can also be divided into 3 parts:
The base of the tower where you'll find many Japan-related shops in the first floors
The Tembo Deck at 350 meters with a glass floor available if you want some adrenaline
The Tembo Galleria at 450 meters
The Skytree is opened every day from 8 am to 10 pm in general. The entry fees can vary, but you can count with 3,200 yen for the Tembo Deck (350 m) and 4,200 yen for both decks (350 m + 450 m).
Please visit the official website here to see if there are any changes by the time you're traveling.
How to get there: The Skytree is easily accessible thanks to the Tokyo Skytree Station located at the base of the tower.
Osaka Castle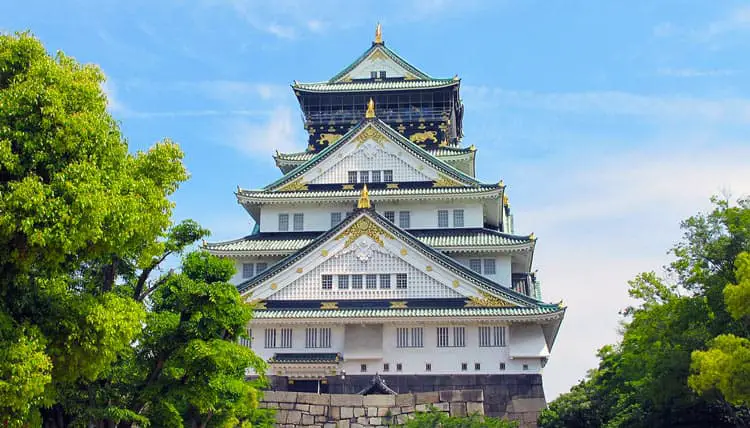 Location: 1-1 Osakajo, Chuo Ward, Osaka, 540-0002, Japan
Information: The Osaka Castle is the most important landmark in Osaka. Inside you'll have a museum that tells the history of Osaka (this can be interesting if you like history, otherwise you can skip it). There's also an observation deck at the top, so you might want to try it for some great pictures. But the best way to enjoy a great view of the castle is in the huge park (Nishinomaru Garden) that surrounds it. And there're also boat rides around it that allow a view from a different angle.
If you want to visit the museum there's an entry fee of 600 yen for adults and it's opened from 9 am to 5 pm.
For detailed information on the castle, visit the official website here or you can download the official pamphlet here.
How to get there: There are 3 stations (Morinomiya Station, Osakajokoen Station and Tanimachi Yonchome Station) really close to the park that surrounds the castle so you can get off at any of them. Then you have to walk to the center of the park where you'll find the castle.
Fushimi Inari-Taisha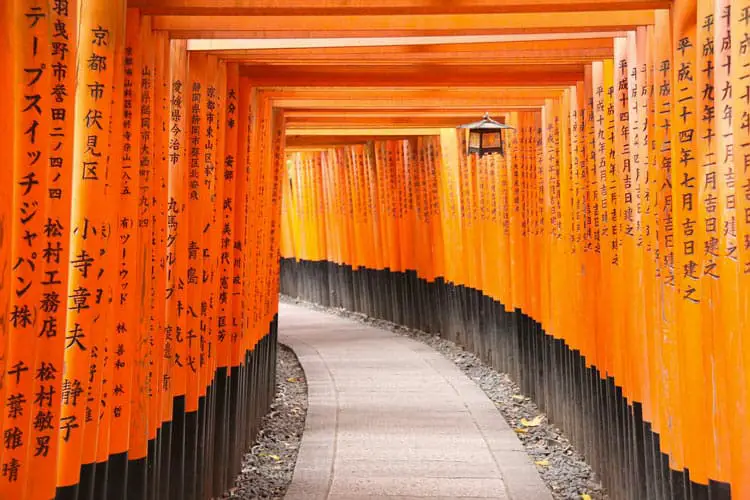 Location: 68 Yabunouchicho, Fushimi Ward, Kyoto, 612-0882, Japan
Information: The Fushimi Inari-Taisha Shrine is well-known for its thousands of gates (torii) that lead to Mount Inari. Inari is the deity of success in business and good harvest, so even if at the beginning there were "only" a thousand gates, with the gate donation of many businesses, there are now approximately 10,000 gates. Imagine how amazing it is to walk through this orange-colored tunnel, but be prepared because it takes two to three hours.
If you want to know more about the shrine, take a look at the official website here.
How to get there: From Kyoto Station, it takes about 5 minutes to get to Inari Station or Fushimi-Inari Station. Thes 2 stations are right in front of the shrine.
Arashiyama Bamboo Grove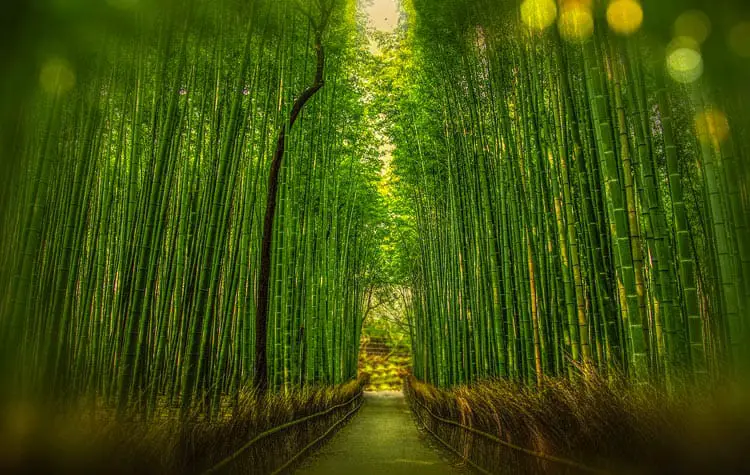 Location: Sagatenryuji Susukinobabacho, Ukyo Ward, Kyoto, 616-0000, Japan
Information: The Arashiyama Bamboo Grove is one of the most recognizable sights of Kyoto where people take a lot of amazing pictures. The path itself is pretty short, but it is totally worth it. The Bamboo Grove is crowded during the day, so try to get there early in the morning for the best pictures and to enjoy the calm of this place. Apparently, during the winter, there's some cool illumination that makes it even more beautiful. Around the Grove there are other beautiful sights that are also worth the visit, so you really need to see these places too.
How to get there: Use JR Sagano Line and get off at Saga-Arashiyama Station. From there you just have to walk for 10 minutes.
Shibuya Crossing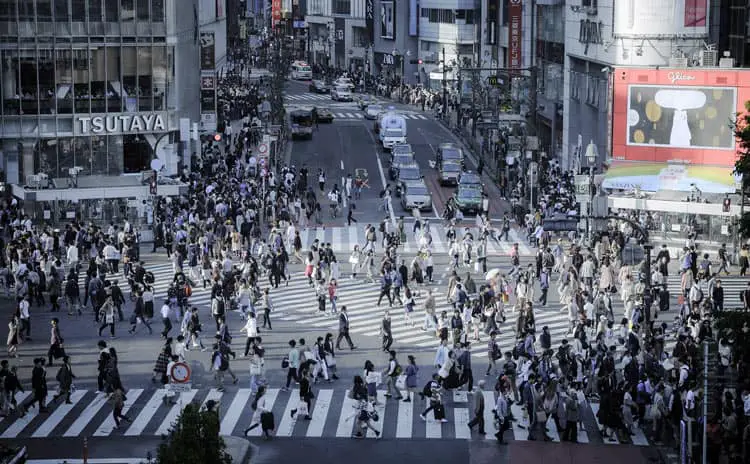 Location: 2 Chome-2-1 Dogenzaka, Shibuya City, Tōkyō-to 150-0043, Japan
Information: Shibuya Crossing is the busiest crossing in Japan. Every two minutes all traffic lights turn to red and hundreds of people cross the road from all sides with perfect synchronization. This can be quite of a view and it is most impressive when seen from above, so get to one of the cafés or shops on the upper floors and enjoy the view. And don't miss the famous Hachiko statue right outside Shibuya Station.
How to get there: Just walk out of Shibuya Station through the Hachiko's exit. Shibuya Crossing will be right there.
Itsukushima Floating Torii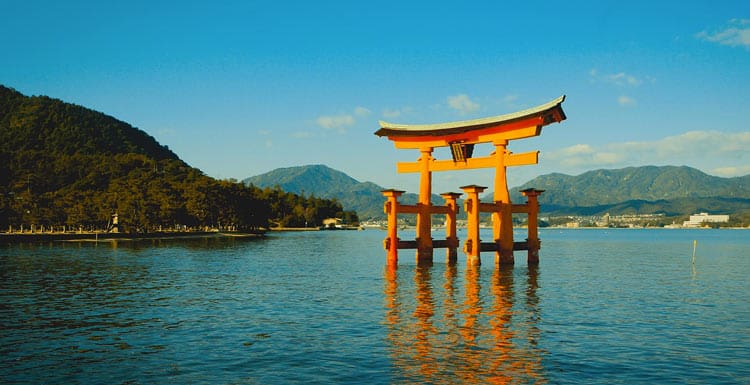 Location: 1-1 Miyajimacho, Hatsukaichi, Hiroshima 739-0588, Japan
Information: Even if this gate is not really floating on the water, you really have this impression if you visit the shrine during high tide. It's like a magical sight and also a good place to take pictures, specially at sunset. If you want to get closer to this gate, you must visit during low tide but prepare some waterproof shoes because it won't be completely dry.
The shrine is opened all year round, usually from 6.30 am to 5.30 pm (opening hours vary according to the seasons), and there's an entry fee of 300 yen.
When planning your travel, check the official website here for all the details.
How to get there: From Hiroshima Station, it takes around 30 minutes to Miyajimaguchi Station. From there walk to the ferry port and take the ferry to Miyajima Island. Once you arrive, just walk for 10 to 15 minutes to get to the shrine.
Himeji Castle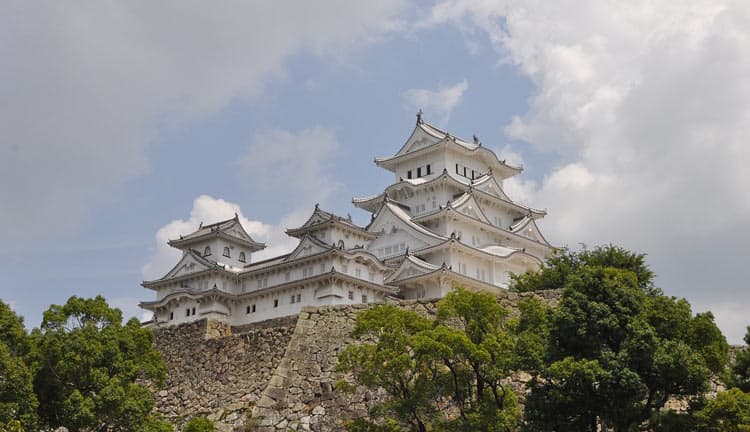 Location: 68 Honmachi, Himeji, Hyogo 670-0012, Japan
Information: The Himeji Castle is a Japanese National Treasure, but also a World Heritage Site since December 1993. The castle construction was completed in 1609 and since then it has never been destroyed. It is actually one of the 12 Japanese original castles that still remain nowadays. When you pass through the main gate (Otemon Gate), you access the free part of the castle with lots of cherry trees. Otherwise, you have the Hishi Gate that gets you to the paid part where you can get to the inner castle.
The castle garden that surrounds it has over 1,000 cherry trees making it a huge attraction specially during the cherry blossom season. At this time, its beauty it's at the highest level, but if you don't like crowds you should probably avoid it.
How to get there: From Himeji Station, you can reach the castle by walking for 15 to 20 minutes, otherwise there's a bus from the station that can get you there in 5 minutes.
Shirakawa-go Village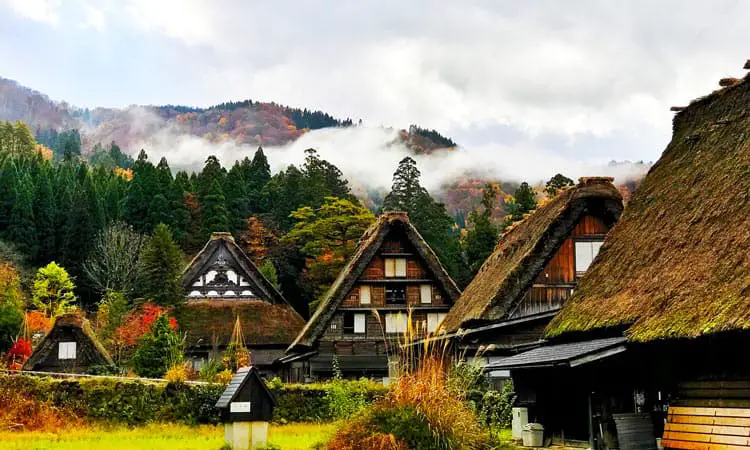 Location: Ogimachi, Shirakawa, Ono District, Gifu 501-5600, Japan
Information: Shirakawa-go is a magnificent traditional village that is recognized as a World Heritage Site. This village is characterized by typical houses using a particular kind of construction. They are tall but narrow, with roofs that almost touch the ground due to heavy snowfalls during winter. These houses are masterpieces of the past, and even if some were converted into museums and guesthouses, many of them are still residences. I recommend visiting at least Wada House, Kanda House and Nagase House.
For more useful information, check out the official website here.
How to get there: The easiest way is by taking the bus from the Takayama Bus Center. It takes around 50 minutes to the village.
Nara Park
Location: Nara, Japan
Information: Nara Park is where you'll find amazing temples and shrines, but it is also the home of wild-roaming deer. Taking pictures with them is frequent, but you should always be aware as they're still wild animals. There's the possibility of buying special crackers to feed them, and they most likely follow you after that. There's also the Sarusawa Pond in Nara Park which is a great place to relax and take some good pictures.
If you want to know more about this park, just check out their official website here.
How to get there: Nara can be reached without difficulty from Osaka and Kyoto in about 35 minutes. You just have to get off at Kintetsu Station and walk from 15 minutes to reach the park. If you get off at Nara Station, it will take 25 minutes.
Hiroshima's Atomic Bomb Dome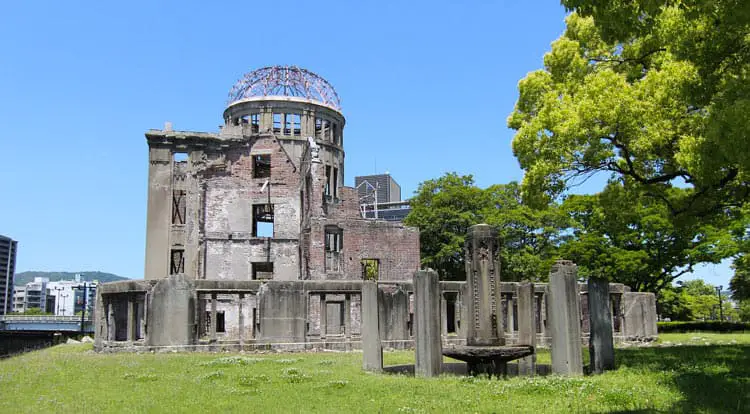 Location: 1-10 Otemachi, Naka Ward, Hiroshima, 730-0051, Japan
Information: The Hiroshima's Atomic Bomb Dome represents one of the darkest moments of the Japanese history. Before the bombing, this building used to be the Prefectural Industrial Promotion Hall. These remains resisted the bomb even if the building was practically below the bomb. You can't enter the Atomic Bomb Dome, but you can easily observe it from the outside and it is also beautifully illuminated at night. It is a pretty impressive view that has been preserved to remind us of the importance of peace.
In the Hiroshima Peace Memorial Park, there are also over 70 monuments that are worth your time.
How to get there: The easiest way is to take the tram from Hiroshima Station to Genbaku Dome-Mae stop (15 minutes). After that, is just a short walk to the park.
Jigokudani Monkey Park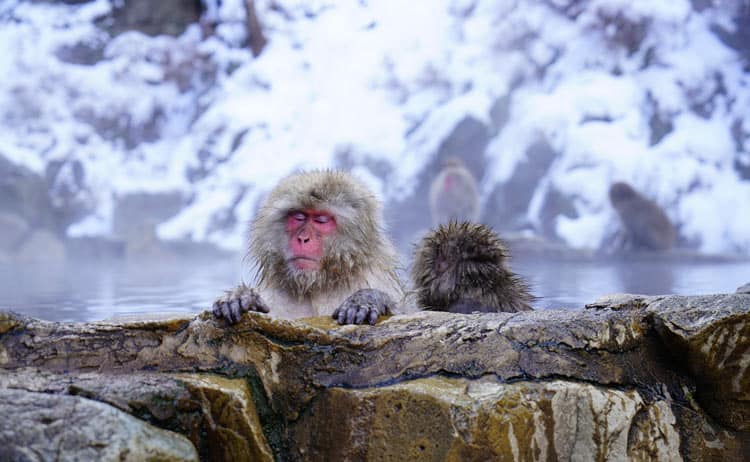 Location: Japan, 〒381-0401 Nagano, Shimotakai District, Yamanochi, Hirao, 6845
Information: The Jigokudani Monkey Park is really a one-of-a-kind place to visit. Even if you can see the monkeys all year round, it's better to visit during winter since the white landscape makes it much more beautiful. During hotter days, monkeys will still be there, but is not as attractive as winter. To have the best experience, make sure you visit in early morning as monkeys will be more relaxed and the place won't be crowded.
Generally the park is opened from 8.30 am to 5 pm, but if you need more information you can visit the official website here.
How to get there: There are several buses that can take you to Kanbayashi Onsen which is near the trail you have to take to get to Jigokudani Monkey Park. The trail takes between 25 and 40 minutes.
Todai-ji Temple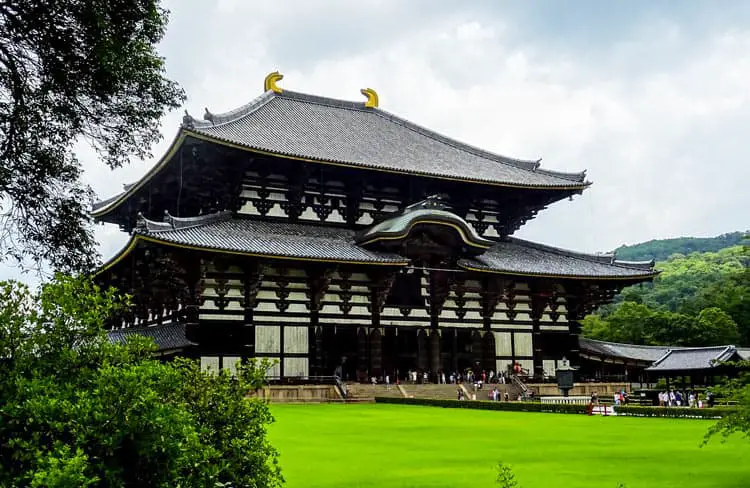 Location: 406-1 Zōshichō, Nara, 630-8211, Japan
Information: The Todai-ji Temple is one of the most famous Buddhist temples in Nara. Its main hall is the largest wooden building in the world, even though it is 30% smaller since its reconstruction in 1692. This impressive temple has several attractions that are totally worth your time. Make sure you don't miss the Great Buddha Statue which is the biggest bronze Buddha in the world with 15 meters. Near the statue, there's a pillar with a hole that you can crawl through to gain enlightenment in the next life.
How to get there: You can get to the temple by getting off at Kintetsu Station and walking for 15 minutes.
Great Buddha of Kamakura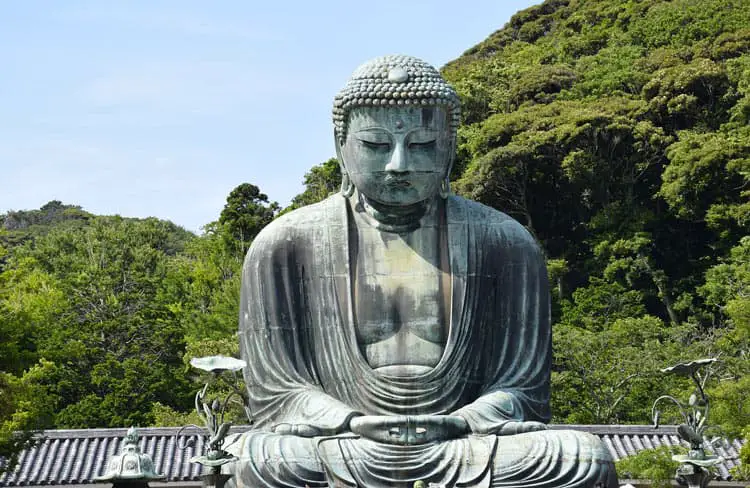 Location: 4-chōme-2-28 Hase, Kamakura, Kanagawa 248-0016, Japan
Information: The Kamakura Great Buddha is located in the grounds of the Buddhist Kotoku-in Temple. It is the second biggest Buddha in Japan, but the biggest outdoor Buddha. This is quite an amazing place to make some good pictures of your visit, and you can even enter the Buddha statue by paying a small fee. The temple is opened from 8 am to 5 pm most of the times, and there's an admission fee of 200 yen plus 20 yen to enter the statue.
If you want to know everything about the temple and the Buddha statue, just visit the official website here.
How to get there: If you travel from Tokyo, you have to get in at JR Shinjuku Station and get off at JR Kamakura Station. Then you have to take the Enoshima Electric Railway to Hase Station. From there, just walk from 7 minutes.
Kobe's Port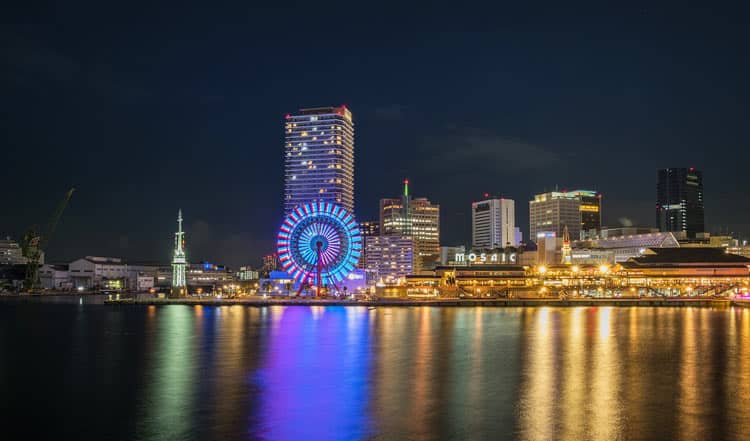 Location: 5 Chome Minatojima, 650-0045, Japan
Information: Before the Great Hanshin earthquake, Kobe's Port was one of the busiest ports in the world. Today it is well-known for its tourist attractions like the Meriken Park, the Kobe Port Tower and Harborland. The best time to enjoy the beauty of the port is when the night comes with all the lights reflecting on the water.
How to get there: You just have to walk five minutes from Harborland Station or Minato-Motomachi Station.
Sanzen-in Temple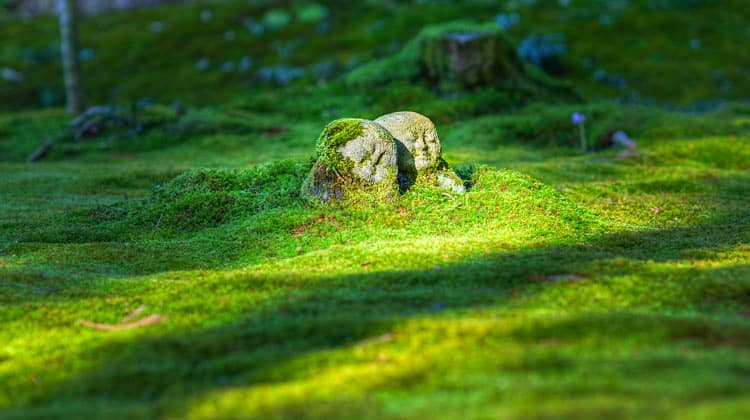 Location: 540, Sakyo Ward, Kyoto, 601-1242, Japan
Information: Sanzen-in is a great temple to visit if you like relaxed places with few tourists. The temple has beautiful landscapes, but you should also visit the green moss garden where you'll find small stone statues known as Warabe-Jizo statues. These statues are meant to protect the children that died before their parents.
How to get there: From Kyoto Station, you have to walk for 2 minutes to get to Kyoto Ekimae Bus stop. There are buses leaving every 30 minutes to Ohara Bus stop. The ride takes a little more than 1 hour and then you have to walk for about 10 minutes to the temple.
Aoi-Ike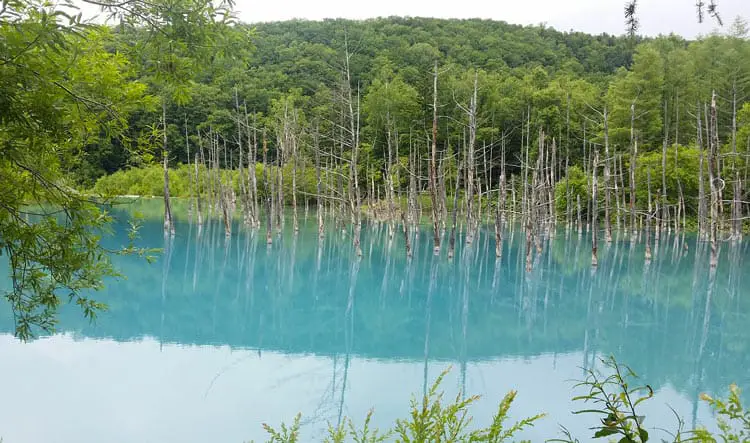 Location: Shirogane, 美瑛町 Biei, Kamikawa District, Hokkaido 071-0235, Japan
Information: Created with the main goal of stopping Mount Tokachi's mud flows damage, the Blue Pond ended up being one of the most iconic ponds in Japan. It became even more famous when it was included as a desktop wallpaper for Apple computers. The pond's amazing colors that can turn into turquoise, emerald or cobalt blue are the result of natural minerals in the water. If you want to show your photographer skills, this place is perfect for you as there are different sights that change all the time.
How to get there: There are several buses that can take you to the pond. The easiest way is to take a bus tour from Sapporo Station.
Gundam Statue
Location: Japan, 〒135-0064 Tōkyō-to, Koto City, Aomi, 1-chōme−1−10
Information: The Gundam Statue is the best statue in Tokyo for Gundam's fans. It's huge and really detailed, but the best part is that it is an animated statue with music and lights. If you can, visit when it starts to get dark so you can appreciate even more the transformation.
How to get there: There are four stations surrounding the statue's area, so you can get off at Aomi Station, Daiba Station, Tokyo International Cruise Terminal Station or Tokyo Teleport Station and walk for a few minutes.
Kasuga Taisha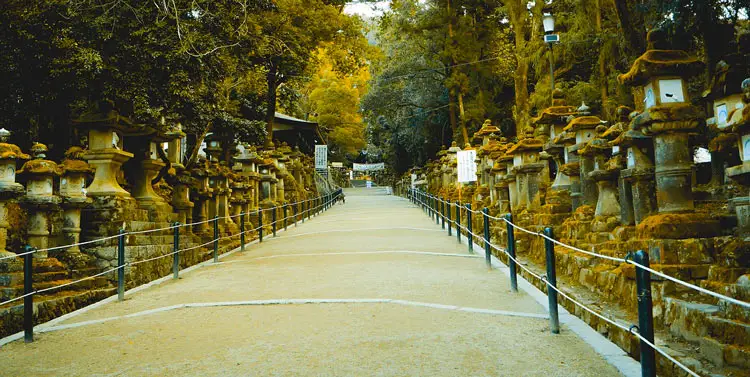 Location: 160 Kasuganocho, Nara, 630-8212, Japan
Information: The Kasuga Taisha Shrine is probably one of the most sacred shrines in Japan as it is the home of several gods. Other than the photogenic temple and the amazing colors all around it, Kasuga Taisha is also known for its thousands of stone lanterns (more than 3,000). In the picture above you can see some of these lanterns in both sides of the path to the main building.
How to get there: There are several buses that run from Kintetsu Station or Nara Station to Kasuga Taisha Honden bus stop. Otherwise, you can walk for 30 minutes from Kintetsu Station and 45 minutes from Nara Station.
Rainbow Bridge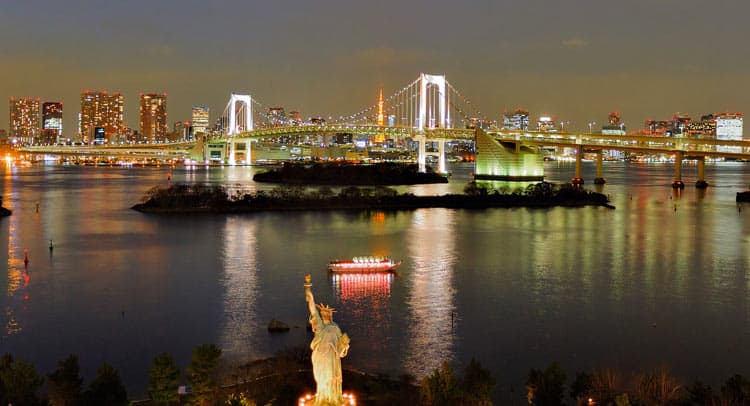 Location: 3 Chome Kaigan, Minato City, Tokyo 105-0000, Japan
Information: The Rainbow Bridge is the most colorful crossing in Tokyo. It is painted in white, but during night you get to see one of the most astonishing views of an urban place. During the year, it is illuminated with normal light which is pretty cool, but in December it has rainbow colored lights and the result is more than breathtaking. To enjoy the view, there are pedestrian walkways on each side and it takes around 30 minutes to cross the bridge.
How to get there: You can get to the bridge by walking from Odaiba-Kaihinkoen and Shibaura-Futo stations.
Disclaimer : Although I make my best to keep the post updated, information like fees and opening hours is changing all the time. Make sure you check each official website to see if there's any recent change.
Japanhorizon.com is a participant in the Amazon Services LLC Associates Program, an affiliate advertising program designed to provide a means for sites to earn advertising fees by advertising and linking to Amazon.com. Japanhorizon.com also participates in affiliate programs with Viator, Jrailpass, Kayak, Klook, Japan Experience, and is compensated for referring traffic and business to these companies.