Japan is one of those countries where there is so much to see that you don't even know where to start. It has so many beautiful places like the famous Mount Fuji, the incredible Golden Pavilion temple (Kinkaku-ji) covered in gold leafs or the never-ending red gates at Fushimi Inara-Taisha. Japan is also a unique country because of all the crazy things you can find there. Crazy beautiful or crazy weird… 🙂 Yes, in Japan you will see things and visit places that you never saw before and, I bet that, some of them you never thought that they really existed.
Sit tight and keep reading to find out what will surprise you in Japan.
Table of Contents
High-Tech Toilets
Japan is well-known for its high-tech products, but did you know that toilets were actually one of them? I know, the first time I heard about high-tech toilets, I wanted to laugh too (and I did…), but high-tech toilets do exist in Japan and about 80% of the Japanese homes are equipped with it.
Even if this kind of toilets might sound like some crazy idea, they're actually amazing. There are several models (and prices) according to the special features of each, but in general you will find models with more buttons that you ever thought possible. There's a button to everything: wash your butt, dry it, heat the seat, lit the toilet (and change color), put the seat down (or up), deodorize after use, auto flush and even play a song while you're doing what you have to do. 🙂
Japan is really an advanced country as far as toilets are concerned, specially when you know that, before these electronic toilets, they mostly had squatting-type toilets. So if you're planning your trip to Japan right now, get ready to try one of these crazy things because they are amazing.
The video below gives you an idea of what I'm talking about and if you find this toilet incredible without even try it, there are some available at Amazon.com (full toilet or seat only).
Vending Machines Everywhere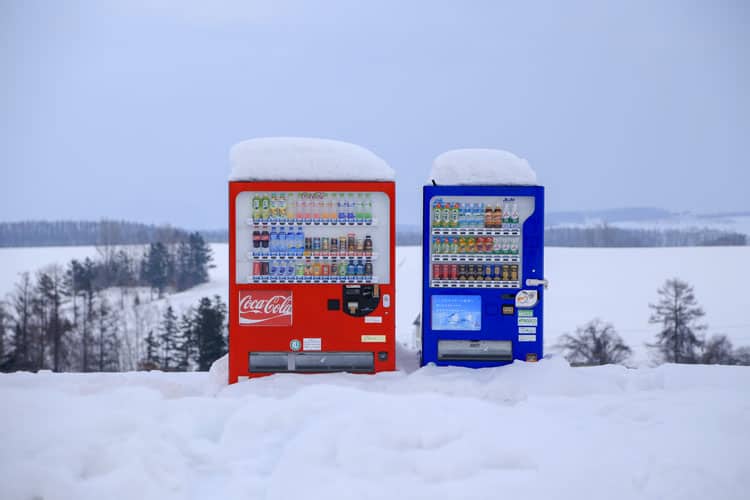 There are millions of vending machines in Japan and it is believed to have one vending machine per 40 people. There reason why vending machines are so popular in Japan is because of the lower crime rate and therefore machines aren't vandalized. Also, these machines are very convenient since they are available 24/7, so there's no need for an available employee, and they require little maintenance.
Vending machines are a crazy thing in Japan because there are too many of them (you'll see, it's the first thing you're going to notice once you arrive), but also because they offer some crazy products too. Among some of the most crazy vending machines, you will find products like:
Ties: always useful for an urgent meeting
Underwear: you never know when an "accident" might happen
Puppies: yes, you can find real puppies in vending machines
Sex toys: well, for people that want to buy one in a more discreet way, this might be an option 😉
Surgical masks: you probably already saw pictures of people wearing masks in Japan. These are very common so a vending machine that sells these items is very welcome
Gifts (flowers, etc): they can save you if you forgot to buy something in advance
Umbrellas: since there's a lot of rain in Japan, you better have an umbrella available
T-shirts: in case you need to change in a hurry, and you're far away from the hotel
Disney's products: when you need a little of magic in your life
Fruits and/or vegetables: always great if the convenience store is closed
I would say that there's practically a vending machine in Japan for almost everything you could probably need and don't be surprised if you find other weird thing in vending machines. I guess Japan won't stop surprising us with the vast possibilities.
If you want to have an idea of some vending machines available at Haneda airport in Tokyo, check out the video below.
Real Life Mario Kart
Have you ever imagine yourself going outside dressed like Mario and drive a kart in the streets? Not even in your craziest dreams? Well, it is possible in Japan! And it is not some kind of private circuit, you actually do it in real streets among real cars.
This is the kind of experience that can get you some great memories of your travel to Japan, whether you're a fan of kart, a fan of Super Mario or both. And if you like crazy experiences, this is definitely one of them.
How does it work? Basically you're driving in groups and there's always an instructor with you at the front. You will have to follow him and respect the instructions he will give. Since helmets aren't mandatory and there are no seat belts, you have to be extremely careful. Also, make sure you have an international driving permit with you, otherwise you won't be able to drive.
If you want to take a look to see how this experience looks like, here's a short video.
There are several courses available in Tokyo with different itineraries and lengths, but the cheapest I found was the one from Klook.com. Be careful with the choices you make because it can turn into an expensive activity real quick. It's true that a 3-hour course will last longer, but do you really want to spend 3 hours driving a kart?
Maid Cafés
Maid Cafés are a common thing in Japan, and they are awesome. If you want to live a different experience, you have to try a maid café. In here everything is kawaii, which is the Japanese word for "cute". The maids are dressed just like the ones you can see in anime and the food is amazing. Everything is cute in this place.
You can book your experience on Klook.com with different package options available. Depending on the package you choose, you can even get a live show.
Weird Kit Kat Flavours
Forget all you know about the well-known Kit Kat you are used to buying in the supermarket. In japan, Kit Kat has evolved to a whole new level with several flavors that you never tasted or imagined and that are completely amazing.
Some flavors include, apple, dark chocolate, strawberry cheesecake, matcha, red beans, sakura matcha, wasabi, raisin or even sake. And if you're a fan of apple pie, you can even try the apple pie flavor (available on Amazon.com if you don't want to wait until you get to Japan). An assortment of several flavors is also available at Amazon.com and this can make a good gift to a friend that's a fan of Japan.
The next time you go to Japan, make sure you make some extra space in your luggage because there are so many flavors that you will be tempted to try them all and bring several back home with you.
Plastic Food at Restaurants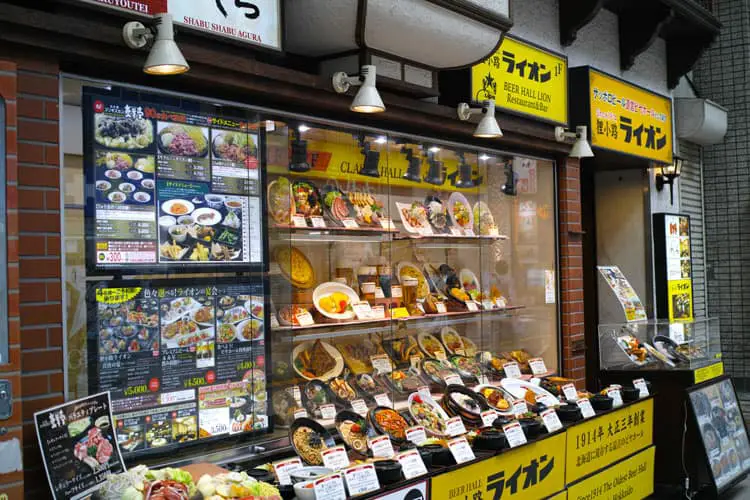 Luckily for the visitors like us, Japanese restaurants have this curious habit of showing their menus recipes in a plastic replica. Yes, that's exactly what you read. At the entrance of most restaurants, you will often see examples of the real food, but made of plastic. This is really helpful when you don't speak a word of Japanese because you can get a good idea of what you order just by looking at these plastic dishes. Even if it will still be hard to imagine the real taste of the food, at least you know exactly how it will look like. And yes, it will look like the plastic model because Japanese are great at making excellent food, and they always present you a beautiful dish.
Monkey Spa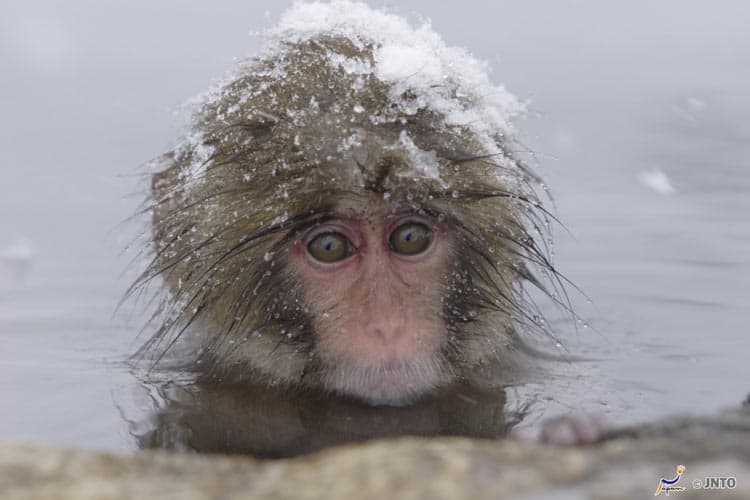 In almost every country in the world, spas are for humans, but not in Japan. The Jigokudani Monkey Park in the northern part of Nagano Prefecture is not considered a spa, but monkeys certainly use it like it was one. This protected park has a natural heated hot spring, where monkeys spend a good time bathing inside, specially during the cold winter months. It is the only place in the world where monkeys have their own hot spring.
And for only 800 yen (adult price) you can get to this park and have fun observing these amazing creatures in their natural environment. Generally the park is opened from 8.30 am to 5 pm, but if you need more information you can visit the official website here.
Aokigahara Forest
The Aokigahara forest is also known as the Suicide forest in Japan and it is located at the base of Mount Fuji. It is an intriguing place that is most of the time referred as the preferred place in Japan to commit suicide. Other that this strange fact, it is also easy to get lost in this forest because of the high density of trees. As the sun can't penetrate easily, this forest is very dark which contributes to the creepy feeling.
This can be an exciting experience for those that love horror stories because this place looks like a typical weird scenario of a horror movie. Nonetheless, there are several things to see around the forest that aren't creepy at all. And there are several trails that lead to some famous attractions nearby like Narusawa Ice Cave, Fugaku Wind Cave and Lake Sai Bat Cave.
If you want to know how to get to the Aokigahara forest, I've written an article that explains everything you need to know.
Team Lab Borderless Museum
The Team Lab Borderless Museum is the most amazing and mind-blowing museum in the world. This is not a conventional museum as the ones you're probably used to visit. The Team Lab Museum is a magical experience like you've never seen before.
This is a digital art museum with ever-changing lights all around you that you can actually interact with. I've never seen anything like this and words aren't enough to describe this experience. Just take a look at the short video below to have an idea of what awaits you in this incredible place.
And if, like me, you are convinced that this is an unmissable experience, you can buy your tickets up to 2 months in advance at Klook.com. I really recommend buying in advance because same-day tickets are usually sold out.
Capsule Hotels
Capsule hotels, also known as pod hotels, are something really extraordinary in Japan. As you can see in the picture above, a capsule hotel is made of small pods aligned in a long room. Although the pod's size changes according to the hotel, they are usually quite small, but comfortable.
In these capsule hotels you will find a locker at the entrance to store your luggage and then you go inside with the essential things, like toiletry bag and clothes, but don't forget your phone and charger (yes, you can charge your phone in your pod). Capsule hotels have all the comfort of a standard hotel, but with less space for sleep. Instead of getting a room, you get a small cute pod. Some hotels even have TV's inside their pods, but it really depends on the type of capsule hotel you're picking. As a general rule of thumb, the more expensive the hotel is, the more comfort you get.
There're individual showers at these hotels so don't worry about your property. And the toilets are usually very cool because most of the times you'll find the famous high-tech toilets.
Generally, the rest of the hotel's facilities are really great and you'll benefit from high-speed internet. Some even offer you access to spas or saunas during your stay, which is pretty cool.
This kind of hotel is very convenient for people travelling alone, like when you travel for business purposes, or for people travelling on a budget because they are cheaper than a standard (most of the times). If you travel with kids, you might want to avoid these as you have to be extremely quiet, and we all know that it is hard for kids to do that 😉
Love Hotels
Love hotels are some curious places that were once destined to give couples a little privacy. Since the houses in Japan are a little small and the family members usually live all together under the same roof, young couples didn't have all the privacy they needed at home. These hotels were developed as a solution to this problem.
Nowadays, love hotels are well-known, and they are no longer reserved for couples in search of privacy. They have become a sort of attraction for tourists willing to test this crazy concept. The check in and check out are usually very discreet, and the rooms are amazing.
Most love hotels don't accept families because you usually have adult content in the rooms, but there are a few exceptions. Anyway, it is a better experience if you're travelling in couple.
Kanamara Festival (Penis Festival)
Yes, you read that right! The Kanamara Festival (かなまら祭り) means literally "Festival of the Steel Phallus". This curious festival takes place every year on the first Sunday of April, so the next ones will take place on April 5, 2020, April 4, 2021, April 3, 2022, and April 2, 2023.
This event is held in Kawasaki and must be one of the most amusing events in Japan. It celebrates the fertility and there are a lot of male members decorations all over the place. Since the Japanese people don't consider sexuality as a form of embarrassment, this festival is very funny and people can spend a really good time.
The best part of this festival is the parade that takes place in the afternoon where several large-sized male members statues are displayed throughout the streets. And of course, you will find all kinds of objects in male-member shape that you can buy for decoration, and there are some you can even eat.
If you're not comfortable with this kind of objects, I don't recommend going to this festival, but if you're extremely open-minded, this is definitely a crazy event you can only see in Japan.
It is also good to know that the money raised during the festival will help with the HIV research, so besides all the fun, this is actually a festival for a good cause.
I searched for a short video of the Kanamara Festival to give you a glimpse of what you can expect in an event like this.
Ryokan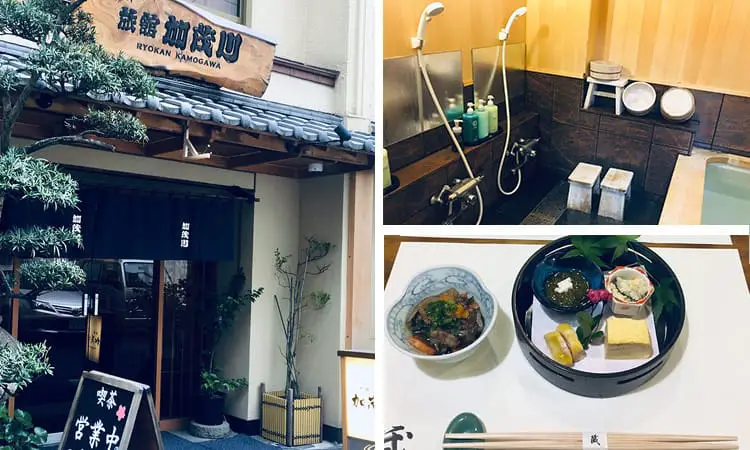 Ryokans are basically Japanese traditional inns and it is a wonderful experience that I definitely recommend. Not all ryokan are the same and you can't get the exact same experience in all of them, but once thing is for sure, if you want to immerse yourself in the traditional Japanese culture, you have to try to sleep in a ryokan at least for one night.
As a general rule, the hosts are very respectful and kind, always willing to help. The rooms are incredible and the food is amazing. Some ryokan even have their own private onsen which is another crazy experience you should try.
Rabbit Island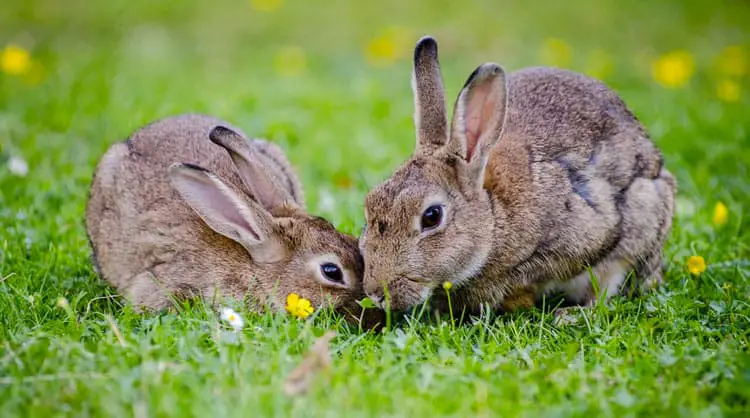 Okunoshima, also known as Rabbit Island, is a small island in the Hiroshima Prefecture accessible by ferry. Today, this island is the home of hundreds of adorable rabbits (more than 1,000 actually), but it has a dark past.
During World War II, it was the center of chemical weapons research and production. The Japanese used the rabbits to test the chemical weapons, mainly poison gas, and the facility is still present on the island, although it is abandoned now. Please be assured, the rabbits that were used for the tests are not longer alive and the rabbits on the island are perfectly normal.
Today you can have a lot of fun with all these rabbits following you around the island willing to have some extra food. 🙂
If you want to visit this island, all the information you need is available at the Rabbit Island website.
Japanese Black Eggs
The Japanese black eggs are found in Owakudani, an active volcanic valley which is also known as Jigukodani (Hell valley). It is located in Hakone in the Kanagawa Prefecture.
There are a few trails available in this valley, but make sure you try the one that gets you to the eggs boiling site. Once you get there, you can finally taste one of these famous black eggs. In fact, these eggs are normal chicken eggs, but their shells are completely black once they were boiled. This happens because they are cooked in natural hot spring water, and then they are boiled using a 100 degrees steam from the valley's hot springs. It is the sulfur contained in the water that gives them this strange color.
Although these eggs might look a little weird, it is completely safe to eat them, but they will probably smell like sulfur. The best part of eating these eggs is the existing belief that they can add seven years to your life! Isn't this great? Knowing that 5 eggs will cost you around 500 yen, I think this is a small price to pay to live longer 😉
Nabana No Sato Illumination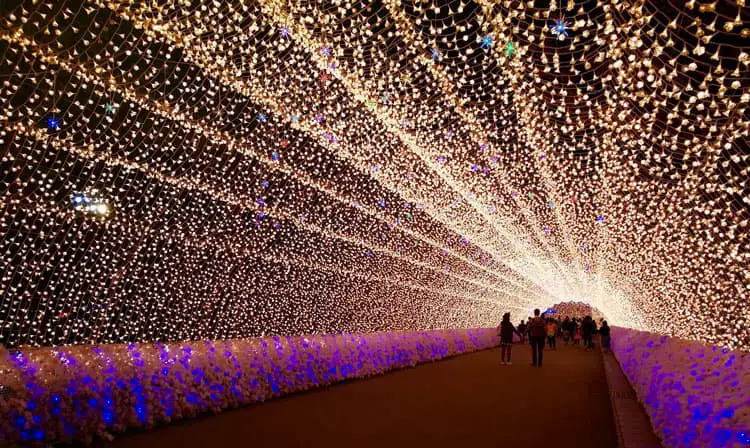 The Nabana No Sato Park is located in Nagashima in the Mie Prefecture. This park, which is naturally beautiful like all parks in Japan, becomes extraordinary between mid-October and early May during the winter illumination.
Winter illumination is not just a few lights here and there. Instead, all the park will be covered with colorful lights everywhere (on the trees, on the ground, over the water pond…). They even make tunnels of light where you can pass and be completely immersed in this beauty.
Blue Pond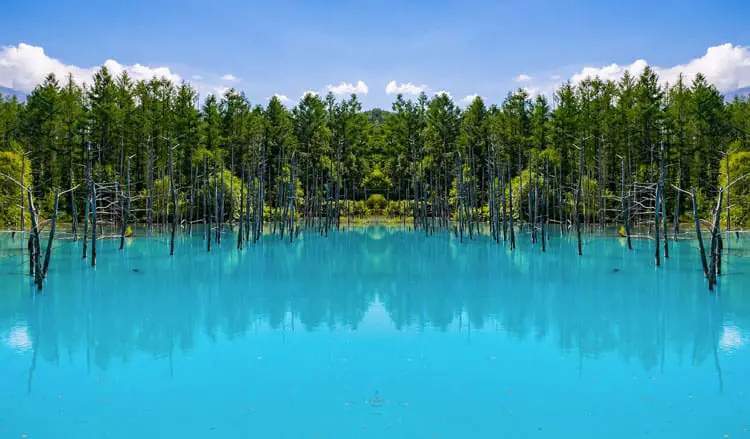 The Blue pond, also known as Aoi-Ike, is located in the Hokkaido island (the northernmost island of Japan). It was created with the main goal of stopping Mount Tokachi's mud flows damage, but ended up being one of the most iconic ponds in Japan. It became even more famous when it was included as a desktop wallpaper for Apple computers.
The pond's amazing colors that can turn into turquoise, emerald or cobalt blue are the result of natural minerals in the water. These incredible colors and the landscape around the pond result in a unique view that is totally breathtaking. If you want to show your photographer skills, this place is perfect for you as there are different sights that change with the seasons.
This is definitely weirdest and the most amazing pond in Japan, and probably the best one in the whole world.
Did you like this article? What is the crazy thing that surprised you the most?
Feel free to share your comments below!
Japanhorizon.com is a participant in the Amazon Services LLC Associates Program, an affiliate advertising program designed to provide a means for sites to earn advertising fees by advertising and linking to Amazon.com. Japanhorizon.com also participates in affiliate programs with Viator, Jrailpass, Kayak, Klook, Japan Experience, and is compensated for referring traffic and business to these companies.