Planning an itinerary for your trip to Japan is not always easy and I often see people asking whether they should go to Nara or Kobe when they will visit the famous nearby cities of Kyoto and Osaka. The problem is that Nara and Kobe are so different that you can't really compare both, making it hard for people to decide which one should they visit. I have my personal preference, but I will tell you the best things in Nara and Kobe so you can decide what's better for you.
Nara is better for people interested in traditional temples and shrines, like Todai-ji with the Great Buddha statue, or the sacred roaming deer at Nara Park. Kobe is a mixture of old and new and is better for those willing to try the famous Kobe beef or interested in shopping activities.
Now let's take a look at the best things to see and do in both to see if you are interested more in Nara or Kobe. There are certainly great things to do in both, but in the end, it will all come down to your preferences.
By the way, I was surprised to see that Amazon even sells the famous Kobe beef, but I guess they really sell everything. If you have never seen Kobe beef there are a few pictures available at Amazon, you can check this link.
Table of Contents
Nara
Nara is one of the most common day trips and is worth it for people interested in historical Buddhist temples, World Heritage sites, and the famous sacred deer of Nara Park. It is also the home of the Great Buddha statue, the world's largest bronze statue with 15 meters.
World Heritage Sites
Nara has several World Heritage Sites like:
Todai-ji temple is one of the most impressive wooden structures in the world and is the home of a 15-meter Buddha bronze statue.
Kofuku-ji temple is known for its five-story pagoda, the second tallest pagoda in Japan.
Kasuga Shrine is Nara's most famous shrine with vermilion structures in a green scenery.
Kasugayama Primeval Forest is a magnificent forest remained untouched for more than 1,000 years now.
Gango-ji temple is famous for its minuscule pagoda that is barely over 5 meters tall.
Yakushi-ji temple was made in a Chinese style and has a pagoda that resists since the 8th century.
Toshodai-ji temple is often compared to the famous Parthenon in Greece as it was constructed using the same technique.
Nara Palace Site shows the Heijo Palace remains, important evidence of the past, when Nara was the capital of Japan.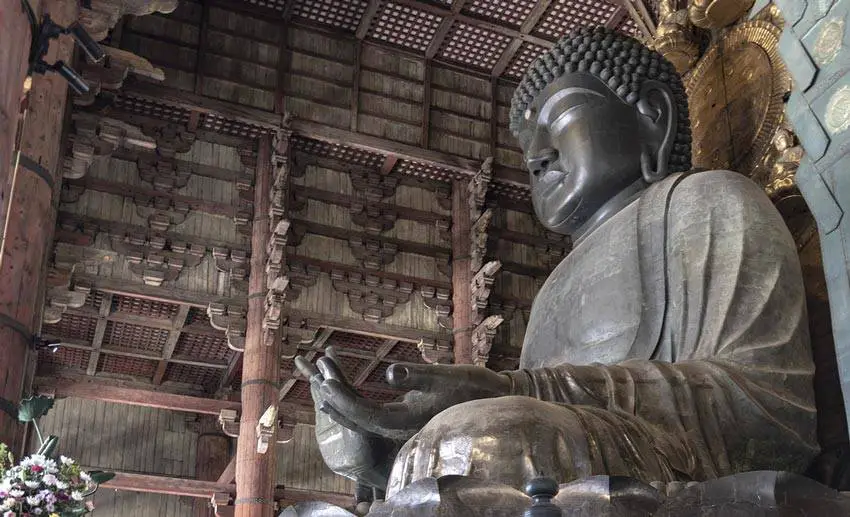 Nara Park and the Sacred Deer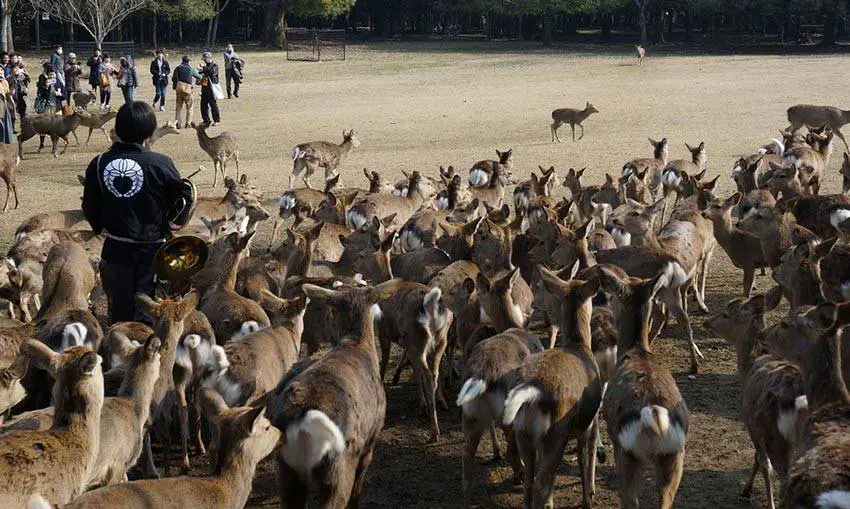 Nara is also known for the famous Nara Park, which covers around 660 hectares, and it's the home of around 1,400 deer that roam freely around the park. These deer are wild animals so you must behave accordingly. That means you should never disturb the animals or try to grab them. Deer are used to be fed by humans, so they will approach you naturally. This is a common interaction that you can only experience in Nara Park.
Notice that you can only feed the deer with a particular type of cracker, called shika senbei, sold in the park and that is made specially for the deer.
The reason for having so many deer is because of a religious belief. The Japanese believe that the deity enshrined in Kasuga shrine has ridden to Nara on a sacred deer, therefore deer are considered helpers of the gods and are protected in Nara as natural monuments.
There are several tours that allow you to have a great experience with deer in Nara, but if you want a reasonable tour that includes must-see places and lunch, check out this one on Klook. For those who want a different experience, I recommend the Nara Highlights Bike Tour from Viator.
A Taste of Old Japan and Nature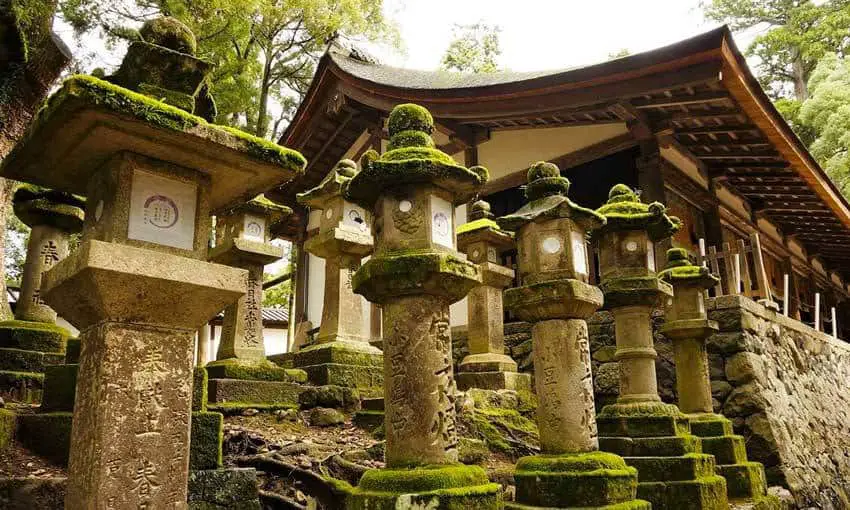 Being a relatively small city, Nara allows you to see and do many things in a small amount of time. It is probably one of the highlights of every itinerary because the atmosphere here immerses you in traditional Japan. People who are looking to experience old Japan know that Nara is one of the best cities due to its cultural and historical richness.
If you add to that the fact that all these beautiful monuments and views are surrounded mostly by nature and not by modern buildings, this is exactly the kind of place that you are searching for in Japan.
For more detailed information about Nara, check my other post: Is Nara worth visiting?
You may also like:

Is Nara Worth Visiting?
Is Nikko Worth Visiting in Japan?
Japan Rail Pass Calculator: Is The JR Pass Worth it?
Kobe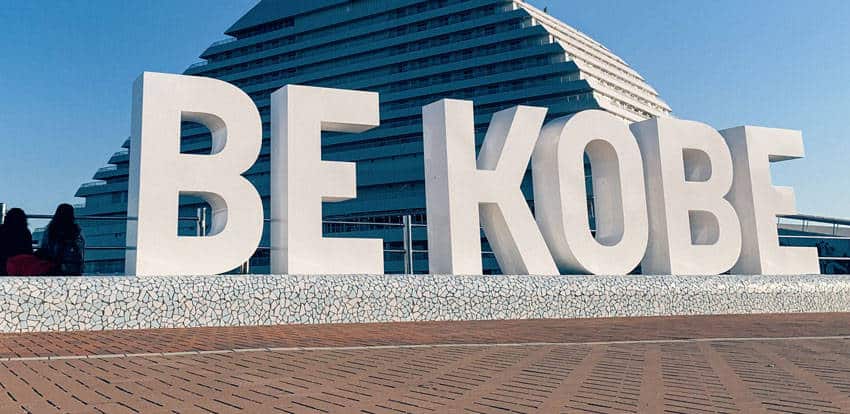 Kobe is a modern and fairly big city that is completely different from Nara. Here you won't find massive temples and lots of historical sites everywhere, but you're still able to see the traditional Japan in some places. Kobe is the perfect place for trying food, especially the worldwide famous Kobe beef, and for having some shopping time.
Let's take a look at what you can see and do in Kobe!
Kobe Harborland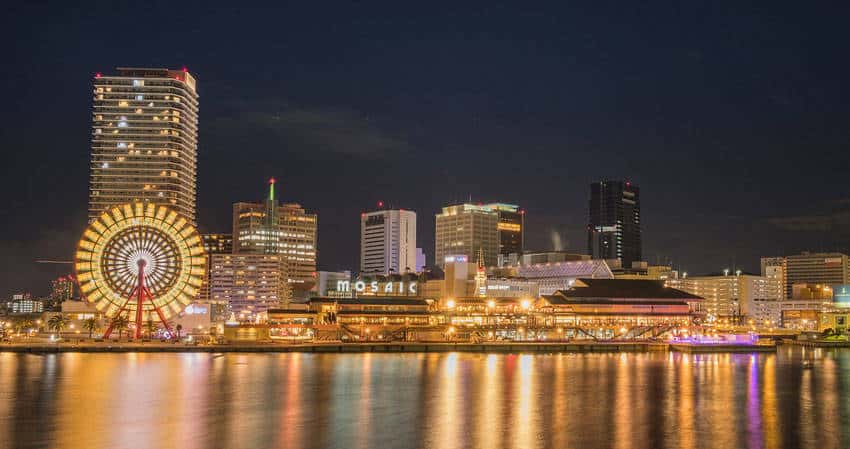 The harbor area is one of the most amazing places in Kobe. It is a great place to do your shopping because there's a huge mall and other stores nearby, and in addition, you can enjoy the beautiful view over Osaka Bay while walking around. At night, the whole area is illuminated and you can see the lights' reflection on the water.
Pro-tip: the best thing about doing your shopping in Kobe is that you will have a much more relaxed experience than doing it in Osaka, which is packed with people everywhere, and you'll find pretty much the same things.
There are cruises at night in the harbor for those who want to experience a more luxurious moment in the area. The cruise is great to enjoy some panoramic views of this lively city and it is not expensive if you just pick the cruise with one drink. Obviously, if you pick a diner, it will be more expensive, but it's still worth it if you're looking for a different experience. The cruise takes around 2.5 hours so you will be able to see lots of things and relax with live music on board.
Check out more info about the Concerto Cruise on Klook >>
All the information you need in Kobe Harborland website >>
Kobe Beef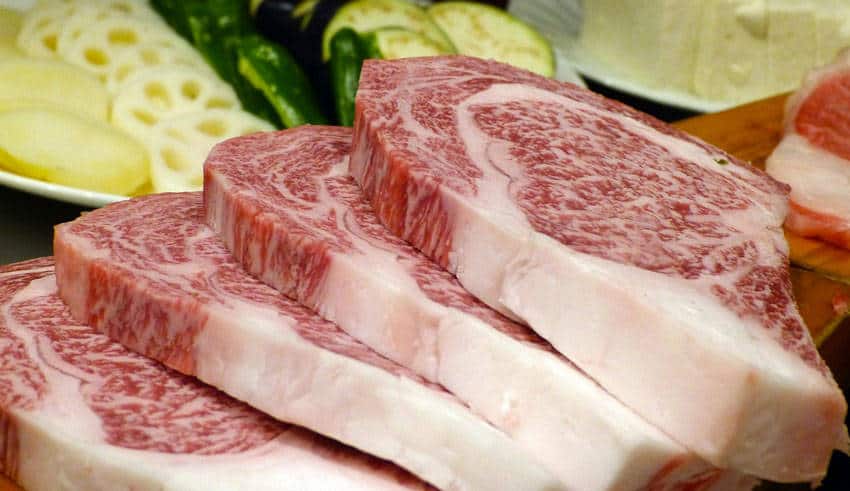 Kobe beef is also known as wagyu beef (meaning Japanese cattle beef) and it's made from the Japanese black cattle breed. In Japan, wagyu beef usually has the name of the region where the cattle are raised, and although Kobe is the reference for wagyu beef, you can find wagyu beef in other areas of Japan.
Basically, Kobe beef is a reference for quality beef because it has to fulfill several conditions, and only around 3,000 head of cattle are able to qualify for Kobe beef each year. This is one of the reasons why Kobe beef is more expensive.
Kobe beef only started to be exported outside Japan in 2012, but it's now a reference known worldwide. People say that is the best beef in the world, so it might be worth trying it at least once in your life.
Klook has some cool experiences with Kobe beef that you might want to check, but if you want to combine a little walking tour with a Kobe beef experience check out this Viator tour.
Kitano District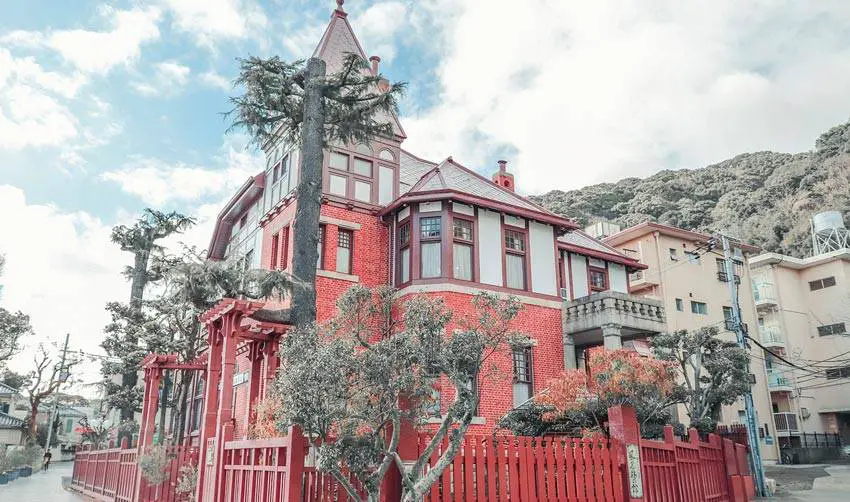 The Kitano historic district is one of the most interesting districts to visit in Kobe because of the former foreign residences that were established after the opening of the Port of Kobe in the second half of the 19th century. This place is full of European influences combined with Japanese architecture making it a one-of-a-kind place to visit.
There are several well-preserved merchant mansions that are open to the public and that you can visit to have a glimpse of what life was like during that time. Make sure you don't miss the Weathercock House built in 1909 or the Moegi House built in 1903.
The full list of former foreign houses can be found at the official website >>
Kobe's Tower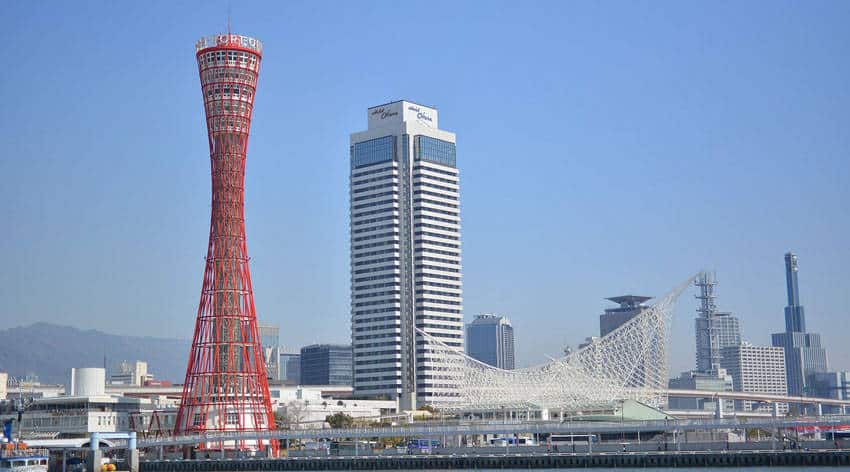 Kobe's Tower is one of the most important and impressive landmarks of Kobe and it was designed to look like a traditional Japanese drum. Thanks to its impressive 108-meter height, the tower offers incredible views of the city, the sea, and the mountains with several observation decks. From the top floor, you can even enjoy a stunning 360° view.
It is pretty easy to get to the tower because it is just a 15-minute walk from Motomachi Station.
Kobe's night view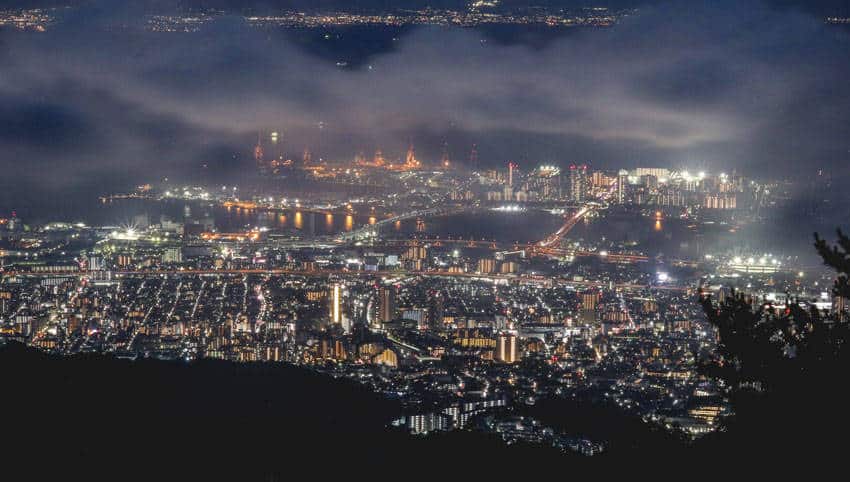 From Mount Rokko, you can have the best views over Kobe and the sea. To get there, the easiest way is to take the Rokko Cable Car from Rokko Station and it's also the best way because you will have great views on your way to the top.
Make sure to take your time at the Tenran Observatory to enjoy one of the three major night views of Japan. On top of that, the observatory is illuminated at night which creates an even more special atmosphere. There's no admission fee for the observatory so this is definitely an experience you might want to try.
Nankin-machi (Kobe's Chinatown)
Nankin-machi is Kobe's Chinatown. This place has a mix of influences and it's full of Chinese restaurants and shops, and to get there, you just have to walk south for 5 minutes from Motomachi Station. It's a nice place to grab some food and do some shopping.
The best times to visit Nankin-machi are during Chinese New Year celebrations, the Mid-autumn Festival, the Lantern Fair, or the Koryu-shunpusai Festival. During these cultural events, Nankin-machi becomes even more alive.
Akashi Kaikyo Bridge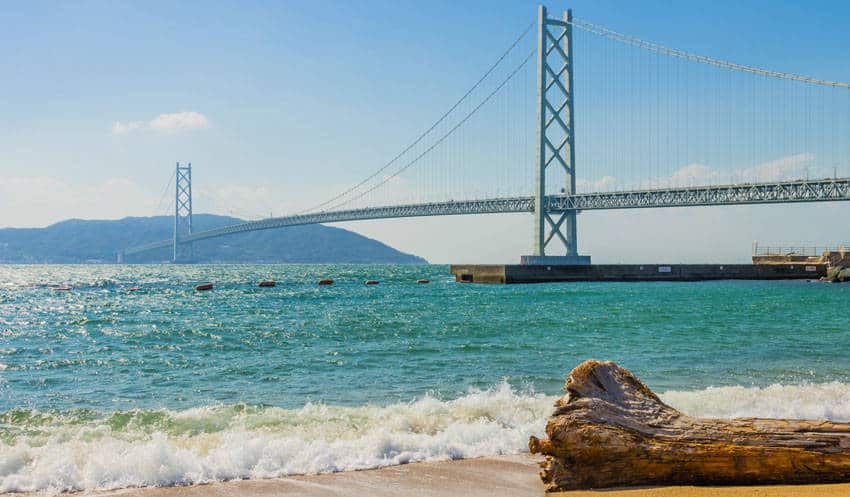 Akashi Kaikyo Bridge is the world's longest suspension bridge that links Kobe to Awaji Island. The bridge was opened in 1998 to replace the old ferry service that was vulnerable to frequent storms in the area.
The bridge alone is quite an amazing sight, but there are also tours that allow you to climb the 300-meter-tall towers of the bridge for an even better experience. Plus, if you're visiting Japan during national holidays or other special events, you might get a chance to see the 1,800 lights of the bridge, a spectacular light show that can be seen from the bay.
Check out this cheap Klook's tour and visit some cool places in the area >>
Can you do Nara and Kobe in one day?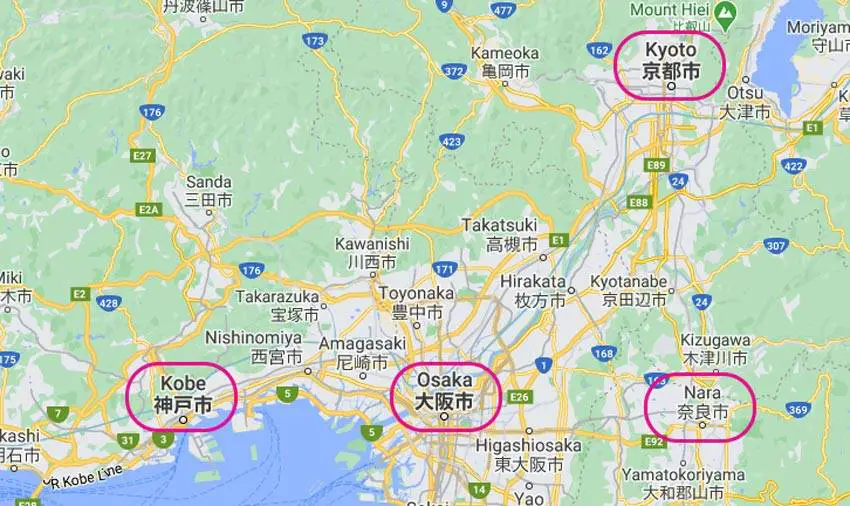 To try to see a maximum of different things during their trip to Japan, people are tempted to combine two-day trips into one. Kobe and Nara are located about the same distance from Osaka (around 20 miles), so you would logically think that it's okay to combine both cities in one day trip, but it is not that simple. While it takes between 30 and 40 minutes to get to Kobe from Osaka, it will take you between 50 and 60 minutes to get to Nara from Osaka.
From Kyoto, Kobe is located about 47 miles away, while Nara is located about 29 miles away. You could think that it takes longer to go to Kobe than Nara, but it is pretty much the same thing because you have the Shinkansen (Japan's bullet train) from Kyoto to Kobe. The Shinkansen is one of the fastest trains in the world, but if you want to know a little more about it, you can check my post about the Japanese bullet train.
I'm not going to lie to you, but it will be hard to do both cities on the same day. Sure they are close enough to Osaka and Kyoto, but they are in opposite directions, so it's not a very optimized itinerary to do both on the same day. Plus, you will be wasting a lot of time on transportation, leaving you with a little more than half a day for sightseeing. Well, if you plan on just getting a glimpse of both cities, you can try to visit them the same day, but honestly, it will be disappointing for you.
In my opinion, the best option is to visit each city on a different day. You can do your day trip from Osaka or Kyoto because there's not a huge difference in the time spent on transportation. I guess it will depend mainly on where you're staying for the night.
Conclusion
Both cities are completely different, so it's kind of hard to compare them. They both have incredible things to see and do, but they're not the same things in each city. Choosing which one is better will depend entirely on your interests and what you are willing to experience in Japan.
If you want to experience traditional Japan, Nara will be the best option. On the other hand, for a more recent Japan, Kobe will be more suitable for you.
My personal favorite is definitely Nara because you can experience things that are really related to Japanese culture and old Japan. As this is precisely the kind of thing that most tourists search for on their first trip to Japan, Nara is a common day trip in any itinerary.
I'm sure Kobe can also be a great day trip, but probably not on your first time to Japan, unless you have a good reason to absolutely go there, like to taste Kobe beef, for instance.
Japanhorizon.com is a participant in the Amazon Services LLC Associates Program, an affiliate advertising program designed to provide a means for sites to earn advertising fees by advertising and linking to Amazon.com. Japanhorizon.com also participates in affiliate programs with Viator, Jrailpass, Kayak, Klook, Japan Experience, and is compensated for referring traffic and business to these companies.