If it is your first time in Japan, you are probably asking yourself if it's going to be difficult to travel to Japan without knowing the Japanese language. This is actually a good question because you are travelling to a different country with an entirely different culture, and a language that has nothing in common with the English language. At first sight, this might sound like a crazy adventure, but to tell the truth, it is possible to work around some language barriers and have a great time without knowing practically any Japanese word.
The easiest way to travel without speaking the language is to hire a guide or use a travel agency to get things done for you, but there are also some free options you can use too. The cheapest way is to do things yourself and to plan everything you can in advance and in the most detailed way.
I realized that the first time you travel to a country like Japan, you can't really be sure of what you'll find once you get there, and not knowing the language can add an extra degree of fear of the unknown. And even when you read lots of things about Japan before going there, the surprise effect will always hit you, as you will feel like travelling to another planet. If you really want to know more about all the options you can use, just pay close attention to next paragraphs because I added some useful information to grant you an easier travel.
Main Problems You Can Face if You Don't Know The Japanese Language
Transportation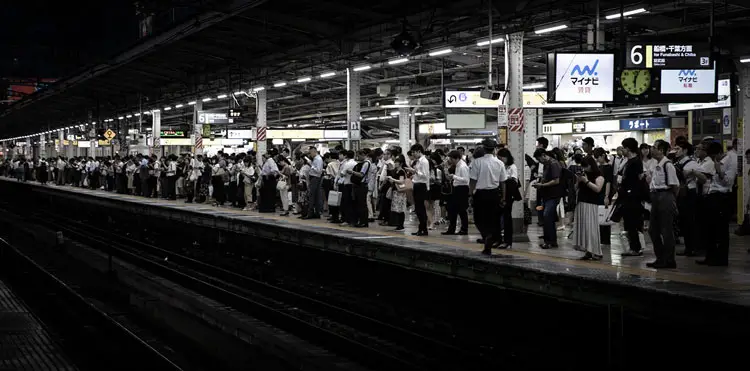 When you first meet the Japanese train system, it can be a little overwhelming if you haven't done some research previously, but Japan has one of the most highly effective train systems in the world, with millions of people using it every day. The truth is that once you get how it works, you can use it even if you don't speak Japanese.
Walking Around and Finding Your Way
Moving in Japan is not that simple, even when you just want to find your hotel. Walking around and trying to find a specif address can be a real challenge if you don't know any Japanese.
The streets in Japan don't have names, except for the major roads. Seriously, they really want us to get lost every single time? 🙂 Anyway, I will show you some tips to help you find your way later in this article.
Food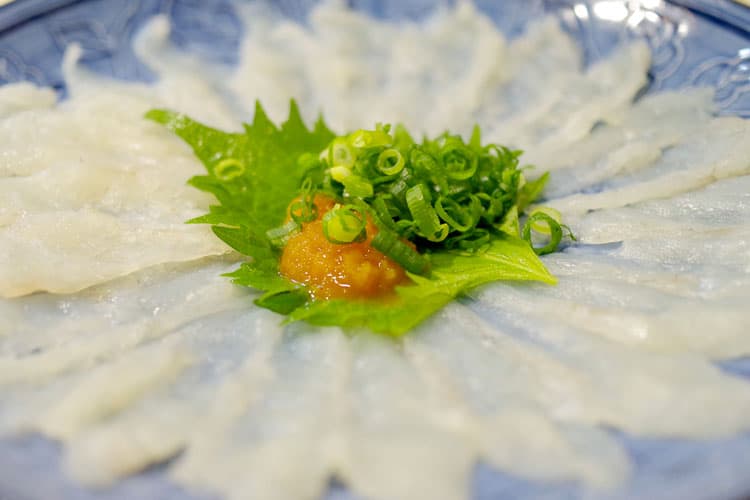 If you've already done some research, you know that Japanese food can be quite particular, and if you really don't know what I'm talking about, you can have a few surprises.
For people with no restrictions regarding food, not knowing the language isn't really a problem and can be quite fun, but if you can't eat everything you might have some problems passing the message.
Health
You never know what can happen to you during your trip. It's not rare to get sick during holidays because viruses don't take vacations. 🙂
Well, being sick in Japan and not being prepared for that eventuality can be really difficult. Have you ever tried to explain to a pharmacist what kind of medicine you need using only gestures? Or tried to ask for information about nearby hospitals without speaking or writing what you need? These kinds of situations are what you want to avoid in Japan at all costs for a great trip.
Useful Tips That Can Help You in Japan
The essential key to a great trip is planning. Especially when you travel to a country like Japan where everything is different from what you're used to. There are different types of planning, it all depends on your needs, your budget, and your level of adventure.
People don't always have the choice of picking the best planning option, particularly when there's a restriction in the budget, this is why I wanted to give you all the options I found useful and concentrate on the ones that cost you nothing or barely nothing.
Use a Travel Agency
The easiest way of traveling without problems is to have a travel agency taking care of everything for you. Let them plan your itinerary, your accommodation, the activities you want to do, the places to visit, the transportation, etc. The only thing you have to do is to tell them what you want, and they'll prepare everything.
This is the best guarantee that you'll have a smooth travel with no worries, but there's an inconvenience in choosing this option. As you probably have guessed, this kind of option, where everyone prepares the things for you, has a price. Usually, this is the more expensive option for preparing your travel. It has undeniable advantages, and most people would like to take a travel agency to plan their trip, but sometimes it just doesn't fit your budget.
Does this mean that you can't travel to Japan without a travel agency? Of course not! There are other options, if you travel on a budget or if you just don't feel like having the trip of your life prepared by some stranger 😉
Hire a Local Guide (or a Free Guide)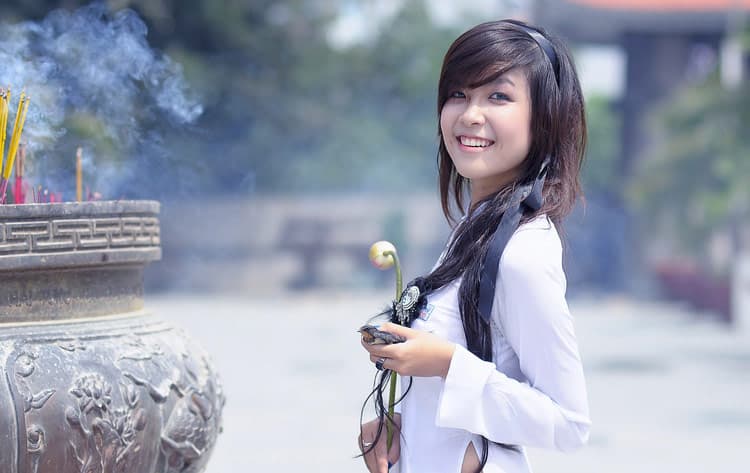 Hiring a local guide can be a kind of intermediate option between a trip planned by a travel agency and a trip planned all by yourself. You can organize in advance your accommodation and some main activities, but you can leave the details to your guide.
A local guide will be able to take you throughout Japan without the risk of getting lost. No need to know the Japanese train system in advance, how to use the subway, where to buy the tickets, and the different prices. Your guide can take care of that or help you buy the needed tickets. He or she can also find you the best options to move from A to B.
Another advantage of a guide concerns the food. In Japan, you'll find lots of different foods, but if you really want to taste the best and avoid some surprises in certain recipes, only a guide who knows the country can help you. And most importantly, he or she can take you to some local restaurants not well-known to tourists which can turn into a rich experience of the Japanese food culture.
Just like the food, a guide gives you the possibility of visiting some places that are not crowded with tourists. Not that the tourist spots are bad or something, but to find some Japanese hidden gems you have to get off the beaten track, and you can do that without knowing Japanese or without a guide. Well, you can, but it is not recommended because you will likely get lost and lose some precious time.
Now that you understand the advantages of getting a guide, where can you find one? It's not difficult to find guides online and many websites offer you a vast choice of guides you can hire. If you want to check some guided tours to get some ideas, you can visit Klook.com which has several guided tours not that expensive. As a general rule, guides are extremely professional and you won't regret the quality of their services, but sometimes you don't have the money to invest in a guide.
Does this mean that you can't have a guide if you don't pay for it? No! Luckily, there are free guides in many cities that allow you to benefit from the advantages of visiting with a local, but without paying for it.
There are at least 3 websites you can use to get a free guide:
Japan National Tourism Organization: They have a list of several volunteer guides throughout Japan, so you will definitely find what you need no matter what itinerary you picked
Tokyo Free Guide: They have 2 types of services. The Tokyo Free Guide (TFG) where the guide assists you for one day or half a day. There's no fee for TFG service, but you'll have to pay for the transportation, food, entries to parks, etc of the guide. The other service is the Tokyo Greeters where the guide assists you for 2 or 3 hours and you take a walking tour (no transport) to visit free places.
Visit Kansai: This is the website dedicated to the Kansai area if you plan on visiting cities like Kyoto, Osaka, Nara, or Kobe.
Keep in mind that free guides aren't always available and you have to book in advance to maximize your chances of finding one.
Bring a Japanese Phrasebook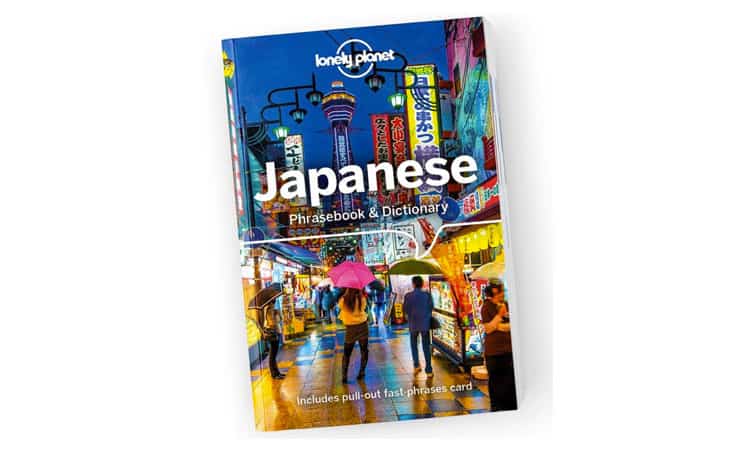 If you don't have the means to hire a guide or to find one available for free, you have to do the things on your own but don't worry because there are plenty of tips to help you out.
The first important tip for people who don't speak Japanese is to buy some Japanese phrasebooks. There are many types for you to choose. From phrasebooks dedicated to business travel to phrasebooks oriented to help you with your vacations, without forgetting those adapted for daily life, you won't lack choice. There are even some phrasebooks that also include a small dictionary of essential words you might need.
Picking the right phrasebook for you is probably not easy because we all have our preferences when choosing books. For me, these are some of the best phrasebooks that I found really useful for the trip:
These are my favorite Japanese phrasebooks that I found clear and easy to use. And what's better, they are not expensive (around $6 and $13 USD in general).
Even if you don't know the Japanese language, you can always use some phrases to make your travel easier and nicer. The Japanese will appreciate your effort anyway.
Install Some Apps to Help You With The Japanese Language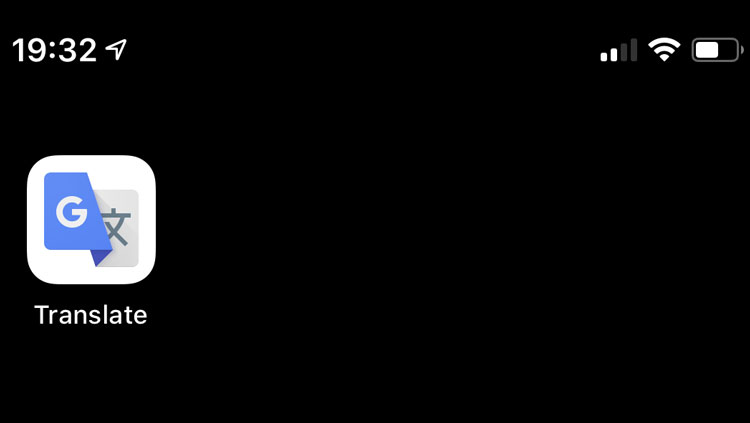 iTranslate: This is a free app that has a huge success on the App Store with more than 52k ratings with an average of 4,5 stars. It is easy to use and user-friendly, but if you want to use advanced features like offline translation, voice translation, or picture translation, you have to upgrade to the pro version ($39,99 per year). Anyway, even the basic options will help you and since it is free, you can try it with no risks.
Google Translate: Great free app to help you with the Japanese language. It has more than 4,4k ratings in the App Store with an average of 4 stars. It doesn't have the same success as iTranslate, but I prefer Google Translate because all the features are free. You can even use the camera to translate from a picture for free. Some people might say that the translation isn't accurate all the time, but no machine can translate like a human anyway. (See how to install Google Translate for offline use further below)
Search For Tourist Information Offices

Tourist information offices are the best places to help you during your travel. They can give you all the information and the best recommendations regarding food, activities, places to visit… If you didn't plan a detailed itinerary with all the activities you want to do, the places you want to visit, and the restaurants you want to try in each city, you can rely on tourist information offices to guide you. And even if you planned all you could in advance, there's nothing wrong with asking for advice at tourist information offices.
Needless to say if you get lost and you manage to find a tourist information office, they can get you back on the right track and help you not to get lost again.
You can find a list of the Tourist Information Offices here with the basic information about each one.
Ask a Policeman For Help
The police in Japan are not like the police we are used to seeing. In Japan, the policemen have a role of guiding and serving the community, so if you get lost or need help to find your way, you should definitely ask a policeman for help.
There are small police boxes throughout Japan called koban (交番) where you'll find a few policemen always willing to help. The koban offer services like guiding, lost and found, crime report,s and emergency assistance. Don't hesitate to find a koban if needed (in 2019 there were 826 koban in Tokyo alone). There are at least two koban in Tokyo where you will always have an officer with language skills to help foreigners (the Kabukicho Koban in Shinjuku and the Shibuya Ekimae Koban).
Ask a Local For Help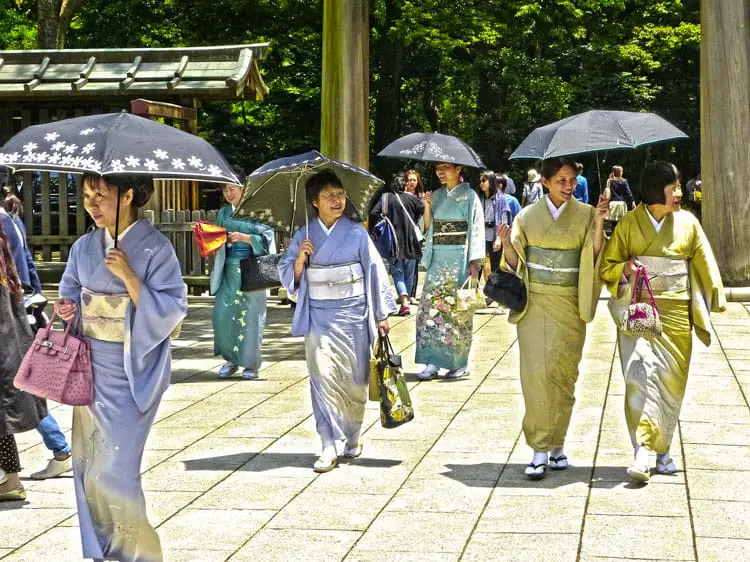 The Japanese culture is not based on individuality, and that's why you will always find a Japanese ready to help you even if they don't feel like talking to foreigners. If you ask for help, they will help you at all costs because they don't just think about themselves. They really care about the other's well-being.
On her first trip to Japan, a friend of mine had a hard time finding her way to the hotel because the plane landed late at night, and she wasn't used to the street names and signs.
After trying really hard to find her way without success, she asked for help from a group of night shift workers. Since they didn't speak English, they didn't manage to explain to her the way. Instead, one of them kindly accompanied her to the hotel's entrance.
So if you need help while in Japan, don't be afraid to ask for the local's help, but keep in mind to be extremely polite and to talk slowly. Most Japanese, especially around Tokyo, can understand some English, but only if you use simple words and speak slowly.
Stay on The Beaten Track
This tip is pretty obvious, but sometimes you get caught in the emotion of discovering a whole different country. Therefore, you will probably feel tempted to get off the beaten track to see even more amazing places. I won't recommend being an adventurous explorer in Japan, at least during your first time in the country.
If you stay on the beaten track, you probably won't find any hidden gems in Japan (unless you hire a local guide to help you). But, on the other hand, if you follow a planned touristic itinerary, you will have all the chances of getting along with a trip without major problems.
If you try to get to some deep rural areas, you won't be able to find people capable of speaking in English to help you and that can be a problem.
Buy an IC Card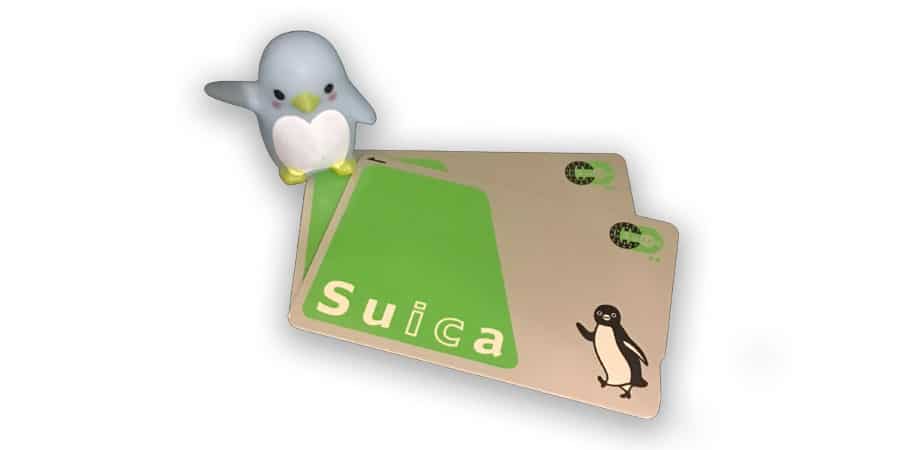 Buying an IC card is the easiest and one of the best tips I can give you for your travel. This card has huge advantages that make your life so much easier. I can imagine moving around Tokyo, or any other city by the way, without it. You can buy an IC card online at Klook.com before your trip to get all your things ready, but if you forgot to buy it, you can also get one in Japan.
How does the IC card work? To make it simple it is a prepaid and rechargeable card used mainly for transportation (buses, subway, etc), but it is also used like an electronic wallet to pay small daily expenses at convenience stores for instance.
Other than the advantage of not having to carry great amounts of cash with you, this card is essential for transportation. As I told you at the beginning, the Japanese train system is not that simple if you're not used to it, and buying single tickets each time you want to ride the train can be really complicated. This is why this card is so important, as it allows you to simply tap the card at the gate to automatically calculate the cost of your travel. The right amount is taken from the card and that's it. It can't get easier than that.
Knowing that there are millions of people using public transportation every day in Tokyo alone, this system is really a time saver and free of complications.
Check out the video below if you want to see how it works.
Use Navigation Apps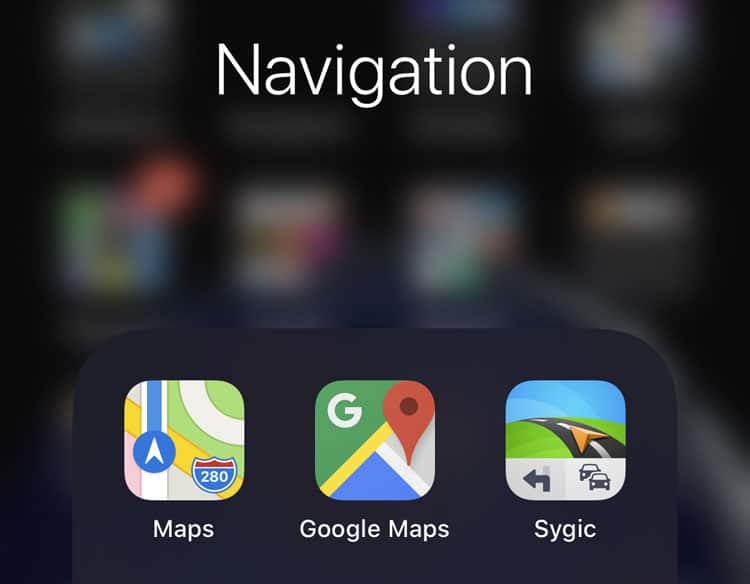 When I first looked for navigation apps to install on my smartphone, I came across a huge list of possibilities. Some apps were really good, others not so much, but my final choice goes to Google Maps.
Google Maps app is available on IOS and Android, and you can even use the web version on your favorite browser. The reason I love it so much is that it is fully compatible with every device and you are probably already used to using it (at least I use it all the time).
There are other nice navigation apps that are probably much more suitable for moving around while in Japan, but the time required to fully understand them and to make fair use is not worth it. It is better, in my opinion, to use an app that you already know (like Google Maps), which will give you the basic information you need.
Of course, if the given information is not enough for you, you can try the other apps, but in general, you will be fine with just Google Maps.
Subscribe a Travel Insurance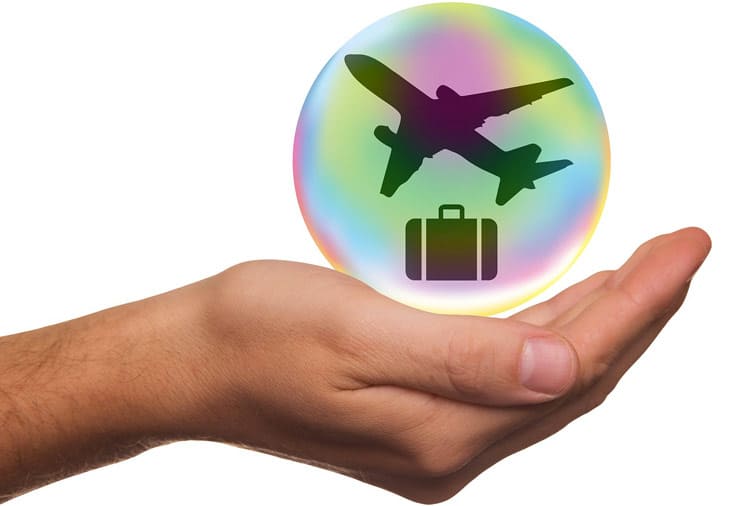 Travel insurance is not mandatory for all travelers, but if you don't speak the language of the country you're visiting, it is highly recommended to get travel insurance to protect you.
All travel insurances aren't the same, so you better search for one that covers you well in case of a health problem (accident), lost luggage or stolen items, and even a canceled trip. Normally, you can find good policies using Travelinsurance.com which allows you to compare the best insurers for your trip. Very convenient when you're traveling to the other side of the world.
Installing Google Translate (For Offline Use)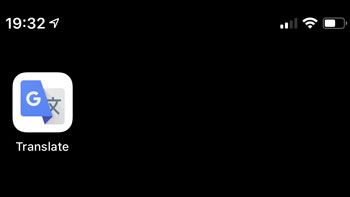 In this paragraph, I'll show you how to install Google Translate in your phone for offline use when you don't have an internet connection in Japan. (You will need an internet connection to install the app)
First, install the Google Translate App from the App Store or Google Play Store. Then launch the app and select the language you want to translate from.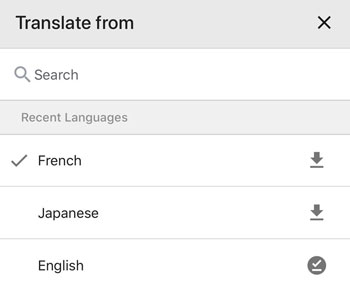 Make sure you hit the down arrow to download the language into your phone. If you don't do that, you will need an internet connection each time you want to use the app.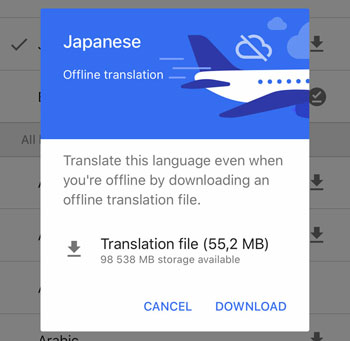 Next, select the language you want to translate to and do the same thing (don't forget to hit the down arrow!). Also, verify you have enough free space in your phone to download the needed languages.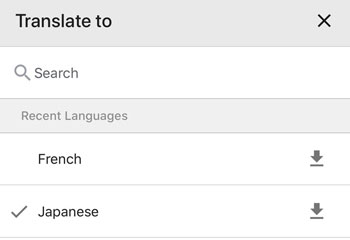 Once you have downloaded at least 2 languages, you can translate from one to the other without internet. Sometimes, translation is a bit more accurate if you use the online mode, but the offline mode is not bad and it can really save you when there's no other way.
Using Public Transports in Japan
Since explaining the train and subway system in Japan is not the easiest thing and because I want you to really understand how it works, I selected for you a simple video that explains to you what it looks like and how you should use it.
If you plan on using the bus, as some places can only be reached by bus, I also found a short video that has simple and clear information. Click here to watch it on YouTube.
The subways in Japan work pretty much like the trains, but if you really want to have some extra information, there's a good page from Tokyo Metro website that explains it very well (in English).
Deciding Where to Eat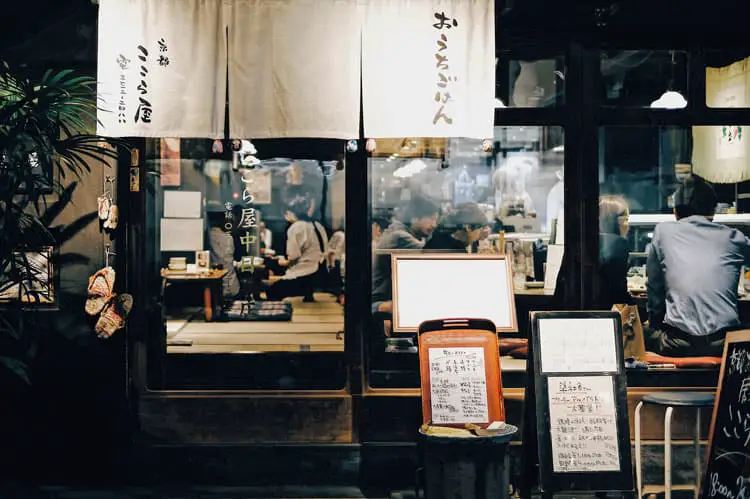 In my opinion, if you're traveling for the first time with no help or guidance and you don't speak Japanese, you should probably go to the easiest places. These would be the konbini (which are convenience stores). Here you'll find all sorts of food ready to take with you and at the lowest price.
Shopping malls also have lots of different food, and they usually speak a little English so you shouldn't have problems there.
Japan is well-known for its vending machines everywhere so you can probably get something in your stomach when everything else fails. 🙂
Most restaurants have menus with pictures, so even if you don't speak Japanese, you can point to the picture to order. Also, they usually have sample dishes made of plastic which look just like the real dish, so you can point to them as well.
In general, you won't have problems to eat in Japan, especially in big cities or tourist places. If you want to have a glimpse of what awaits you in Japan, just watch the video below that explains it in a funny way. 😉
Conclusion
And that's it, you manage to get to the end of this easy guide on how to travel in Japan without speaking Japanese. I hope you learned some useful information and that you can apply it to your next travel.
See ya!