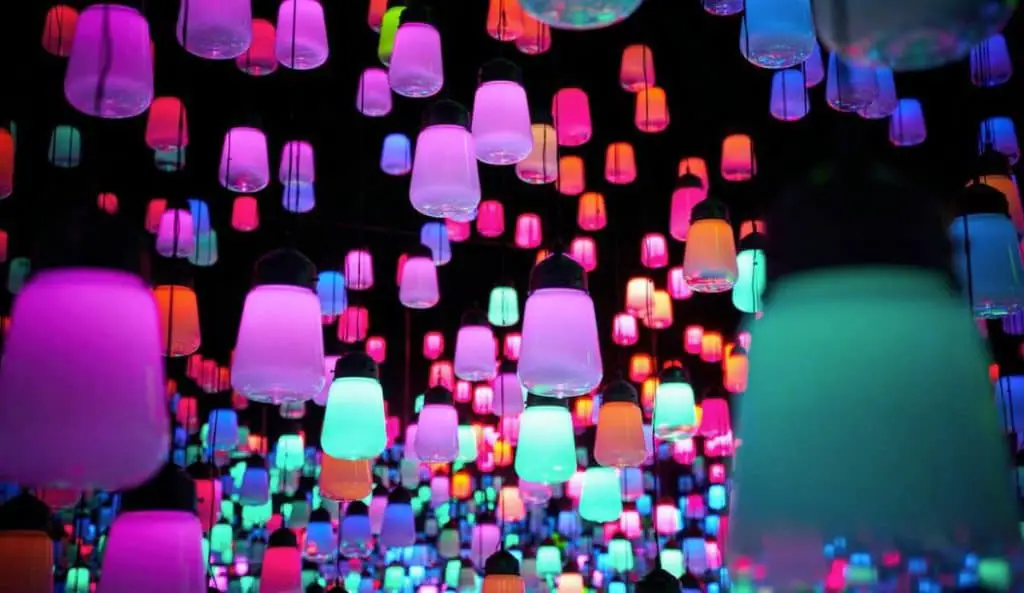 When people search for uncommon things to do in Tokyo, they usually end up finding this awesome museum of digital art called TeamLab Borderless, but they also read about Teamlab Planets, which is also a museum of digital art in Tokyo. Yes, there are two museums of digital art in Tokyo, and not very far from each other. Even though they are both managed by TeamLab, they are not the same, and you can find substantial differences between both.
Teamlab Planets is all about feelings and sensations as you enter the museum barefoot and walk in the water, while Teamlab Borderless is more about exploration and discovery without boundaries. Even if both offer immersive experiences, Teamlab Planets is more body-immersive than Teamlab Borderless.
In the next paragraphs, we will take a closer look at these two museums, compare them, and then I will tell you which one is better according to certain preferences you might have.
What is Teamlab Borderless?
Notice : Teamlab Borderless is temporarily closed until the end of 2023 for relocation.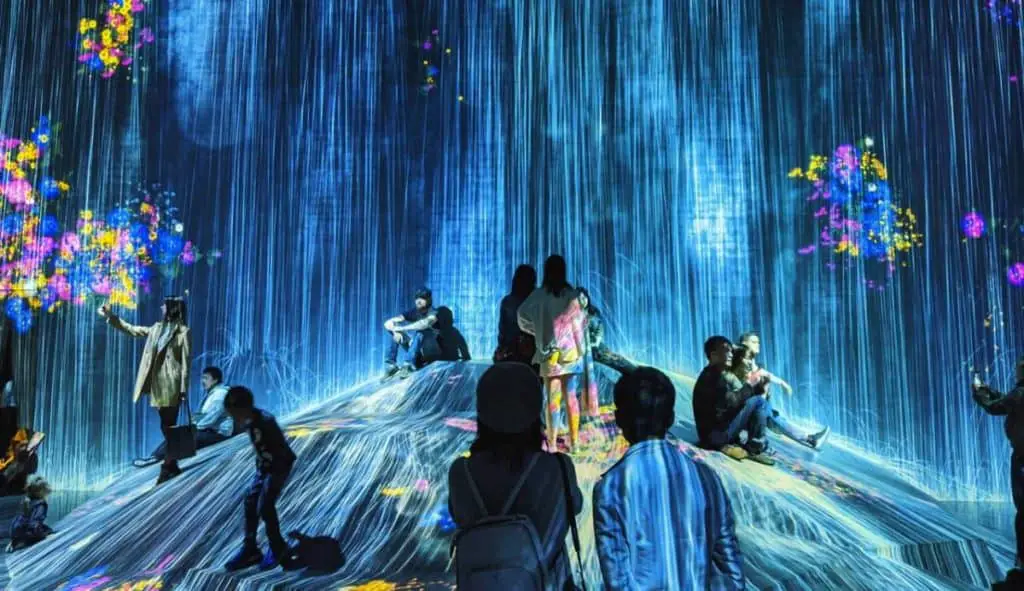 TeamLab Borderless is a permanent digital art museum in Tokyo that has existed since June 21, 2018. This mind-blowing museum exhibits art in a very uncommon way. Exploring a world without boundaries and interacting with art differently are some of the main experiences you can expect.
The TeamLab Borderless museum is organized in 5 areas:
Forest of Lamps
Athletics Forest
Borderless World
Future Park
EN Tea House
Forest of Lamps
In the Forest of Lamps, which is one of my favorites, you will be able to walk in a room full of lamps everywhere that change colors. The floor is mirrored, so you really have the feeling that you're surrounded by lamps everywhere you look. It is just so beautiful and the sensation is so awesome that words aren't enough to describe it.
Tip: If you're a woman, it's better to avoid skirts or dresses in this museum because of the mirrored floor. I've heard that it is possible to borrow shorts, but I guess that it is better if you just come prepared and don't waste time changing in the museum.
Athletics Forest
The Athletics forest is a great place to experience art through physical effort. Inside this vast area, people are able to jump and climb to interact with art. It's the perfect place for kids to explore and have some fun because there's so much to see and do, but adults also have a wonderful time.
Tip: You can't enter this area if you don't have suitable shoes, like sneakers. Avoid shoes like tongs or high heels because otherwise, you won't be able to enjoy this incredible moment. I saw people saying that it's possible to borrow sneakers, but they are limited, so taking your own is the best option.
Borderless World
This is by far the area with the most artwork. There is so much you can see that you won't even know where to start, and you're likely to miss some artwork too. The Borderless World is just huge and mind-blowing. The arts are constantly moving and interacting with each other and the people around them. Make sure you check at least The Crystal World, The Universe of Water Particle on a Rock (a cool waterfall), The Memory of Topography, and the Forest of Flowers which are truly amazing. But check everything if you can 🙂
Tip: To help you interact with the artwork, download the TeamLab free app for your phone (Apple Store and Google Play). It will make the experience even more immersive and fun.
Future Park
The Future Park area is a place where children can develop their creativity together and create their world. They can actually draw their designs on paper and get them out into the room thanks to a scanning device. The drawing will then be sent into the room, so you can interact with it. Honestly, this is a pretty cool idea and kids will love it.
EN Tea House
In the EN Tea House, you will be able to enjoy a cup of tea or an ice cream. Make sure you love green tea because they only serve different types of green tea. The same goes for the ice cream which is only matcha ice cream.
Tip: Each person is limited to one cup of tea. The price is not included in the ticket price, and it costs an extra 500 yen.
For those of you who want to have a better idea of how amazing TeamLab Borderless is, just check out the video below from TeamLab where you can get a glimpse of what to see.
What is Teamlab Planets?
TeamLab Planets is a temporary digital art museum in Tokyo that will remain from July 7, 2018, at least to the end of 2023. This immersive museum is mostly known for its artwork on the water, a room where people actually enter into the water and change the artwork by simply walking around.
This place is organized into 4 areas with a total of 7 artworks:
Drawing on the Water surface
The Infinite Crystal Universe
Floating in the Falling Universe of Flowers
Expanding Three-Dimensional Existence in Transforming Space
Cold Life
Waterfall of Light Particles at the Top of an Incline
Universe of Water Particles Falling from the Sky
Drawing on the Water surface
This is by far the best experience in TeamLab Planets. You enter a room with water that can rise up to the knee level, and the artwork is projected on the water's surface. You will see koi fish swimming all around you (not real koi fish, but colorful projections) and as you walk through the water or touch it with your hands, the projections change and react to the movement created in the water.
The Infinite Crystal Universe
This one is also a pretty cool room where you'll have an awesome experience. It is made of light points that are used to create a three-dimensional world. The floor is mirrored, and you get this sensation of infinite that is incredibly amazing.
Floating in the Falling Universe of Flowers
This is an incredible room where you can sit or even lie down to immerse your body in this transcendent experience. You will see flowers blooming and fading all around you. The artwork changes with the seasons, so you'll see different flowers at different times. If you take time to pause and lie down, you can really have the feeling of being part of the artwork.
Expanding Three-Dimensional Existence in Transforming Space
In this room, you'll find a sort of huge colored spheres floating that you can interact with. Touching them will result in a change of the color of the sphere itself, but also those nearby. The spheres aren't attached in any way, so they can move freely in the room if you push them, for instance.
Cold Life
An impressive work of art that starts with the Japanese character meaning "life" and then transforms itself into a beautiful tree with lots of flowers and even some butterflies around it.
Waterfall of Light Particles at the Top of an Incline
Compared to the previous artworks, this one is pretty basic, but also worth the visit. Once again, you will have your feet on the water and walk up, following a path of light that leads to a small waterfall.
Universe of Water Particles Falling from the Sky
This artwork is located outside the museum, and it is basically a huge waterfall of light that reacts to the people around it. If you step close to it, you will see the water particles changing directions. It is pretty cool, but I think you can enjoy it better after sunset as it gets more impressive.
Tip: The TeamLab free app also works on TeamLab Planets. You can get it on the Apple Store and Google Play.
If you want to check out what TeamLab Planets look like, watch the video below.
The main differences between TeamLab Planets and Borderless
Now that you are starting to have a better idea of what these 2 museums are, let's talk a little about their differences. Even if both are museums of digital art, each one has its amazing things that will make you prefer one or another. In the next paragraphs we'll see the major differences, but if you don't feel like reading you can just jump to the table below where I sum up the information for you 🙂
Number of artworks
The first big difference between TeamLab Borderless and TeamLab Planets is the number of artworks you can see in each one. Even though both museums have around 10,000 square meters, they don't have the same number of artworks. While TeamLab Borderless has around 60 artworks, TeamLab Planets has only 7, but these are obviously bigger than most artworks in Borderless.
The time needed to visit
Another important difference between these 2 museums is the time needed to visit. While you might only need 1 to 2 hours in TeamLab Planets, you will definitely need 3 to 4 hours in TeamLab Borderless. With 5 times more artworks than TeamLab Planets, TeamLab Borderless can easily take half a day to visit.
Type of exhibition
Good news, TeamLab Borderless is a permanent exhibition! You will likely be able to see it on your next trip to Japan after the relocation (temporarily closed). TeamLab Planets, on the other hand, is another story. Since TeamLab Planets is basically an extension of TeamLab Borderless, it is programmed to last until the end of 2023. I have confidence, though, that it will last longer because it was initially programmed to last until 2020, and it benefited from 3 extra years.
Path to follow
In TeamLab Planets, people walk through an established path and see the artworks in the same order. You just move on from artwork to artwork until you arrive at the end, and there's no walking back if you pass through an artwork too quickly.
TeamLab Borderless, on the other hand, is a completely free space where you can go wherever you want, and see the artworks in the order that suits you the most. Careful though because most people will run right into the most famous artworks like The Forest of Lamps creating a few crowds.
Waiting time
The waiting time is a little tricky because it depends greatly on the season you're visiting, the day of the weekend, and even the time you arrive at the museum. Usually, you will have fewer crowds in TeamLab Planets no matter what. The fact that it takes half the time to visit and that you follow an established path makes the visit much more fluid even if there are lots of people. It is fairly correct to say that you might have to wait 2 or 3 times more in Borderless to enter the museum or to see the most famous artworks.
Below you will find a table that sums up the information you just read:
Teamlab Borderless
Teamlab Planets
Location
Odaiba Palette Town 2F, 1-3-8 Aomi, Koto-ku, Tokyo
6-1-16 Toyosu, Koto-ku, Tokyo, 135-0061
Time needed
± 3 – 4 hours
± 1 – 2 hours
Areas
5 areas
4 areas
Works
around 60 works
7 works
Price
± $31 USD (adult)
± $9,60 USD (children <15)
± $31 USD (adult)
± $2,90 USD (children <13)
Opening hours
(winter)
11:00 – 17:00 (weekdays)
9:00 – 18:00 (weekends/holidays)
10:00 – 19:00 (weekdays)
9:00 – 20:00 (Saturdays)
9:00 – 19:00 (Sundays)
Type of exhibition
Permanent
At least until end of 2022
Crowds
Usually crowded
Less crowded
Established path
No
Yes
Time in queue
± 30 – 90 minutes
± 30 minutes
Differences between TeamLab Planets and Borderless
Should you go to Teamlab Planets or Borderless?
After reading all this information, you're probably wondering which one should you choose for your visit, right? I remember thinking that I was so sure to visit TeamLab Borderless when I found out about its existence in Tokyo, but I wasn't expecting that a museum like TeamLab Planets also existed in Tokyo.
You should visit both TeamLab Borderless and Planets if you can because they are significantly different. The Forest of Resonating Lamps and the Athletics Forest, for example, can only be found in TeamLab Borderless, while walking in the water is only possible in TeamLab Planets.
Unfortunately, this is not possible for everyone, so I will give you a few tips to help you choose only one for your next trip.
Do you prefer quantity and see lots of things?
You should go to TeamLab Borderless.
There's no doubt about it, Borderless has a higher number of artworks (around 60) compared to TeamLab Planets. If you're looking for the best place to see a maximum of artworks that will be TeamLab Borderless. In fact, there are so many artworks moving in the rooms that you might even miss some of them.
Pro-tip: Make sure you take your time to see all the works because it's not uncommon to miss some of them even if you visit a second time. In fact, the artworks will be moving around in the room all the time making it easy to miss some if you don't allow enough time.
Are you limited on time?
You should go to TeamLab Planets.
As we saw before, it takes easily half the time to visit TeamLab Planets (1 to 2 hours) when compared to TeamLab Borderless. Even if they have both around 10,000 square meters, the artwork in TeamLab Planets is huge, so you don't have to worry about time. There's absolutely no need to walk through every meter to make sure you saw everything (contrarily to TeamLab Borderless).
Pro-tip: Your ticket will have an admission time, but this doesn't mean that you will be able to enter the museum at that time because it will depend on how crowded it is. Just make sure you allow some extra time to wait in line.
Are you taking your kids with you?
You should go to TeamLab Borderless.
Borderless has several exhibits that are kid-friendly, and some of them can also be enjoyed by adults. This makes Borderless a great choice for your family trip. When I was preparing our itinerary for Japan, my kid looked at the computer and wanted to see every single video about the Borderless rooms for kids. There's no need to say that he was trilling before we even got there.
Pro-tip: Strollers are not allowed in the museum, but you can store them in the luggage room.
Pro-tip 2: It is not allowed to eat or drink in the exhibition's area, so it's better to visit the museum after eating, especially for the kids. You can drink in the rest areas of the museum or have a cup of tea at the EN Tea House in the museum.
You don't like crowds?
You should go to TeamLab Planets.
TeamLab Planets is less crowded than Borderless at any given time. It still has crowds at some specific hours, but it's nothing compared to Borderless. I don't think it has fewer visitors because it is less amazing, but since it takes less time to explore everything, people don't stay inside that long.
A little heads up though. Having fewer crowds doesn't mean you'll be able to enter the museum as soon as you get there. Sometimes you might have to wait in line before you can enter the museum or a specific room.
The best thing you can do is to get there just before opening time to avoid the crowds that will come later. Later in the evening, is also a great moment, but you will probably have less time to visit.
Pro-tip: If you don't think you can get there early in the morning, and you're afraid of not having enough time to visit in the evening, a good time to visit is right before lunch because most people will be leaving the museum to go eat since you can eat inside. Just make sure you eat something before going to the museum because you will be skipping lunch.
Do you like to move around freely?
You should go to TeamLab Borderless.
As we saw before, you can't move around freely in TeamLab Planets because there's a path to follow. In Borderless though, you can walk around as you like, moving on to see an artwork you really like and coming back to see the ones you skipped. This is actually pretty cool because if you have extra time in your itinerary, and feel like staying a little more in the museum, you can return and see your favorite artworks again.
Do you like water?
You should go to TeamLab Planets.
TeamLab Planets is the only one that has rooms with water that you can walk into. In TeamLab Borderless you have beautiful things to see and do, but nothing that actually includes getting in the water.
The water level in TeamLab Planets can reach knee height for adults which is pretty awesome, but plan accordingly in terms of clothing and shoes. You should bring comfortable shoes that you can easily take off, and shorts if you can.
Pro-tip: If you have small kids, make sure you bring changing clothes as they are likely to get wet, and you can't enter the next area with wet clothes. It is also recommended to avoid skinny jeans as you will have a hard time getting them above your knees.
Conclusion
I hope that these tips and information were useful to you and that you have a better idea of what you should do. For me, TeamLab Borderless is simply unmissable, but I definitely want to see both TeamLab Borderless and TeamLab Planets on my next visit.
The only thing that could probably stop me from doing both is time. If I don't manage to get both museums on my itinerary, I will go with Borderless for sure because I'm so excited to show it to my 4-year-old boy.
Japanhorizon.com is a participant in the Amazon Services LLC Associates Program, an affiliate advertising program designed to provide a means for sites to earn advertising fees by advertising and linking to Amazon.com. Japanhorizon.com also participates in affiliate programs with Viator, Jrailpass, Kayak, Klook, Japan Experience, and is compensated for referring traffic and business to these companies.